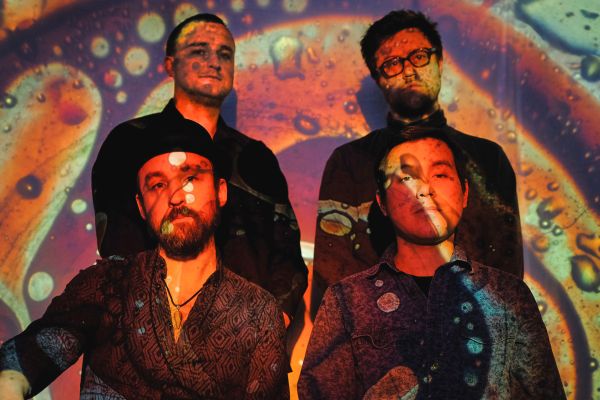 4 April 2019
Faux Co – Photo Credit: Dan Jarvis
Faux Co is composed of musicians Ben Mackey, Chris Lee, Christian Whiting, and Jayson Homyak. Their music is a blend of melodic pop with gritter garage-rock elements; think Elliott Smith paired with Spoon and a side of neo-psychedelia.
The band's debut album, Radio Silence, releases this Friday, April 5th via Chicago label Midwest Action. The Big Takeover is psyched to be hosting the LP's premiere a day early. Radio Silence was recorded at Downbeat Studios and Minbal Studios (with Sean Mcconnell and Chris Lee splitting the engineering and producing duties) and was mixed and mastered by Mike Hagler of Kingsize Sound Labs.
The album's first single, "Set the Record Straight," was premiered last summer via The Minimal Beat and the second single, "Prozac Spaceman," premiered on the site Power Popaholic shortly thereafter. The two tracks were then compiled on a limited edition 7" single released by Dark Circles Records.
Band leader Ben Mackey drops some details about Radio Silence, revealing, "Radio Silence is an album about disconnection and processing the blank space between us; the "radio silence" in this world. "Prozac Spaceman" starts off the album. It is a song about getting free of a toxic situation and it sets the tone for the rest of the record."
Mackey continues, "Set the Record Straight" is a rallying cry for artists to not give in and definitely adds a lot of forward momentum to the record. "Oh, Mother Night" brings a romantic rock n' roll daydream to light, which halts with the very steely-eyed and snarky-in-hindsight ballad, "It's Nothing Really." "Gimme Sumthin'" is a song imagined from the point of view of a beggar, watching people ignore his request for help. That blends with the themes of "It's Nothing, Really," "The Sun Will Come Back" and "Maybe is a Word," a ballad advising those ignored to see a situation for what it is."
"The album closer "Get a Say" changes the subject of the record to a more hopeful message to not blame humanity or follow gurus who tell you to blame the self; the self who had no say in how the world industries operate. In a world beyond ones self, to feel the 'radio silence' is to accept the silence," concludes Mackey.
Midwest Action weighs in on the release of Radio Silence and the band, stating, "Midwest Action is pleased to welcome the debut release from Faux Co. into our ever-growing catalog of influential Midwestern artists! An album three years in the making, Radio Silence is well worth the wait. Right out of the gate, lush soundscapes made up of guitars, horns and a litany of vocal harmonies establish the album as an instant hit. Songs like "Prozac Spaceman" and "Set the Record Straight" are so undeniably catchy that you'll be hooked by track two. Even with two strong openers, the album does not rest on its laurels. From the tender slow dance ballad "Oh, Mother Night" to the topical rocker "Maybe is a Word," Radio Silence is a gorgeous mix of '60s pop and modern indie rock from beginning to end. Frontman Ben Mackey has crafted a beautiful collection of songs that focus on disconnection, apathy, love, loss, and the creative process itself."
Pre-Order Radio Silence at Bandcamp
Midwest Action Website
MIdwest Action Shop (Buy cassette tapes, CDs, and vinyl from musicians based in the Midwest. Midwest Action is a Chicago-based, Midwest-focused record label and publication)
MIdwest Action Bandcamp
Faux Co Website
Facebook
Instagram
YouTube