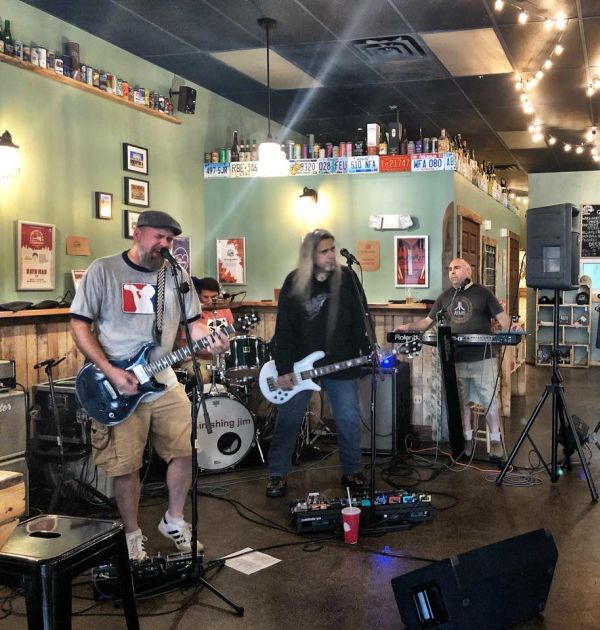 12 April 2019
Diminishing Jim – live – Photo Credit: Sarah Pech
Connecticut indie rockers Diminishing Jim have put the finishing touches on a 6-song EP entitled See You Soon and The Big Takeover is extremely pleased to host its premiere today. This is the band's third release and follow-up to their 2012 album The Monster I've Become.
Diminishing Jim recorded and mixed See You Soon themselves over the past two years and are releasing it on their independent label Mariachi Static. The band enlisted the help of engineer Jake Subin at Ruben Subin Productions to master the album.
Diminishing Jim's sound is heavily influenced by '90s alt-rock grooves and the pop sensibility of the '80s synth movement. These influences resonate throughout the EP while the band puts their blend of catchy hooks and vocal harmonies on each song. The title track, "See You Soon", picks up right where The Monster I've Become left off. It was written in dedication to their former band mate Brendan Johnston who passed away in 2013 after a tragic battle with cancer. The song weighs heavy on their hearts, but the band hopes the message offers comfort for listeners who have dealt with personal loss.
The remaining songs on the EP have Diminishing Jim heading in a new musical direction as the keys and synths play a predominant role in the band's current sound. The second track, "X's For Eyes", showcases an '80s-inspired synth line that intertwines around a reverb-laden guitar lead, while the bass and drums pave the way though the low end.
The band feels the decision to add keyboards has sparked creativity in their writing process while enhancing sounds of the older songs during live performances. Overall, there is still a good balance of rock guitar riffs, melodic bass lines, and booming live-room drums to assist the keyboards throughout the EP.
Diminishing Jim is celebrating the release their See You Soon EP with a listening party at Hanging Hills Brewing Company in Hartford on April 12th from 7pm-10pm. The EP will be available for purchase on CD from CD Baby and can be heard on most music streaming services.
Diminishing Jim has already started writing new material and plans on releasing some re-mixes/re-workings in the future. The band is comprised of Ted Petrie (guitar/lead vocals), Jim Hoefelt (bass/vocals), Chris Giard (drums/vocals), and Neil Impelluso (keyboard/vocals).
Diminishing Jim's discography is currently available for download at Bandcamp. The download version of the EP has a cover of New Order's "Blue Monday" as a free bonus.
Facebook
Twitter
Instagram
Amazon