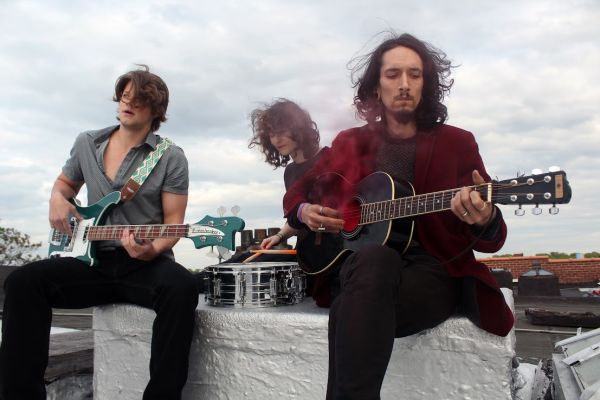 5 October 2018
Mischief Night – Photo Credit: Kris Panko photography, @yourselfieneedswork
New York indie psych/experimental rock band Mischief Night takes on melodic beauty and its disintegration into discordant noise on its new EP Shitty Disco, which The Big Takeover premieres today. The lo-fi rawness of jagged rock guitars and buzzing notes are sweetened by dual drifting harmonies and catchy guitar patterns.
Marcus and Mallory are soulmates who have been recording, performing, and touring together for the last three years. Marcus moved from Philadelphia to New York and shortly thereafter they put together what became Mischief Night, with Mallory performing percussion. Together, and with their friends Chris and Andy, they've been able to craft a distinctive variant of modern psych-rock.
EP opener "Rene's Carburetor" skips at a lazy pace, running on the hum of buzzing keyboard notes, sporadic drum blasts, and Marcus and Mallory's winding and entwining vocals. "Very Rarely" ups the tempo with gritty guitar burn, a low bass line undertow, drum thump, and off-kilter harmonies.
Calmness prevails on the more contemplative "Corn Lilies", with Marcus sing-talking in a deep, drawn-out, subdued manner. The drums are steady, there's a slow pull of what sounds like accordion notes – and then it rises in intensity with added piano notes and Mallory's delicately airy vocals added to the mix. Last track "Rat King" spins around with quickly looping guitar refrains, cymbals shimmer and taps, and a fast cycling of keyboard notes.
Marcus drops some details about the EP, explaining, "I had wanted Shitty Disco to represent a party gone bad in a way. It's like that gross hedonism and it's magnified and sweaty. "Corn Lilies" is specifically about cyclopia, a birth defect. That's the current throughout: Beauty mutated; gone bad in a way."
comments powered by