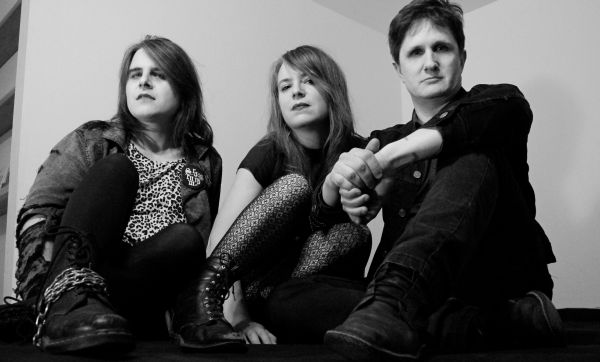 9 April 2021
Street Eaters – Photo Credit: Chase Fenton
Simple Distractions is the new EP by Street Eaters, a Bay Area post-punk band formed by Megan March (drums, vocals) and John No (bass, vocals). Big Takeover is stoked to host the premiere of the EP in its entirety today.
Building upon influences that range from the anti-authoritarian writing of sci-fi author Ursula K. Le Guin to the discography of DC punk band Autoclave, Street Eaters have become an underground institution through years of non-stop touring and releasing albums on their own Nervous Intent Records imprint and several notable European post-punk and hardcore labels.
Simple Distractions, which is available digitally and as a limited-pressing 7" picture disc, finds Street Eaters doing the previously unthinkable by adding a guitar to the mix. March explains, "While we were on tour with Screaming Females, Marissa (Paternoster) asked us if we wanted to cover Gang of Four's "Love Like Anthrax" with her live as kind of a segue from our set into the Screamales, and over the course of a few weeks of wild feedback and the energy of playing with such a shredder it sounded really good and we got addicted. When we got home we mulled it over and decided that would be a fun direction – We figured after 10-plus years a band should be able to do whatever the hell they want."
To say that the new direction works would be an understatement. On new songs "Simple Distractions," "Sophia," and "Loose Grip," guest guitarist Stevo (Tony Molina Band) joins March and No for three of their most enthralling songs yet.
The band covers topics ranging from insomnia, the singularity, love, and the mental toll of giving a fuck, while also answering the question of what it would sound like if Ron Asheton had joined Unwound.
The title track is a grimy punk rock grinder running with a low-slung bass line, determined drumming, wiry guitar angles, and (dis)passionate exclamations.
Next number "Sophia" lurches with bass-driven menace, punchy drum pace, and sharp guitar cycles, while "Loose Grip" is a tensely dangerous ride punctuated by passionate, slightly muffled vocals.
The EP ends with the aforementioned cover of Gang of Four's "Love Like Anthrax", featuring Screaming Females' Marissa Paternoster on guitar and vocals. The track eschews the dub influences of the original song in favor of an art-damaged feedback freak-out with a punk-spirited groove of searing guitars and defiant staccato vocals recorded live in all its ragged glory.
Now joined full-time by guitarist Joan Toledo, Street Eaters are currently in a pod fine-tuning material for their next album, creating more videos and art, and collaborating with other bands for releases on Nervous Intent Records.
Bandcamp
Facebook
Twitter
Instagram
YouTube