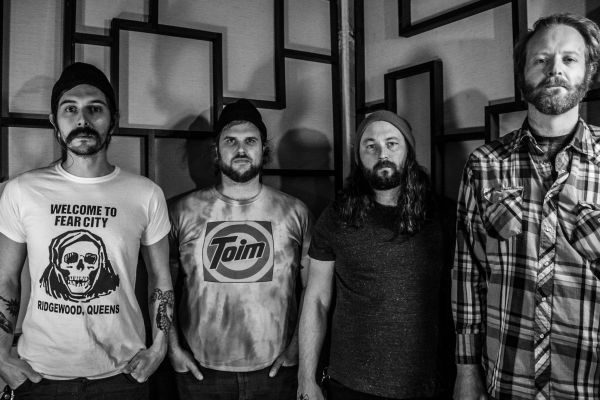 29 January 2021
No Year – Photo courtesy of No Year
No Year is a Portland, Oregon-based quartet comprised of veterans of the city's underground music scene. They're unleashing their gripping, visceral, and psychedelic post-hardcore music today in the form of their first album, So Long.
Big Takeover is pleased to host the premiere of the entire LP on its release date today. The full length was named well before the shit-showery of 2020, but the title has taken on an all new meaning at the end of the longest year of our lives, and a new one beginning with no relief in sight.
Recorded at Portland's Stop / Start and Haywire Studios in the fall of 2019, So Long winds through a labyrinth of '90s grunge angst, hazy shoegazers, noise rock, and angular post-hardcore that heavily indebted to the legacy of Gravity Records.
Calling the music psychedelic might seem odd. because this isn't the stuff that originated in the '60s, but is weighty, intense, and runs on waves of feedback, delayed and heavily effected guitars, and shifting song dynamics that turn the listener over and over like a giant rock tumbler, eventually smoothing the roughest edges.
With big themes dealing with the topics of loss, sadness, confusion and alienation, audiences will have no trouble feeling the deeper message, while occasionally obtuse lyricism leaves room for personal interpretations.
The record is as much looming and desperate as it is embracing the power of a positive mental attitude to see things through. A big chorus never hurts either while at the end of your tether and holding on to a sliver of hope.
The album is only 5 songs long, but they are epic in nature, kicking off with the blasting, grinding, and resonant "Sundown" that features sporadic calmer lulls. From there the listener is tossed into the gritty and crankin' drive of "What People Say" and the more ruminative, trippy, and high-flying "Minutes On The Hour," which weaves a mysterious and sinuous pathway through the mind.
"Welcome Home" commences with a sedate, yet ponderous pace, moving forward like a contemplative behemoth, and streaked with passionately exclaimed vocals. Fiery guitar burn, kinetic drumming, and low-end bass line build up and explode by its end in a sonic and emotional catharsis.
The title track and album-ender draws the ear in with cycling spare sounds and sighed vocals, but near the halfway mark, it too detonates into sonic fireworks of pummeled drums, bashed cymbals, raging vocals, frenetic bass line, and cyclonic guitar whirl. This dies down for a time to a menacing tempo that stalks most of the rest of the song before the band members smash it up again for a ripping finale.
Released by New York City label Inferior Planet, So Long cuts a wide swath through modernity into uniquely familiar sonic territory, a vaccine to soothe our already psychically strained minds roiling from the last 9 months of lockdown and national political turmoil.
Neal Munson (guitar, vocals) comments, "The music on Song Long, and No Year as a band, started as a direct reaction to my previous group. I never wanted to play a pentatonic scale again! To escape the bluesy pitfalls of automatic playing I re-tuned my all my guitars and got back to the stuff I grew up with: grunge, power pop, and eventually 'classic' emo and post-hardcore."
"At the time, my life was in a pretty major upheaval so a lot of the lyrical content comes from alienation, depression, and loss which (I think) comes across pretty clearly in the mood of the record. Most of the music was conceived alone, but I was fortunate enough to reconnect with some great old friends to flesh the whole thing out."
"The result is a collaborative effort that animated the songs in great and unexpected ways I would have never imagined. The final icing on this record / cake was getting to record and mix with Fester at Stop/Start and Haywire Studios here in Portland. He's a true wizard behind the boards and really made the songs come to life."
Order So Long at Inferior Planet, Bandcamp, and the usual digital platforms.