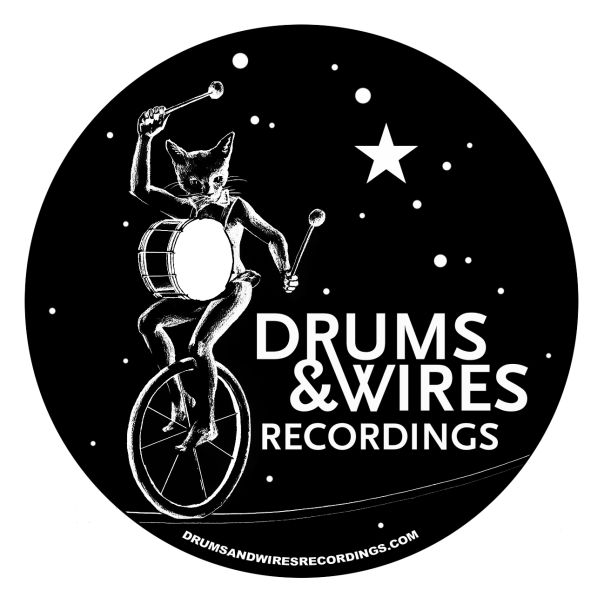 4 December 2020
Drums & Wires Recordings logo – Image courtesy of Drums & Wires Recordings
Seattle-based Drums & Wires Recordings are releasing a scene-defining debut compilation album titled Songs Collected today and Big Takeover is pleased to host the album premiere in its entirety. Writer Chris Estey offers his perceptive thoughts on a record that encompasses the history and music of Seattle, a vibrant and vital American city:
At one point a while back I was tempted to write a book called The Other Scene: Seattle's Other Sounds. It would have surveyed the local music I had been profoundly enjoying over the years that had little to do with the bands made up of area transplants who came to town to replicate certain hard rock tropes amped in mainstream media.
These were the regional bands I was regularly enjoying in clubs, or on rare occasions experiencing in larger venues when they returned from European tours, that evoked a uniquely hard-scrabble but tender, melodic yet often crepuscular vibe. They had a lot more to do with the musical blood of nightly Emerald City venues than the tourists or reporters felt inclined to tap into. But they were the best singer/songwriters we had, and they mingled well with the glossier rock scene, as their work was high-quality if humbler and more human.
Drums & Wires Recordings is releasing a scene-defining compilation of these sorts of artists called Songs Collected. It's the debut anthology of a boutique label from a city that has thrived with such missions before – namely, of bringing to light a milieu of talent that might otherwise go neglected, or at least be less collectivized. Hatched, helmed, and curated by musician and previous label maven Michael Wells, who has played with several of the artists found here, the label's catalog presents 40 artists and over 100 releases.
But quantity isn't its significant feature; it's the glorious woodshedding and persistent playing out of vibrant, personal, musical art made by people doing it for its own sake, challenging and entertaining each other in beloved dark places with small stages.
Now that these musicians are mostly housebound, they have given Wells a gorgeous collection of mainly folk-rock songs about the lonely walk we all seem to be on (together, alone) these days; but it is creative redemption, not plague dreams.
The album begins with the crisp mid-tempo lead single "Age of The Amateur" by Terri Tarantula, the latest project of the resonantly talented Terri Moeller Pearson (Transmissionary Six, Walkabouts), joined once again by existential slide guitarist Jon Hyde and other class A veterans, for an ambient-elegant but lyrically caustic anthem about everything falling apart due to lack of leadership or vision. Pearson's work has often described and castigated grifters and phonies, not sparing her own self-delusions, but with things being the way they are she has a lot to say about how resources are being exploited these days.
Chris Eckman's "Then There's the Rain" is perhaps the apex of the compilation, a Great American novel-quality lamentation that goes down super smooth like top shelf bourbon but burns like gut-truth. Eckman was the co-founder and leader of The Walkabouts, my favorite band on the Sub Pop 300 3-LP collection that came out before the scene blew up in the early 90s; his songwriting skills have refined and aged like Leonard Cohen's. That's an interesting comparison, as this delectably acoustic-plucked anthem exemplifies the surrender of a once hopeful prophet, aching with lines assuring us we're far past second chances. This would be unbearably depressing if its post-faith eschatology wasn't so absolutely gorgeous to behold.
Another very high point is Johnny Sangster's sweetly detailed and up-to-the-moment "This Fall," a dreamy pining for reaching out to someone beyond all the distance, touching again if only in words, aching for connection or reunion. Because this is the Jack-of-all-Trades who as a guitar and keyboard player has worked with and recorded Mark Lanegan, Mark Pickerel & His Praying Hands, and Rusty Willoughby, helping to make many of the greatest Seattle releases sound so bomb, its clarity and evocation is unsurprising. "This Fall" will become many fans' favorite blues of this era, as its deep need delineates just how necessary human contact is, especially in these times.
All of these are fairly gentle musical compositions with exquisite, well-honed playing, but the album also has chuff gems from the near-hymnal sound poet Mike Dumovich, the effervescent cabaret pop of Michael Shuler and his fabulous rhythm section of drummer Gary Ferguson (session man for Etta James, John Hiatt and many others) and bassist Fernando Perdomo (most recently in the Echo in the Canyon band with Jakob Dylan et al), and gloriously the collection ends on glimmer's "Build A Fire With Your Love," which features a spectacular raging duet between David Russel (bandleader for a particularly riveting Seattle stage production of Hedwig & The Angry Inch, and singer-songwriter for the 1 Uppers) and Susan McIntyre, and marvelously driven by the playing of Mike Bass (name of person and instrument). This closing epic is a deep-breathing, expansive blast of spiritual reconstruction that averts the narrative of this beautifully dark album from plunging into threnody.
Forget what you think you know about Seattle, and dive head-first into this Puget Sound of pure musical pleasure.
Drums & Wires Recordings Website