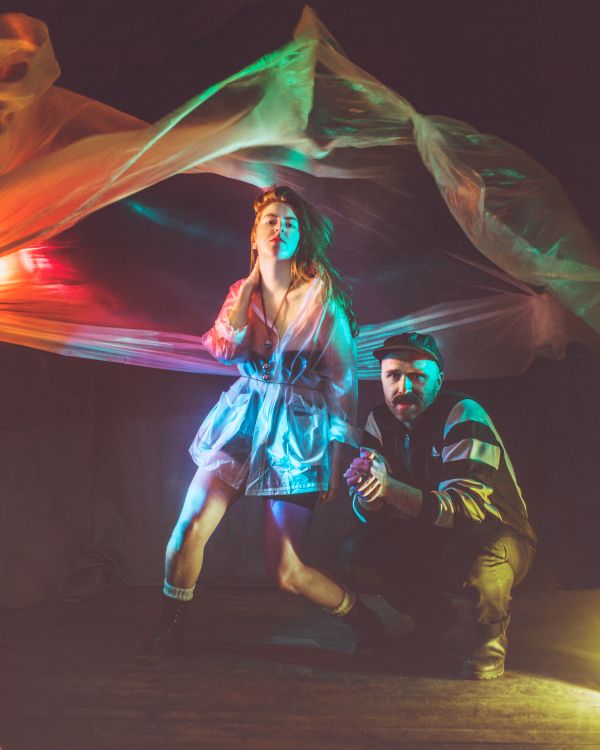 25 April 2019
Home Body – Photo Credit: Anja Schutz
Fever-pop duo Home Body ignores convention with their vivid blend of electronic, New Wave, and experimental pop music, performed from the gut with wild abandon and art-school-cool theatricality. Balancing textured layers of juicy synthesizers, gritty beats, and tectonic bass with spirited, stormy vocals, synthesist Eric Hnatow and vocalist Haley Morgan create a visceral sonic landscape that feels equal parts cosmic, fleshy, and electric.
Home Body's newest full length album, Spiritus, will be released April 26th via Feeding Tube Records and Peace & Rhythm. The Big Takeover is delighted and excited to be hosting the premiere of Spiritus in its entirety before it materializes in the public realm.
Spiritus is a journey through the mind, body, and soul via a hybrid music channel and speaks of evolution and transformation. Album-opener "Sketch" emerges from the ether, a bit dazed and disoriented, feeling its emotions and exploring its surroundings. Winding bright synths are weighed down by lower-tone notes and stricken by reverberating
strikes. Morgan emotes with a fervor that spreads out as a vision comes to" her.
Crisp 'n' crunchy electronics dot the soncially spare but emotively rich "Little Things". Morgan alternately drifts softly, whispers ethereally, and proclaims fiercely amid the subdued synths and electronic percussive quirks. A calmer atmosphere encompasses "DNA" with gentle and radiant synth press, a measured beat, and Morgan's layered, expressive vocals.
Phasing electronic notes slowly zig zag through "White Hands" as Morgan reveals the duality of the individual and that she's, _ "…part of the problem / and a part of the solution."_ "Comet" features spacey, tingling notes, a shadowy backdrop, ticking percussion, a flat-smacked beat, and Morgan's wordless droning vocals in the second half of the track.
Wooden clacks, deep sub-bass, reverb percussion, and curving synths work their way into "Lightning" as Morgan draws out her words with allure. Bubbling-up electro-notes create an aquatic ambiance as Morgan sharply intones about, "pieces of our puzzle".
Delicate and hushed woodwind synths flow through the instrumental "Undertow" as a bright note beckons. The album ends reflectively, with the glow-synths "Soft Stuff" that is an ode to the connection and universality of human beings. Morgan sing-talks soulfully along with the slowly rising synths, reverberations, and echoed beat, declaring repeatedly, "Inside it's all the same / …softness rearranged."
Sweethearts for over thirteen years, Hnatow and Morgan have been been making music as Home Body since 2011. The duo's chemistry and unique sound have garnered an enthusiastic fan base throughout New England and beyond. Drawing comparisons to The Knife, Bjork, Sylvan Esso, and early Eurythmics,
Coming from the vibrant Western Massachusetts music scene, Home Body plays with form and improvisation while retaining a dreamy pop sensibility and demanding presence. Live, the duo punctuates their sound with dance and DIY manual light manipulation, reaching beyond their performance to create a high-vibration spectacle that is buzzing with soul, shadow, and depth.
Home Body has performed close to 400 shows across the North America since their inception, supporting acts such as Dan Deacon, Boy Harsher, Marco Benevento, And The Kids, Guerilla Toss, Pumarosa, TEEN and Downtown Boys.
In addition to releasing their debut full length In Real Life on Feeding Tube Records, and a follow up EP Guts (2014), the duo has scored fashion shows and dance performances and has made music for films and commercials.
Pre-Order Spiritus
Home Body graciously took some time to explain the meaning behind their music with an interesting and informative track-by-track rundown of Spiritus:
"SKETCH"
"a conjuring; attuning to possibilities when one feels stuck or overwhelmed; a sonic illustration of the energy that holds us & animates us."
"We wanted this song to feel cinematic, like walking into a dark, dank, unfamiliar cave with your eyes slowly adjusting to the lack of light."
"LITTLE THINGS"
"a declaration; resisting the tight grip of late-stage capitalism; mustering the power of the collective through expanded perspectives."
"There's an almost inaudible sub bass during the intro, like a lurking gut feeling. Features one of our classic face-melting synthesizer sounds from Eric's Korg MS2000."
"DNA"
"a curiosity; synthesizing inherited and chosen identities; how somatic rituals can initiate personal evolution and generational healing."
"Processing grief surrounding illness and death compelled us to write this song. What happens when a part of you decays? How do we move on and make peace with unsettling experiences?"
"WHITE HANDS"
"an acknowledgement; white privilege; historical and systematic racism and violence; technological isolation and apathy; the pitfalls of liberalism."
"The cycling, repeating synth line almost feels like its circling the drain, washing down bitter truths along with the scum and dead skin cells. This was the last song we wrote for the album."
"COMET"
"a possibility; an inevitability; earthly mysteries cloaked in time, rubble and patriarchal lies; ancient civilizations and archeoastronomy; lack of control."
"An ode to our "cosmic clock" here on Earth, the song climaxes as we imagine how a stellar object colliding with our world might sound or feel."
"LIGHTNING"
"an encouragement; a realization of one's own fullness and unwavering potential; our natural state; our shared potential; light manifested out of pressure and friction."
"The first song we finished recording and maybe our overall favorite. One of the lushest tracks we've ever made, it includes two dozen background vocal lines, which Haley tracked in her pajamas in our apartment's sunroom."
"UNDERTOW"
"a break; space to process; the acceptance of our shadows as a part of our light."
"It was important to us to include this instrumental extension from "Lightning" on the album. You can't put everything into words all the time. An absence of lyrics leaves room for everything else to do the storytelling."
"SOFT STUFF"
"a reconciliation; summer pavement steaming after a storm that has passed; clarity of commitment."
"We started writing this 6 years ago but just couldn't figure out how to resolve it – we needed more time, more perspective. This song comes from an intimate place, reminding us that incredible strength can come from softness, reflection, and truth."
TOUR DATES
05.03 – TURNERS FALLS, MA at The Shea Theater
05.11 – NORTH ADAMS, MA at O+ Festival
05.17 – KEENE, NH at Terra Nova Coffee Roasters
06.08 – NORTHAMPTON, MA at Strong & Pleasant Music Festival
06.14 – BOSTON, MA at Great Scott
06.28 – LOWELL, MA at UnchaARTed
07.13 – GREENFIELD, MA at Green River Festival
08.03 – BECKET, MA at Dream Away Lodge
Website
Facebook
Twitter
Instagram
Tumblr
YouTube
Bandcamp
SoundCloud