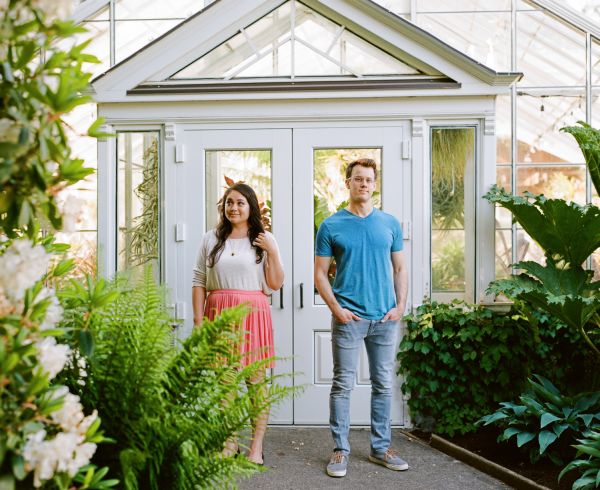 3 April 2019
Pikefruit – Photo courtesy of Pikefruit
Seattle's latest synth-pop duo Nicole and Alex make music united as Pikefruit. Their joyful and engaging six-song debut album Sprig is infused with deliriously sweet and delicious melodic energy, reflecting the romantic happiness of their own lives. The Big Takeover is keenly happy to host the premiere of this whole release for you here before it releases on April 5th.
The name Pikefruit is a tribute to the street called Pike Street that runs through the Emerald City, which features a wonderful cross-section of people and visions that the pair explain, goes "from the bustle of the Public Market on Elliott Bay, through the night life of Capitol Hill, to the restful shores of Lake Washington."
Sprig is for life-lovers – and the part of the seasonal cycle when sprouts emerge from the earth and buds begin to blossom on flowers and trees. The title of the release was inspired by the springtime "in which it is planned to bloom into the fertile music scene here," Pikefruit say, even though "It's just us two making all of it."
Nicole (vocals) and Alex (production) presenting themselves as a singular, coherent unit, but they were also assisted by Mandy Parnell for mastering the six songs. The drums on the album are acoustic samples recorded and then added to fit the sound. Nearly all of the synthesizer sounds the duo use come from the Emagic ES2, which Alex asserts, is "one of the most underappreciated synthesizers ever."
Standout tracks include "Hold You," a tender and reflective tune about relying on the comfort of a loved one when going through difficult times; "Wedding Bells," a funky, upbeat number and tremulously optimistic expression about romantic connection that features Nicole's brightly airy vocals; and the swaying and shimmering "Free" a liberation anthem which closes out the album.
Comparable to notable acts like BRAIDS or Passion Pit, Pikefruit create perfect synth-/chamber-pop;the kind of warm and inviting electronic/synth music that avoids the Auto-tuned distortions of current harsher pop and rock cuts that dot the musical landscape.
Emotional and sonic sincerity is the message of Pikefruit: "We want listeners to feel that we expressed something real based on our life experiences. And hopefully it might resonate with something they've experienced too."
Facebook
Instagram
Twitter
Website
Bandcamp