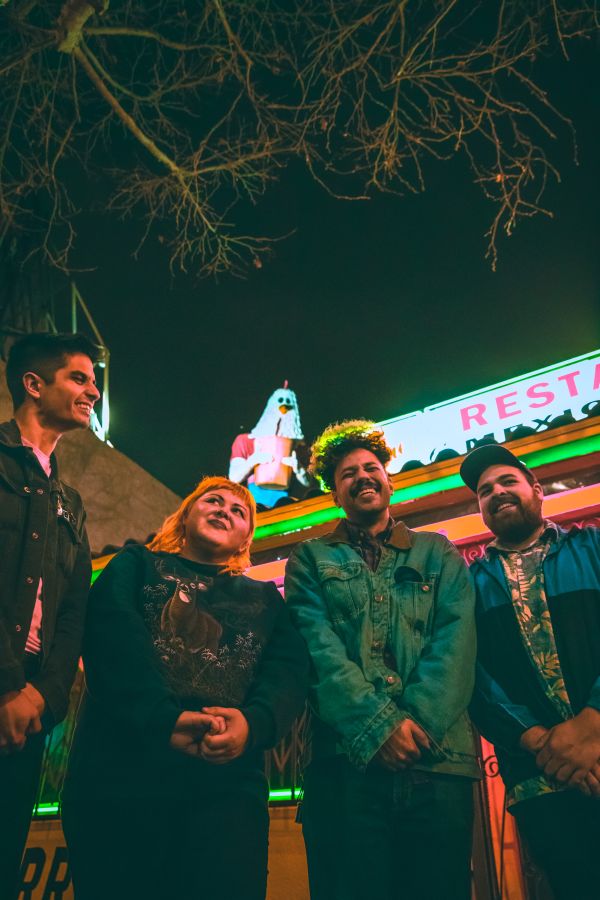 3 June 2019
Rat Fancy at Highland Park Bowl – Photo courtesy of Rat Fancy
Los Angeles-located pop/rock band Rat Fancy unleashes rad nineties nostalgia, tuneful sing-alongs, and youthful abandon with their debut album, Stay Cool, which arrives on June 7th via HHBTM Records (vinyl and digital) and Solidarity Club Records (cassette).
The Big Takeover is super-stoked to host the LP premiere a few days ahead of its release. Catchy power pop, gritty indie rock, and spirited punk merge on the album's 10 tracks. From fuzzed-out punk-popper and lead single "Making Trouble" and the kicky, kinetic indie rocker "Stay Cool" to the floor-shaking "Never Is Forever" and the thrashing "Stuck With You", Rat Fancy strike a perfect balance between noise and melody.
Meaningful themes run the gamut, from celebrating friendship and the relevant topic of immigration ("Must Be Nice") to the paranormal, the future, and bad tattoos ("Stuck With You"). What stays cool – and true – are the relatable lyrics, engaging compositions, sweetly infused and enthused vocals, and dynamic sonics.
Formed in late 2016 by Diana Barraza (vocals, lyrics, guitar) and Gregory Johnson (guitar, keys), the duo evolved their sound from shimmering lo-fi pop to heavy pop-rock and added two newer members, their friends Matt Sturgis (drums) and Dan Fernandez (bass).
Stay Cool was recorded and produced by David Newton of eighties indie pioneers The Mighty Lemon Drops and mastered by James Trevascus.
Purchase/Stream Stay Cool by Rat Fancy at Bandcamp
Diana Barraza generously gives the inside scoop about each song on Stay Cool, with an introduction that explains the band's shift in sound and vision.
"When Gregory and I started writing the Rat Fancy EP back in 2016, the world seemed way less terrifying. We had a teaser that showed a joke newspaper and it had headline about Trump being eaten by a dog in a cute taco costume. The idea of Trump getting elected was such a joke to us."
"I think one reason for the shift in our sound has to do with the times. It's so hard not to be upset — especially when Charlottesville 2017 happened or hearing white supremacists interviewed on public radio. It is a nightmare. That aside, we want Rat Fancy to be a departure from the everyday madness. This is a place where our friends can be free to be who they are."
"Going into writing Stay Cool, we had more experience as a band, getting to travel as a group and meeting rad people at every show. David Newton was our first pick to record the LP. I've known Dave and his wife first as friends, second as a musician and I'm a big fan of The Mighty Lemon Drops. This is a pop record that comes out swinging and Gregory and I are super proud of the final product."
"Stay Cool"
"There was a time Greg, Gavin and I kept telling each other H.A.G.S. (Have a good summer). I think Stay Cool came from that sentiment—like flipping through a yearbook and the only problem you have as a kid is wondering what to do with your summer. I really hated high school but looking back, it was all so carefree."
"Making Trouble"
"I was in a bookstore when I picked up Make Trouble by John Waters. It really hit home with advice like stop blaming your parents for your problems. Art is my giant passion though it is almost impossible turning that into a career. John Waters gives you a flicker of hope. Like all it takes is one person to give you a chance and you're off. On a deeper level, the song is also about dealing with your emotions and channeling it through music. It's okay to be mad. It's okay to feel so strange."
"Never Is Forever"
"This song was a result of a house show gone wrong in the band's early days. Right before we went on, we realized my pedal board was missing. We quickly figured out that another band on the bill "mistook" it for theirs and drove it to their practice space. The boards of course looked nothing alike and their pedals were mostly all broken. We confronted them and even though they said they would bring it back, they preceded to get high and settle in at the party. None of the guys apologized to my face—they apologized to the guys—and I cried the way home. We got the pedal board back the next day but they had taken it apart—clearly they weren't looking to give it back. Thankfully, I don't think they play anymore. They had a release on an Orange County label. This song is definitely directed towards the creeps at DIY shows and those who are disrespectful to people."
"RIP Future"
"I was sitting in a doctor's office feeling pretty bad when the words started coming to me: "Lately I can't catch a break…" This was a particularly rough time being extremely underemployed as a designer and I was terrified of the future. I know many folks my age who can only dream of things like stability and home ownership. While that's all at play, the song isn't supposed to be bleak. We're saying that even though it's tough out there, we're happy. The car on the cover is an example of that. It's an old car that's seen better days, driving along an ominous road, yet there's a big happy face on the top of it (like the car in the '90s film Doom Generation)."
"Must Be Nice"
"Greg wrote the entire music side of the song before we had an idea of what the song would be about. At the time, all of the reports of immigrant families in detention facilities were everywhere and I remember feeling very angry and helpless. Both sides of my family came from Mexico to Los Angeles a long time ago, and the bitterness towards immigration really upsets me. It's a sardonic way of saying that it "must be nice" to not feel affected by current events. The song also reminds me a bit of The Wedding Present."
"Beyond Belief"
""Beyond Belief" is the only song we reworked from the EP because we felt like it deserved it. "Suck A Lemon" was a glimpse at what the band hoped to become: pop-centric, unapologetic and clever. Not that the other tracks weren't deserving of a rewrite, but "Beyond Belief" is near and dear to us on a personal level. Greg and I are huge fans of the largely forgotten '90s TV show Beyond Belief: Fact Or Fiction and we started writing this as an homage to the show and the paranormal. The show is pretty ridiculous."
"First, you have Star Trek's Jonathan Frakes presenting a bunch of paranormal stories that might be true with the only evidence of their validity coming from an author Robert Tralins. Robert Tralins was the only source of research and I have no idea if the stories really happened as they were shown on the show, but I'm Fox Mulder to Gregory's Dana Scully and I want to believe. Apparently, Robert Tralins also had a paranormal encounter in his life."
"The bridge has this beautiful guitar tapping with a spoken word referencing the opening of Close Encounters when the man describes how the sun came out at night and sang to him: "El sol salio y me canto.""
"Deep down, this song is about believing someone's otherworldly experience: "I know what's keeping you up at night." I think it goes beyond the paranormal—it's totally for someone who is misunderstood."
"Dreaming Is Real"
"I love heavy-hitting pop songs. I was walking to the grocery store when it started pouring. I didn't have headphones to listen to music and the chorus to "Dreaming Is Real" just popped up in my head. I think I had a dream about someone that night who was a ghost from my past."
"Relationships are difficult and as I've gotten older, it's easy to lose touch with some. I love pop songs that are both pretty and sad. I came home and I played it to Greg and the song came together so easily. When I played it for the first time, there was something about it that reminded me of Rose Melberg, who is someone I really look up to musically. Not that it sounds like any of Rose's incarnations, it's more of a nod to indie pop in general."
"Finely Knitted"
"This was an early Rat Fancy song that we put out as a Christmas track before our EP came out. I love Christmas songs that don't sound like Christmas songs and we changed the lyrics up a bit and added it to our set. It has a really ambitious keyboard solo that Greg came up with and it reminded me of the old "Electrical Parade Song". This song makes me happy and it's so sassy about someone who stole a former friend's favorite sweater. Maybe it's a nod to my old band Sweater Girls too. Sweater Girls was so sweet and naive and this is the total flip side."
"Stuck With You"
""Stuck With You" is the complete intersection of punk and pop. Greg and I were a few days away from our last recording session with David Newton and we were one song short of ten. We started jamming—me on guitar and vocals and Greg on drums—and the song came out. Somehow Joyce Manor's "Heart Tattoo" came up, but instead of a song about a cute tattoo, we thought, what if it was about a bad tattoo?"
"When we got back home, I looked at the bookshelf where I have So This Is Permanence, a collection of Joy Division lyrics and Ian Curtis' notes. I thought that was the perfect way to open the song. That sounds so existential and serious, but we needed to make it light and almost funny."
"Is there such a thing as a bad tattoo? In the scheme of things, who cares if you have a smiley face or a Bowser playing a double neck guitar? I think people like to put a lot of meaning behind a tattoo. Pretty much all of my tattoos were whims where I liked the design. For instance, last time we were playing Athens, Georgia, we went to a tattoo shop. Greg and his dad got matching frog tattoos and I got a strawberry with a face."
"There's one point where I say, "Existential tattoo of my dreams. Don't ask me what it means." Sometimes people take themselves so seriously. Sometimes bands take themselves so seriously. There is something about the chorus that reminds me of Suicidal Tendencies "Institutionalized"—only being done in our own little Rat Fancy way. For being a pop band, this track is our punk moment and I love playing this live because it can be unexpected."
"Ride Or Die"
"So much of Stay Cool is about staying chill when things aren't going great in life. From moments where we dealt with bad landlords, moving, job struggles and other personal issues, the good outweighs the bad. "Ride Or Die" honors those who keep us sane when times are tough. I think it's a good reflection of Greg and my relationship. We're working and hustling, but we take the time for each other and this band. We wanted it to have a '60s girl group feel and this is the only track where David Newton lent some sweeping guitar strumming. This song is definitely for the good people in our life who have cheered us on."
Website
Facebook
Instagram
YouTube