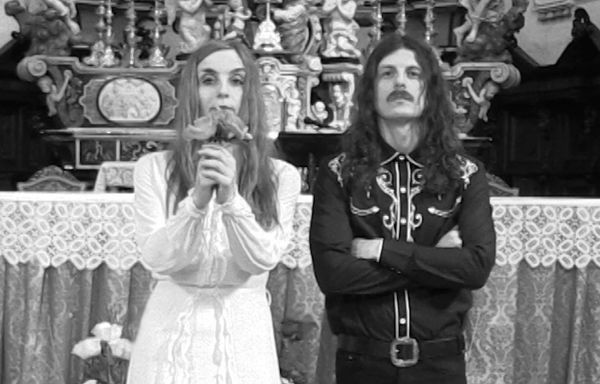 10 November 2020
Nero Kane – Photo Credit: Samantha Stella
The ever-intriguing Nero Kane has released his new album Tales of Faith and Lunacy, preceded by the lead single 'Love Won't Come' and a video with a feel reminiscent of that memorable shoot-em-up church death scene in Tarantino's Kill Bill, only with more religious overtones.
The soundtrack is confessional in the same way as Nick Cave and Kurt Vile can manage with a slow melancholic haziness evocative of Mazzy Star and select tracks from The Asteroid No.4, for instance. This is a mesmerizing slow-burning cocktail of doubt, dashed hope and the eternal search for meaning and salvation.
Nero Kane (real name Marco Mezzadri) is an Italian dark psych-folk songwriter whose music is intimate, minimal and decadent. Both in his vocals and guitar style, his European roots intertwine with America's desert rock sound in a project full of emotional vision. With an eye open to blues and classic songwriting, his music is particularly concerned with death, religion and love.
Recorded and produced by Matt Bordin (Thurston Moore, Michael Zerang, Jackie O' Motherfucker, Delaney Davidson, Squadra Omega) near Venice at Outside Inside Studio, Tales of Faith and Lunacy is released on vinyl via Nasoni Records (Berlin) with CDs being put out by BloodRock Records and on cassette tape via Anacortes Records.
Tales of Faith and Lunacy is a visionary story with a cinematic flavor – a timeless journey conceived in a personal vision of faith between spirituality and passion. Featuring Samantha Stella as singer, musician and lyricist, and Nicola Manzan (Bologna Violenta) as guest violinist, this record unfolds in a desert landscape where medieval European mystical influences blend with the flavour of the American West to ultimately weave gloomy, minimal psychedelia.
Hypnotic ballads press to the rhythm of a horseback ride through dusty prairies, where echoes of holy women appear in the heat of the day and in the chill of the night, including Mechthild Von Magdeburg, a thirteenth-century Christian mystic, whose writings are quoted on the album. Readings with a gospel ring converge in a crescendo of old-time organ and string music.
His 2018 debut album Love In A Dying World was recorded and produced in Los Angeles by Joe Cardamone (The Icarus Line / Holy War, Nick Cave, The Jesus and Mary Chain, The Cult, James Williamson of The Stooges, Warren Ellis, Mark Lanegan), and released via LA art collective American Primitive. His sound has been described as suspended and crepuscular music with the melancholy of Nick Cave and the latest from Johnny Cash blend with sparse psych-folk and stark blues-rock with a distant, lost and frozen voice.
The album was accompanied by an experimental film shot in California by Italian visual artist, performer and filmmaker Samantha Stella, who joins Nero Kane for a live set. The film has been screened in museums and art galleries. The duo have performed in many European venues, including theaters and churches, their most recent UK tour being in February 2020.
Tales of Faith and Lunacy is out now, available online digitally everywhere (available HERE) It can also be obtained directly from the artist via Bandcamp
TRACK LIST
01 Lord Won't Come
02 Mechthild
03 Mary of Silence
04 Madgalene
05 Lost Was the Road
06 I Believe
07 Angelene's Desert
ALBUM CREDITS
Recorded by Matt Bordin at Outside Inside Studio (Montebelluna, Italy) and Ettore Franco Gilardoni (Real Sound Studio, Milan)
Produced and mixed by Matt Bordin
Mastered by Andrea De Bernardi at Eleven Mastering Studio (Milan)
Nero Kane: voice, guitar
Samantha Stella: voice, organ, piano
Matt Bordin: guitar, synth, organ, pedal steel
Nicola Manzan: strings
Music and lyrics: Nero Kane except tracks 2, 4 and 7 (lyrics by Samantha Stella)
Now for some impressive visuals:
Nero Kane
Website
Bandcamp
Facebook
Instagram
YouTube
Apple Music
Spotify