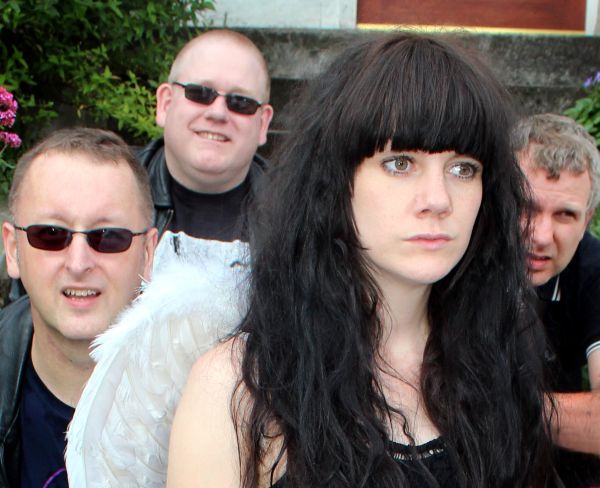 13 March 2020
The Flatmates – Photo courtesy of The Flatmates
Bristol, England-based indie pop royalty and C86 pioneers The Flatmates are releasing their debut album a mere 34 years after their first show. Yes, you read that right – 34 years have flown by since the indie pop/punk band came into being and championed a lo-fi, DIY, punk-influenced melodic pop-rock sound.
The Flatmates' eponymously titled first studio album arrives today via HHBTM Records (USA) / Subway Organization (UK), and The Big Takeover is dead chuffed to host the premiere of the LP in its entirety.
The band's tuneful debut lead single, "Shut Up and Kiss Me," bowed in late 2019 on a limited edition 7" by independent Greek label Old Bad Habits. It's a whirlwind of guitar grit, peppy rhythms, and matter-of-fact vocals – sonic threads that are woven through all the songs on the LP.
The album The Flatmates marks the culmination of a very fruitful period of writing for the band, with main songwriter guitarist Martin Whitehead's songs being augmented by contributions from singer Lisa Bouvier and keyboard player Rocker.
The self-recorded album features thirteen (lucky for some) killer pop songs, all originals. Side one also takes in "You Held My Heart", the first Flatmates single to be written by singer Bouvier and the organ-swirling groove of "She's So Bad for You."
Side two opens with the anthem for the indie generation "Last Guitar in Town", which Whitehead wrote after waking suddenly to find a tall dark figure standing at the foot of his bed and a gravelly voice speaking the words, "Listen son. No-one…gives a fuck…about your rock'n'roll."
"This Is Reality" brings you round with a slap in the face and the flip-side continues through the live favorite "Punk Moth" and the crime drama "The Night We Murdered Love".
"The Flatmates" closes with the brass-stabbing, string-sweeping, ivory-tickling, finger-snapping, soul-stomping call to the barricades that is "(If You're Going To Give Your Life For A Lost Cause, Then…) Why Can't It Be Love?" – a timely song/message for the topsy-turvy world we're now living in.
With the release of "The Flatmates" the band have now notched up new releases in each of the 5 decades from the '80s to the '20s.
The album was recorded in Bristol at Rocker's home studio StAR Studios, by bandmembers Whitehead, Bouvier, and Rocker, plus bassist Matt and drummer Brian Price, with guest appearances by Wendy Pickles (The Popguns; The Perfect English Weather), Katie Gatt (Personal Best, Colour Me Wednesday), Geoff Gorton (Arrest! Charlie Tipper, The Dukes Of Mumbai), Harry Furniss (Iceman Furniss Quartet), and Thomas Aherne (The Proctors, Peru).
Martin Whitehead, Rocker Rosehip, and Lisa Bouvier all kindly took part in detailing the meaning and creative process behind the songs on The Flatmates.
"Shut Up and Kiss Me"
(Martin) "If we didn't open the album with our favourite Ramones riff you'd be disappointed, wouldn't you? We can talk all night about feelings, and love and gender roles and family, and what you always wanted and princesses and unicorns, but if you want to know if he loves you so…then put your lips where your mouth is and pucker up or shut up."
"You Held My Hear"t
(Lisa) "When I was asked to join the band, I wanted to contribute to the new material and I'm very happy this turned out to be the first single! It's about falling in love with someone who only wants to keep it casual. I wanted to have a chorus everyone could sing along to regardless of intoxication level (and people really do sing along – thanks folks, it's an amazing feeling!). En, två, tre, fyr!"
"She's So Bad For You"
(Martin) "Love can be an addiction, a drug. You keep needing that hit even though you know, deep down, that no good will ever come of it. But there's always a time, in the darkest, quietest hours, that you know it's totally what you crave. You can't stop yourself from going back just one more time, cos I can get it all under control, and it will all be fine, and people will see that it was meant to be. Some of us will never kick the habit. Some of us are junkies for a twinkle in the eye and a certain smile."
"If You Love Me Let Me Know"
(Martin) "Or "You Broke My Heart in 17 Places: Chapter 1 – In the Car Outside Your Flat". At some point in your life, if you are very lucky, you may meet that special someone for whom you would forsake all others. The hottest, most beautiful, most stimulating person you could ever hope to share your life with. And they, in return, they will quite like you, and may even say they love you, and probably miss you when you're not there if they're not with their friends. You can, however, be sure that they won't know if they want you….but they know that they don't not want you."
"Falling Out Of Love"
(Lisa) "I wrote this song on an acoustic guitar, not really expecting it to become a Flatmates song. But once I started to record the demo and using a fuzzy guitar, it immediately became perfect for the band. It's about finally breaking up with someone you haven't been in love with for a while."
"Do The Angels Care?"
(Martin) "Let's face it, in these days of austerity and where dreams are cut to the bone, where someone knows exactly what pushes your personal buttons, what makes you angry, what makes you spend, those remaining few in the employ of the celestial realm really don't have the time to do much more than slip you the FAQs, and make you aware of the cosmic help line. "This call will be charged at premium rate as a debt upon your soul. Please start talking after the blast of trumpets from the heavenly host. This call will be recorded and may be used by St. Peter for admission purposes. Thank you." The management consultants have reported, and we can reach out to 89% of souls with 49% of current staffing levels. Cuts will primarily affect Guardian and Arch angels. Performance bonuses will be paid to Seraphim for delivering the downsizing."
"The Last Guitar In Town"
(Martin) "A "Hitsville UK" for the 21st century, inspired by the appearance of a tall, dark figure at the foot of my bed. "Listen son" he said, with a voice that was almost entirely gravel, filtered through whisky and tobacco. "No one, gives a fuck, about your rock'n'roll…" It's a rallying cry for all those plowing their own musical furrows, week in, week out, with little reward and less hope of success. Why? Because we believe in something that's not measured on P and L sheets, because love is all you need and because "when the needle drops on the vinyl scratch and pops", it's the bass line that counts…not the bottom line."
"This Is Reality"
(Martin) "Hal David and Burt Bacharach said it "And all the stars that never were, are parking cars and pumping gas". So you aim high, and reach for the stars, and if you fall short then there's always a vacancy for another musician, actor, poet, dreamer to flip burgers, stack shelves and watch the minutes drag by until the hours pass and you can escape, until the alarm rings tomorrow morning and you repeat the whole damn charade again and again until you die. Which is why some people keep playing, year after year, driving up and down the country to perform to half a room of barely interested people and sleep face down on a carpet that smells of cigarettes, beer and…is that piss? Not because we dream of stardom, but because we fear the nightmares of a corporate millstone around our necks more than the insecurity and uncertainty of a performer's life. After all, it's better to die every night than become one of the living dead."
"Can't Get You Out Of My Heart"
(Martin) "Both my teenage sons are into music and they're both starting to write stuff. It can be so easy to create "something" with software and phone apps, but that can also make the song writing process unfocused and indulgent. Last summer I set my sons a challenge that the three of us should each write a 2 minute song using no more than 4 chords. I don't think they finished anything, but this was my attempt. "Dad's written another break up song", "Yeah…loser". Lots of fun adding explosions to the mix, though the electric drill solo eventually got substituted for a synth."
"Something In My Eye"
(Rocker) "I wrote Something In My Eye after I noticed how many songs used the classic motif of men crying in the rain, because, after all, real men can't be seen to cry. There's The Everly Brothers' Crying In The Rain, and different songs called I Wish It Would Rain by both The Temptations and Wreckless Eric. Since our singer is female (you noticed already!) I thought it was a nice reversal of such a familiar trope."
"The Night We Murdered Love"
(Martin) "A confessional. It's not something I'm proud of, but it happened, and I have to face the consequences. Turn out the lights and pretend there's no one home. A joint enterprise committed by me and my co-defendant. Did we really think that nobody would get hurt that night? If we never talk about it then it never happened. Whatever you do….don't.tell.a.soul."
"Punk Moth"
(Lisa) "On one of our first practices as the new line up, we found a dead moth in the practice room (that is Rocker's kitchen if anyone wonders!). I think it was Martin who said "that must be a punk moth" and from that moment, the expression "punk moth" was frequently used by the band in various situations. I wrote this song after a great night out DJing at How Does It Feel To Be Loved. I wanted to do a catchy sort of Ramones-y type song about dancing. If wanted, the alternative phrase "If I don't get a curry then I'm gonna start a fight" fits right into the lyrics in the chorus."
"(If You're Gonna Give Your Life For A Lost Cause Then) Why Can't It Be Love?"
(Martin) "A song that's indebted in equal amounts to Martha and the Vandellas "Heatwave" and The Redskins "Keep On Keeping On". A bass line that's tight as a gnat's chuff, that underpins the keyboards, strings and brass. The guitars take a back seat, and yet, it still sounds like The Flatmates. "Sure there's a revolution to be started, but you're going nowhere 'til you've dealt with the uprising I'm experiencing…" I don't know how we'd ever play it live without having about twenty people on stage. It was a challenge, a lot of fun and really satisfying to get it done. I think it closes the album on a high, and after opening the album with a Ramones riff, I like the idea of ending it with a blast of brass. You didn't see that coming did you? Keep 'em guessing, kid, keep 'em guessing…"