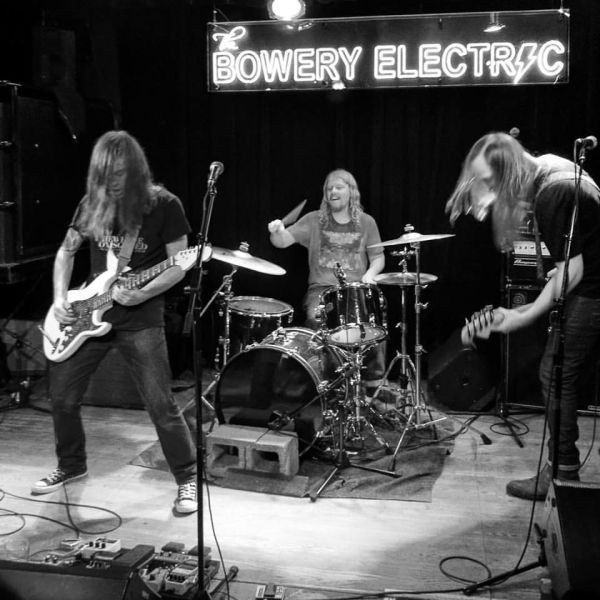 26 October 2018
Dead Seconds – live – Photo Credit: Eamon DeFabbia-Kane
NYC-based rock band Dead Seconds will be touching base with The Ground, their second powerful album of mighty and fuzzed-up riffage, heavy rhythms, hard-hitting lyrics, and unbridled primal screams, on November 2nd. The LP is alternative, psychedelic, and heavy stoner rock at its finest.
Over the past few years, Dead Seconds have furiously been writing, self-recording, and honing these songs to striking effect. The Big Takeover is highly excited to premiere The Ground in full today, one week before it's officially released.
Dead Seconds' debut album, The Grain, dealt with themes and elements involving wood and forest imagery, which comes as no surprise from primary songwriter and prolific musician Matt C. White (Grandpa Jack, Charles Ellsworth and The Coo, Realizer) who originates from the wild woods of North Carolina.
The Ground, however, has a different conceptual feel and follows its own path. White explains, "Initially, I was planning on delving into earth imagery and stone metaphors, etc. (which there's definitely some of), but as the songs and the lyrics developed and as I started working more and more with the songs, The Ground itself started to mean something different."
"As it pertains to electronics, The Ground (or common earth) is the reference point in an electrical circuit from which voltages are measured. To me it started to mean your reference point for reality. A sort of mind tether or something."
"With tracks like "Introvert" and "Transmission", there's definitely this pervasive sense of communication and miscommunication. I think a lot of this at least for me comes from the day and age we find ourselves in. Communication has gotten so foreign and is evolving so quickly, it's easy to feel both overly connected and somehow very distant from those we interact with."
"This idea of communication and an individual's human experience definitely shaped the recording process as well. There's a lot of old-timey CB radio hand-held microphones and HAM radio microphones used (like on "Transmission") on the vocals, as well as old interference and static noises of all kinds."
Immense, intense, but also many times forebodingly introspective, The Ground was created by White, with an assist from his band mates and Steve Mason (bass) and Jarrod Lebeck (drums). The potent tunes roil with jags of weighty guitar grind and dynamic distortion, low-end bass line pull, pounding drum thuds, and White's reflectively pensive to urgently fiery vocals. The alt-, psych(e)-, and stoner rock sub-genres are expanded upon with swamp blues and desert rock, and an occasional funk groove, where they all meld into one electrifying sonic brew.
Dead Seconds mixed The Ground with Charles Burst at The Seaside Lounge and the LP was mastered by Brad Boatright (YOB, Black Tusk, The Golden Grass, SUNN O)))) at Audiosiege.
Get connected to The Ground below:
Website
Facebook
Twitter
YouTube
Spotify
iTunes
SoundCloud
comments powered by