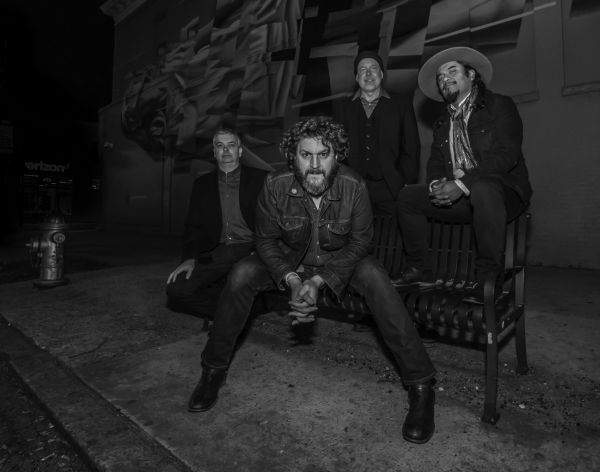 12 March 2019
6 String Drag – Photo Credit: David Parrish
Every year, Record Store Day always brings us a plethora of sonic treats that just cannot be found at any other time of year, plus many advance releases before they are eventually sold elsewhere (i.e. non-RSD participating stores) and online.
This year, 6 String Drag has announced that they will be releasing their new album The Jag Sessions: Rare & Unreleased 1996-1998 via Schoolkids Records. It will be treated with loving collector-friendly gloves as it is being issued on limited edition 12" red vinyl with just 500 copies to be made available – and The Big Takeover is excited to host the premiere of the LP here.
This release is sure to please folks who are already fans of such artists as Steve Earle, Uncle Tupelo, Bobby Charles, or Slobberbone. Standout tracks include "Brasstown", "Just a Shame", "Red", "Elaine", and "Bottle of Blues", but pretty much everything here is commendable and speaks to a group with both stamina and talent, but also insight and an infectious harmonic vision.
In the mid to late '90s, Kenny Roby and 6 String Drag stood out as pioneers of the nascent alt-country movement. After a leaving a mark on this genre, as well as the Americana / No Depression scene, the Carolinas quartet essentially broke up.
The band's second record High Hat was produced by Steve Earle and Ray Kennedy and was released in 1997 on Earle's Warner Brothers imprint label E-Squared Record. This album remains an undisputed classic of its era.
In early 2014, 6 String Drag reformed with the High Hat line-up and recorded their 2015 comeback record Roots Rock & Roll to much fan excitement and critical acclaim.
In January 2018, the band reissued a 20th anniversary reissue of High Hat on CD, vinyl and digitally, following up with their fourth full-length studio record Top of The World in March 2018. This album features 6 String Drag founding members and frontmen Kenny Roby and Rob Keller, along with new members Dan Davis and Luis Rodriguez. Both releases are available through Schoolkids Records through Redeye Worldwide Distribution.
The Jag Sessions album is a collection of unreleased rarities and record-quality demos recorded by Byron McCay at Jag Studios in Raleigh, NC between 1996 and 1998. Previously, these recordings have only been circulated among fans and digitally as low-flying CD releases for sale at shows.
This album represents the first time any versions of this collection and the songs found here are available on vinyl. Some of the collection are songs originally recorded for Columbia Records in 1996 for a demo deal with this label, but that ultimately never came to fruition. The songs from 1998 were recorded as pro demos and were intended for release as a new EP following High Hat.
Outside of the four 6 String Drag albums, Kenny Roby has released four critically acclaimed solo LPs – Mercury's Blues (1999), Rather Not Know (2003), The Mercy Filter (2006), and Memories & Birds (2013), in addition to various compilations.
The album will be available from RSD-participating record stores on April 13 as an official Record Store Day release. The 12" red vinyl edition of The Jag Sessions also comes with download card featuring two bonus tracks not included on vinyl.
In the meantime, more from 6 String Drag is available from Schoolkids Records, as well as Kenny Roby's solo releases HERE
TRACK LIST
01 Brasstown
02 Cry Cry Cry
03 Just a Shame
04 Elaine
05 Red
06 Just Another Thing
07 Mercury's Blues
08 The Changeup
09 Murder-Go-Round (Bonus track – download only)
10 Gasoline Maybelline
11 Bottle of Blues
12 Blues Too Blue to Mention
13 No One's Arms
14 Trouble on the Jackson Farm (Bonus track – download only)
Now let's delve a bit into the band's rich past:

6 STRING DRAG
Website
Facebook
Bandcamp
Twitter
Spotify
iTunes
SCHOOLKIDS RECORDS
Website
Twitter
Facebook
Discogs
Instagram