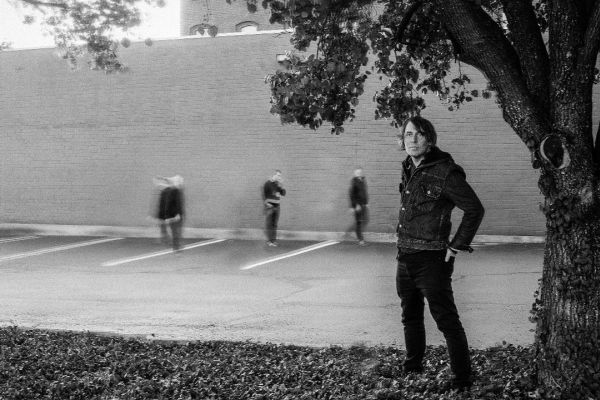 27 December 2019
XL427 – Photo Credit: Nikki Smiley Stargel
Thee Attack is the long-awaited second album from Dayton, Ohio-based space-pop/fuzz-rock band XL427 that's spearheaded by Poptek Records owner Andy Ingram. He's also been the drummer in the outfits Kris N., Jill & Micah, Second Best, and Ruetschle.
XL427's debut album, Yesterdays Forever, featured Ingram on vocals and he was supported by members of all the aforementioned bands, as well as the drummer from Shrug and Human Cannonball. That first LP came out way back in 2008 and Ingram explains why, stating, "I take forever to write songs just because as much as I love crafting a good melody, it so easy for me to do work concerning the label or for my friends' bands instead."
"Plus surviving West Nile took a lot out of me for about five years. I procrastinate at everything and during that time I was even crafting my resignation from all my bands and the label. I just never got around to quitting. The hope that I would recover that I was cynically holding on to eventually came true."
Thee Attack is an ominous title for a batch of songs that are much darker than XL427's retro-happy debut record. Ingram comments, "Sad songs make me happy, but beyond that, getting sick changes your perspective on a lot of life. All but one of these new songs are borne of that struggle, though I still try to write really catchy choruses."
Ingram (vocals, guitar) is joined by Mike Ruetschle (guitar, vocals), Gigi Palassis (guitar), Cooper (bass), and Dan Stahl (drums) for Thee Attack.
The Big Takeover is mighty delighted the host the premiere of this melodically infectious, lyrically delusional, and fervently ruminative album today, a week before its official release on January 3rd via Poptek Records.
The vibrant and absorbing album kicks off on a fuzzy, but bright sonic tip with "The (Surprise) Party", which also drifts with soft, but clearly enunciated vocals sighing dreamily bleak lyrics about a relationship disconnect. Next number "Ideas" continues the cool bass line groove of the LP opener, and adds sparkling guitar scrape and punchy drum hits.
A dreamy fuzz-pop vibe flows through the music, blurring the sharp edges of the guitars and mellowing out the deep bass line undertow. The hazy vocals also spin out in reflective reveries that belie the bittersweet to straight up bitter lyrics.
Indie rocker "Stone Washed Jeans" canters by briskly with dashing guitars, emphatic drum strikes, and plaintive vocals. "Sunlight+Water" dives into the alt-rock pool with a running bass line, coruscated guitar burn, and stark lyrics repeated like an emotionally vulnerable mantra, that "I should have never doubted / that you will not destroy me."
Sounding like a slow build-up to lift-off, the instrumental "Needles" pushes with pulsing bass, extended noise rock guitar lines, constantly hit cymbals, and measured drum thump. "Don't Downplay the Backbeat" is a spacey jangle pop number that drives along with sonic propulsion from all instrumentation while topped off with wistful vocals.
XL427 wrap up the album with "Time Travel," a spare number that strips down the band's sound to just acoustic guitar and Ingram's heartfelt vocals. It's affecting and shows that Ingram and the band have a solid core of songwriting chops that can go on a full sonic blast or stay compellingly quiet. As Ingram longingly sings, "I can't wait to know / what happens now."
Pre-Order CD at Poptek Records
Pre-Order digital at Poptek Records