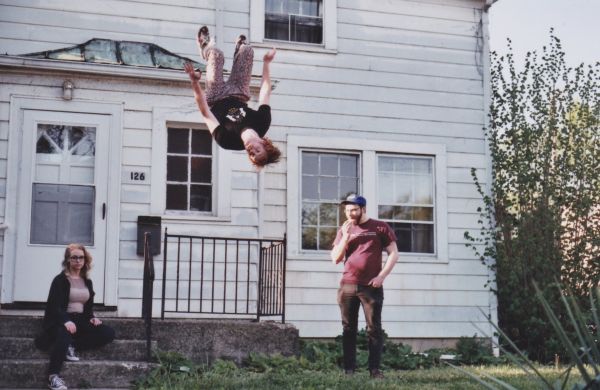 19 June 2020
Slimfit – Photo ; Text Credit: David Haynes
There's always something refreshing about music that comes from people in their early 20s. They have the energy and the optimism to release music that feels carefree, yet also is an attempt to come to grips with the harsh realities of the adult world. Slimfit's new EP, There's Never A Reason Not To Party, will have you longing for those college days when the world seemed so big.
Slimfit is a punk/power pop trio from Columbus, OH. Combining elements from 2000's punk, emo past and present, and the secret sauce from 2002 blink-182, Slimfit creates catchy and irreverent jingles for riding your skateboard to.
Regina Squeri and Daniel Seibert charge ahead on the bass and drums respectively, while Josh Davis layers in simple but fun riffs. The vocals are primarily handled by Davis and range from listlessness to heartbreak to pizza toppings, with Squeri harmonizing alongside.
Slimfit's songs sound as though they were written for muggy, late summer nights when all your friends find themselves on your front porch. Everyone's smoking American Spirits, and the pile of PBR cans in the corner keeps growing taller and taller. The EP functions as a monument to those important moments in our early 20s – where we wake up the next morning and feel a little more comfortable about who we are.
"Power of Shower" talks about how draining the technology around us can be. Davis sings, "I have no favorite hobbies but got a favorite movie / I can't be this bland / I hope you understand." It's a simple line, but it cuts into something we are all feeling in the 21st century. We want to feel something real, outside of our screens.
There's Never A Reason Not To Party is just four songs, but it packs a big punch! It's a reminder that in these troubled times, we can stop for a bit, relax, and have a few beers with our friends. Listen to the EP below: