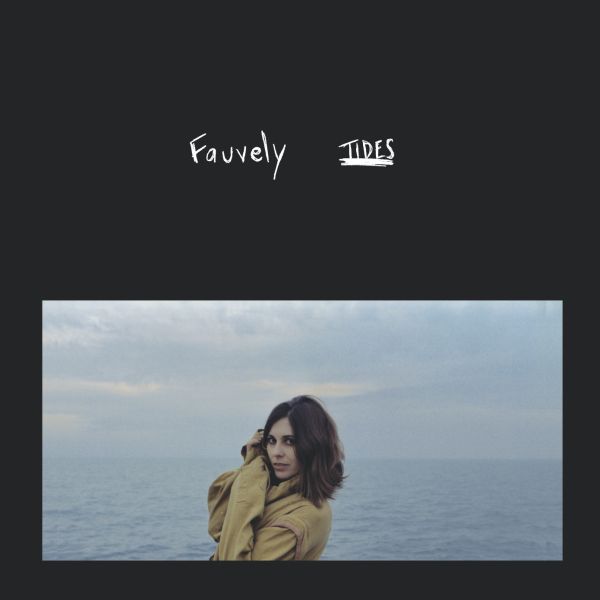 4 October 2018
Fauvely – Tides
Fauvely is the project of Chicago-based singer-guitarist Sophie Brochu, who creates deeply personal dream-pop music. After completing her Master's in fiction writing and feeling frustrated with the constraints of her craft, Sophie turned to music for its raw and immediate release. The title of her debut EP, Watch Me Overcomplicate This (Midwest Action Records, 2017), speaks to the confessional tone of songs that range from delicately self-effacing to hauntingly sad.
Fauvely's forthcoming LP, Tides, releases tomorrow, October 5th via Midwest Action, and The Big Takeover is delighted to host its premiere a day early. The album transports listeners to the salty coast of Sophie's hometown,Savannah, GA. Louder and bolder than her EP, these intensely brooding songs are the result of a new confidence possessed by Sophie, and the desire to come to terms with haunting memories in a place revered for its beauty.
Fauvely has cultivated a strong presence in Chicago, sharing the stage with internationally acclaimed artists Stella Donnelly, Gemma Ray, Ryley Walker, and Ultimate Painting.
Tides is a deeply personal, heartfelt, striking, and affecting album, whether the backstory of her songs are known or not. Shaped from the singer-songwriter perspective, then shaking with urgent and purposeful grit, floating with sharply dreamy reflection, or viewing the world through panoramic Americana, each track flows to the other, rising and ebbing with powerful sentiments.
Sophie gives a detailed and interesting track-by-track breakdwon of Tides, with the full album stream below:
1."Tributary"
"A tributary is river or stream flowing into a larger body of water, but it's also related to the word tribute, and I'm using both meanings. The album is a very personal tribute to my hometown, which by the way, is full of literal tributaries, and this song acts as the perfect river leading into the rest of the album. It's a very intentional introduction. It connects the old Fauvely with the new. The introspectiveness from Watch Me Overcomplicate This remains, but the delivery is more self-assured. On the other hand, the guitar is in reverse, so there's this push and pull. Then there's the swell of the symbol, which is perfect for the theme of tides."
2. "Haunts Me"
"I did a lot of reckless things when I was a teenager, including driving like a maniac around my hometown. I was toying with control and with my life, because I wasn't sure it was something I wanted to keep. I was in a really dark place. One night, I really just lost it, and my dad sat me down in the garage and he was brought to tears. He told me I had to stop. So the lyric goes, "I remember the words my father spoke / when he said I would not be alone / I drove so fast through the night / I cannot believe I'm still alive."
3. "Savannah"
"This was the first song I wrote for the album, though when I was writing it, I didn't intend to write about Savannah. I was messing with this chord progression, and I started sort of subconsciously singing, "Do you remember Moon River I used to live by Savannah's water." It's about looking back, but from a distance created by time and place. I really wanted to call the album Moon River, but everyone I told this to said it was a terrible idea, you know, because of Breakfast at Tiffany's. Well, same river, different vibe."
4. "High Hopes"
"The album is generally about Savannah, but this one is set in Chicago. It's kind of happy, even if it doesn't sound like it. At the time I was working at Alinea, and on my last night, a few weeks before my wedding, the chefs cooked me a steak, and then my coworkers took me out for drinks and I was just feeling really loved and thankful, and I had these deep pangs of gratitude driving home because I had so many people who I cared about and who cared about me and that's a really beautiful thing. Sometimes things don't turn out the way you think, but we find ourselves on a really nice path regardless."
5. "Waning"
"A few weeks before my seventeenth birthday, my boyfriend passed away in a violent car accident. "Waning" describes the last time I saw him. It was in moonlight beneath the birch tree in my parents' driveway, a couple hours before his death. That's the image plastered in my mind. Headlights, moonlight. The cicadas that you hear in the background, I recorded on my iPhone on a trip home."
6. "Tides"
"The title track. Also a bit of a hodgepodge of feelings. It's about nostalgia, youth, innocence, transitions. Ebb and flow. Gravitational push and pull. Wanting to hold on to the good stuff. There will be a hidden version of "Tides" on the tape that Midwest Action is putting out. I should probably leave it as a surprise, but if you're reading this and you buy the tape, then props to you. Enjoy."
7. "I Am the Morning"
"Going into my introspective place again. This one is about depression, which is a topic I'm becoming more comfortable talking about. I think we're often ashamed to admit it, because we fear that it indicates unhappiness in our relationships, rather than a chemical imbalance, but that's not the case. Anyway, this song sounds kind of like a death march. The verses just hammer on. It's self-reflective, self-critical, kind of wailing and distorted. It sounds like the guitars are talking to each other, which is appropriate. You can see a live version that's a bit more delicate" here.
8. "Wherever You Go"
"I'm ending with a song for Andrew, my husband. Most of the album refers to my home in Savannah. Here, home is the feeling of calm and peace I have being with him. It's a really simple, overly-sentimental love song. It felt like the right track to end on, not just because it's pared down, but because it's optimistic, and based on everything I just told you, you might be surprised to know that I'm actually a pretty optimistic person. I'm trying to honor my feelings and all facets of my life and even though most of the music is dark, at the end of the day, it's really all about surviving, and finding happiness again and again. That's the cyclical nature of life. That's Tides, the sun, the moon, the rotation of the earth, and all of the phases in between."
Website
Facebook
Twitter
Instagram
Bandcamp
Midwest Action Records
comments powered by