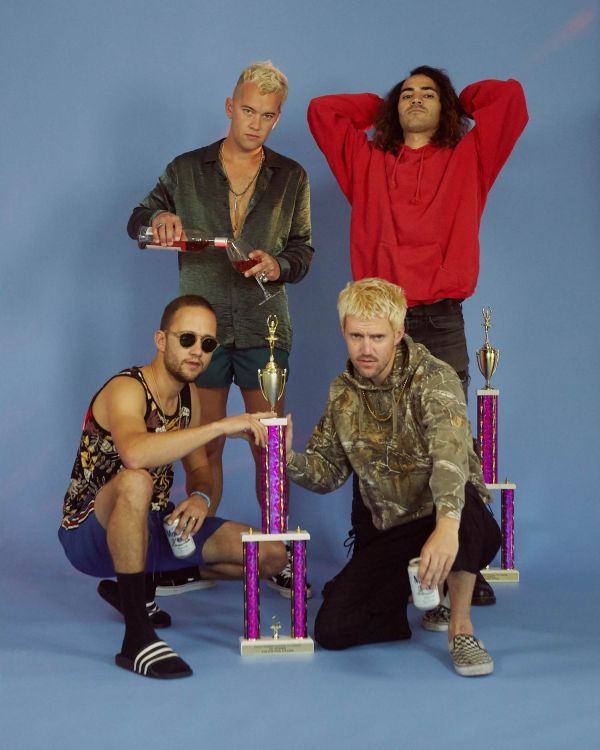 15 August 2019
Pet Fangs – Photo Credit: Jory Lee Cordy
Mixing the stomp and swagger of a rock 'n roll band with the danceable melodics and drama of pop music and rule-breaking spirit of electronic music, Pet Fangs bridge the gap between old and new, raw and refined, organic and digital.
The South Louisiana-located band members call their sound "garage-pop," pointing to a range of influences — from Prince to T Rex to Let's Dance -era David Bowie — as wide and varied as the group's own material.
Brothers Joe and David Stark first attracted an audience as co-founders of the swampy rock band Baby Bee. Signed to Republic Records, Baby Bee launched as a duo and steadily expanded into a larger lineup, with Jory Cordy and Ben Alleman joining the ranks. Cordy, Alleman, and the two Stark siblings were all songwriters and multi-instrumentalists in their own right, each having logged time in touring bands and as session musicians.
Together, though, they were something more: a tight-knit, democratic unit of musicians whose new songs were bigger, bolder, and broader than anything they'd created before. Looking to move outside of the rules they'd placed upon themselves as a rock band, they dissolved Baby Bee and launched a new band. A band with bite. Pet Fangs was born.
The Big Takeover is stoked to host the premiere of the Pet Fang's vividly rousing and richly resonant new album, Ultra Deluxe, a wildly lively and fun ride through a number of cool music genres. The LP zooms enthusiastically between the crunchy electro/space-rock of "Barbarella", the laid-back, but groovin' single "Bitch Baby", a sprightly arcade game instrumental cheekily titled "Costin Me Money", the vocally soulful club number "Problemz", a jittery dance-popper by the name of "Candy Baby", synth-driven '80s throwback "Love Me The Same" that could easily fit on a Stranger Things soundtrack, and the dreamy, yet emotive psych-rock album-ender "She's Alright."
Ultra Deluxe juxtaposes life and comedy, exploring everything from relationships and parenthood, to drinking habits and hard-hitting topics like immigration, all while perfectly meshing rock and pop, with tinges of '80s-themed zest.
In addition to a slew of new tracks that will have fans turning up their stereo to finish out the summer strong, the LP is jam-packed with all of their hits like the aforementioned "Bitch Baby", which spurs a conversation about gender roles, and its companion "Candy Baby", "She's Alright", the Jane Fonda inspired "Barbarella," the funky "Racquet Skirt", and peppy track "She's a Killa."
Pet Fangs' music represents something new. It's equal parts attitude, atmosphere, and adventurousness, glued together by four songwriters whose rock 'n roll pedigree lends edge and electricity to their spirited and engaging music.
To celebrate Ultra Deluxe, the band is hosting an album release show at House of Blues in New Orleans on Friday, August 30th. Info and tickets can be found HERE
Website
Facebook
Twitter
Instagram
YouTube
Spotify
SoundCloud