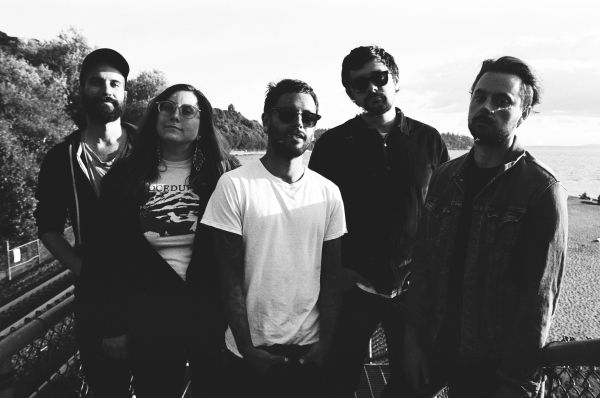 2 February 2020
VLLY – Photo courtesy of VLLY
VLLY (pronounced 'Valley') will be releasing their self-titled debut album on February 1st via Forest Ray Records.
The band started as a noise rock/shoegaze recording project between songwriters John Darin and Peter Sumic (Forest Ray) in San Luis Obispo, CA. Rooted in the harsher side of shoegaze and noise rock, VLLY recorded their initial release "Seedling," in 2016.
The project quickly migrated and evolved in the streets of Seattle, WA, with Darin and Sumic joining forces with Sebastian Brownglad (Myrrum, Forest Ray) on bass and Tucker Devault-Weaver (Myrrum) on drums.
After two EP releases via Forest Ray Records, their upcoming full length incorporates a new vocalist Ashlyn Nagel (Control Test). After recording their second single "Leaving," VLLY proceeded to play out in the Seattle and greater Pacific Northwest region, as well as numerous showcases and festivals at SXSW in Austin, TX.
VLLY represents a markedly different step forward for the outfit. Previously defined by their harsh noise meets misery-ridden shoegaze exterior, they have developed a softer, more supple sound that ebbs and flows, giving space for the songs seemingly collide with themselves and in chaos.
The Big Takeover is psyched to host the premiere of the album today. It's a visceral, dreamy, and tumultuous sonic and emotional journey that recalls the dynamic and urgent side of the nascent shoegaze era, all captured by the warmth of analog recording and production.
Album-opener "Saved" really says it all, from its drawn-out skewed-guitars intro to the sudden bursting into a propulsive, yet still slightly warped, wall of sound. Dual male and female vocals (the words of which can actually be heard, in direct contrast to the shoegaze aesthetic) are tuned into the same frequency as the angular guitars, riding on the giant wave of running bass line, bashed drum beats, and cymbals scintillation.
VLLY gets reflective on the gentle "Walk" that features melancholic vocals and lyrics ("I walk alone.") and is spiked at times with short spasms of fiery guitar. The track opens up near the end with a majestic grandeur before backing down into a calmer approach.
Speaking of peaks to climb and conquer, next track "Mountain" treks through a rocky road of noisy guitar outbursts before dying down with soothing vocal drone. There's a shadowy edge of foreboding that lingers, even as the guitars and vocals beautifully ascend.
Stormy guitars continue to roil "Wellness," but the dreamy vocals are more prominent and earnest amid the choppy and stirring rhythms. "Future" rolls along with looping guitar lines and drums batter for a while before expanding with emotionally triumphant vocal reverie, a wavering bass line, and sparking cymbals spangle.
VLLY is easily one of the most compelling and captivating shoegaze/nugaze albums around; no matter what era.
Facebook
Instagram
Bandcamp
SoundCloud