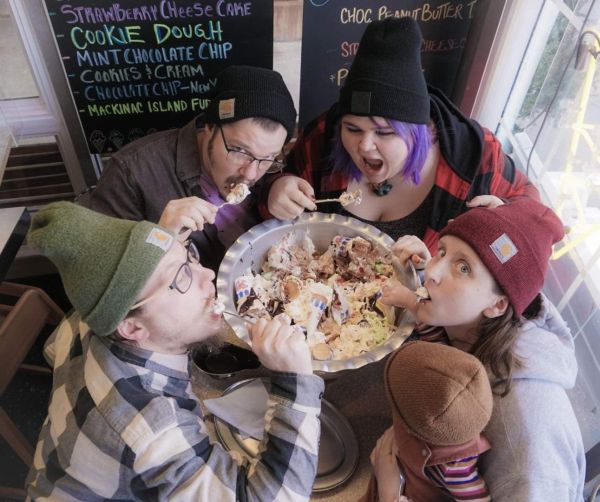 13 March 2020
So Pretty – Photo courtesy of So Pretty
So Pretty demolishes the standard definition of a band, relying on the ideas of accessibility, inclusion, and a lack of hierarchy. With band members switching between instruments and no designated lead vocalist, So Pretty prefers to keep their fans guessing and entertained.
The band formed in Chicago in 2015 and is comprised of Ashley Holman (guitar, slide guitar, vocals), Rachel Manter (guitar, vocals, sometimes bass), James Seminara (bass, vocals, sometimes guitar), and Stefan Lindgren (drums, vocals).
They refuse to categorize their music, but the foundation is based in alternative/punk rock, but from there it's anyone's guess as the songs move from the rawness of garage rock, fervor of riot grrrl, and griminess of grunge, to contemplative spoken word and piano ballad segments, acoustic folk bits, and the catchiness of indie pop.
So Pretty have spread their music and message of feminism as far away as the UK. Their high energy live performances and spontaneity has garnered them a die hard fan base and a reputation for blurring the line between audience and performer.
The Big Takeover is stoked to host the premiere of VS Me in full today on its release date. It's the follow-up to LPs Suck It Up from 2017 and 2015 debut Savior Girl.
VS Me continues to revel in a bold and explosive sounds and lyrics, blasting out of the gate with the aggressively frantic lead single and album-opener "Enough," which was recently premiered at Rebel Noise.
Good times are ahead on the surreal and fun narrative track "Underwater Taco Party Night" that melds an obsession with tacos with the adventures of a friend named Paul, who, ummm, happens to be a fish. Groovin' sax emanations push the song along with a warm 'n' fuzzy flow.
"Cool Dude, You're Projecting" has a twisted, Jello Biafra-like vibe with the wavering male vocals, while the timely socio-political rage of the lyrically blunt and right-on "Ain't That Just The Way" keeps the sonics mostly on a casual tip, but the sentiments fierce ("Ignorance is bliss they say / but only for the ignorant").
"Full Rabbit" goes whole hog with a driving pace, deep bass line, grittily low-rumbling guitars, kinetic drum-work and cymbals crash, and richly delivered vocals. "Proxy" starts out as a hybrid piano ballad/indie folk number, but quickly morphing into an anthemic and symphonic hard rock opus on the blazing chorus sections. The lyrics encapsulate the album's title as both Holman and Manter double up on the heartfelt vocals, as they question, "Who is my enemy? Can you set me free?"
The reflective piano notes continue into the emotionally and lyrically striking last track, "Apologies." Like its title spells out, it's a ruminative spoken world apology to someone in a love/hate relationship. The lyrics are bleak – and delivered by a woman (either Holman or Manter) – and at first the feeling is bittersweet, but slowly the realization hits that if these words were said by a man, they would be bone-chilling and indicative of an violently abusive relationship, where the man is telling manipulative lies ("I still love you"; ""I'll change") to his victim (Genders can be switched, or the same, but most often reported is the power dynamic mentioned above).
It's a powerful ending for a music genre-hybrid band that isn't afraid to tackle important relationship, social, and political issues. They're equally at home playing scorching garage punk, delicate piano/acoustic numbers, and throwing in some soulful and symphonic instrumentation. And that's pretty awesome!
The band comment, "We change instruments and takes turns singing because there is no front person. We are a unit that doesn't believe in having a hierarchy in the band and we do what's best for the song we're on.We are not releasing the album through any record label. The release show [for the new album] is on March 11th at the Empty Bottle in Chicago, IL. Currently we're looking to travel for the summer. We're playing Barnaroo Festival in Reynoldsville, PA on July 10-12."