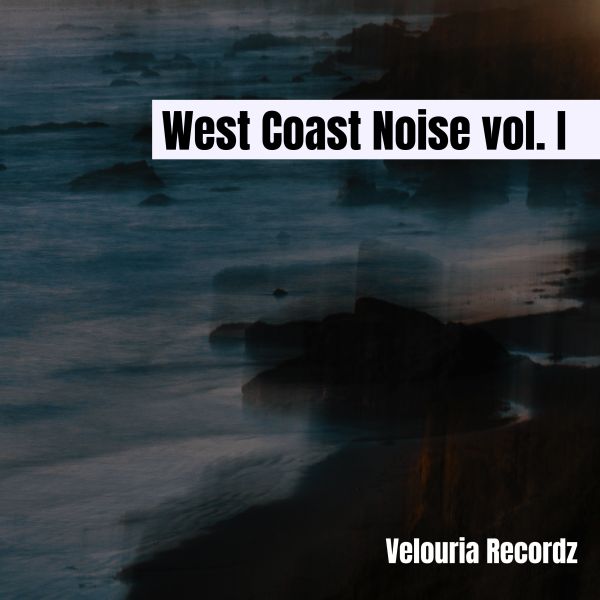 20 November 2020
West Coast Noise vol. I – Artwork Credit: Tantrum; Photo Credit: Kim Vermaat
Montreal-based post-punk shoegaze DIY label Velouria Recordz, founded by members of The City Gates, is releasing a new compilation today, November 20th, entitled West Coast Noise vol. I, as a free digital download available on Bandcamp.
The album features 20 songs from 17 shoegaze, post-punk, psych-rock, and noise pop bands from the North American West Coast, and includes a new exclusive track from the label's founders The City Gates, as well as two bonus tracks.
The compilation embraces friendships, and features some of the bands that were supposed to share the stage with The City Gates this past summer.
"The idea behind that compilation began when our North American West Coast tour had been canceled due to the COVID-19," says Maxime Wingender, member of the Montreal post-punk/shoegaze outfit The City Gates, and founder of Velouria Recordz. "That was really sad news for us. The last two nights of our Velouria Fest. II edition (featuring Bootblacks , The Foreign Resort , Kiss of the Whip, Pilgrims of Yearning, and lauded by music blogs including Le Point De Vente, Mes Enceintes Font Defaut 7 3, and Mes Enceintes Font Defaut 3 2 ), were already shut down because of the virus."
"A few weeks later, it was our tour's turn to be canceled. It was hard—we worked months to put up this tour, and were stoked to share stages with so many great bands from the American West Coast. Since the pandemic started, artists have been feeling more and more isolated. The whole situation made it so that we had not choice but to leave behind the social aspect of shows and tours," continues Wingender.
"This is why I started to think of making a compilation with friends and bands from the Canadian and American West Coast areas. Making this compilation allowed me to reduce the hundreds of kilometers that separate me from these bands. I see this compilation as a consolation prize."
The West Coast Noise vol. I compilation is available as a free digital download at Bandcamp.
The record features The City Gates, Charlatan, Palm Haze, New Age Healers, Bizou (former members of The Smashing Pumpkins, Light FM, Veruca Salt, and Wax Idols), Black Nite Crash, The Gathering, Guest Directors, Spirit Award, Sun Colony, Girlfriends and Boyfriends, Group Photos, Did You Die, Darkswoon, Soft Science, Shadowlands, The Sea at Midnight, and Ultrviolence.
Track list:
1. Charlatan – Hearts Bandcamp
2. New Age Healers – Satellites Bandcamp
3. Bizou – Crashing Sky Bandcamp
4. Did You Die – You're Something I Need Bandcamp
5. Palm Haze – Gravitation Bandcamp
6. The City Gates – Roman Empire Bandcamp
7. Shadowlands – Broken Record Bandcamp
8. Girlfriends and Boyfriends – Without Me Bandcamp
9. Soft Science – Diverging (Part Time Punks Session) Bandcamp
10. Black Nite Crash – She Bandcamp
11. Guest Directors – Minor Mendings Bandcamp
12. Darkswoon – Ruin Bandcamp
13. Spirit Award – Unlock the Door Bandcamp
14. The Gathering – Gravity of Love Bandcamp
15. Ultrviolence – Cutting the Cords Bandcamp
16. Sun Colony – Breeders Bandcamp
17. Group Photos – After-Image Bandcamp
18. The Sea at Midnight – Melancholia Bandcamp
19. Charlatan – Spectator (Bonus Track) Bandcamp
20. New Age Healers – With Regrets (Bonus Track) Bandcamp
Velouria Recordz has generously supplied in-depth information about each band and their song on the compilation. Here are the stories behind the tracks:
1. Charlatan – "Hearts"
Post-punk, darkwave, noise, and atmosphere smashed into pop. A fission of electronic beats, buzzing synthesizers, and blaring guitars drenched in reverb from Seattle, WA.
"Hearts" also features on Lip Server album, released on November 7, 2020 on Donut Sound Records
2. New Age Healers – "Satellites"
Shoegaze/post-punk from Seattle, New Age Healers is songbot Owen Murphy, Scott Matthews on bleeps 'n' blorps drums (The Wannabes, The Piniellas) and vocals, Adam Vernick (Lemuria, Devotion) on guitar-based technology, and Allen Murray (Modern Athletics) on the bass propulsion system.
Taken from the album Debris ( 2019).
3. Bizou – "Crashing Sky"
Post-punk/Beach-goth from Los Angeles, CA. Bizou features current and former members of Light FM, The Smashing Pumpkins, Wax Idols, and Glaare. Combining propulsive darkwave rhythms, shifting synth scales, haunting vocals, and a wall of shivering shoegaze guitars, Bizou craft a sound entirely their own. Formed in 2018, Bizou have shared stages with Drab Majesty, Ötzi, Hunny, and many others — spinning their gossamer web of dark and bright sonic textures around goth and pop fans alike.
Taken from the Stillifeburning EP (2017).
4. Did You Die – "You're Something I Need"
Hailing from Vancouver BC, shoegaze outfit Did You Die has multiple releases, played countless festivals, and has shared the stage with Swervedriver, Trail Of Dead, Black Mountain, and Yuck to name a few. For more info please visit their website
Courtesy of Blew//Rose Records
5. Palm Haze – "Gravitation"
Palm Haze is a Canadian (Vancouver, BC) duo that blends alternative rock, shoegaze, and trip-hop influences to create a sound that's both heavy and smooth – think of fuzzed guitars and soothing vocals under a palm tree shadow.
Taken from Tangy Dream EP (2017).
6. The City Gates – "Roman Empire"
Montreal-based post-punk shoegaze band The City Gates is well known for heaping on the reverb, fuzz, and delay. The band is a modern answer to Phil Spector's infamous "Wall of Sound." Their music is intense, powerful, melodic, moody, textured, and raw. With a sound aesthetic and lyrics deeply rooted in the Cold War era, they sway between dark melancholic guitars and glimmers of nostalgia.
The City Gates have shared stages with Trisomie 21, Actors, Bootblacks, The Foreign Resort, Blushing, New Canyons, Nothing, Deserta, Heaters, The Veldt, The Stargazer Lilies, and Acid Dad. They've toured in the US, UK, and Canada and played the Kalamashoegazer, Focus Wales, Canadian Music Week and Indie Week Canada festivals.
This new single is presented via their own imprint, Velouria Recordz. Stay tuned for their forthcoming album due in 2021.
7. Shadowlands – "Broken Record"
Dark post-punk from Portland OR, fronted by keyboards and primary songwriter Amy Sabin and her identical twin Angie Sabin, Shadowlands music often explores anxiety, fear, depression, and isolation. The band is rounded out by Amy's husband Casey Logan on drums and Amy's "band husband" (she jokes it's an official title earned after more than a decade of being in bands together), Jesse Elizondo on bass.
Courtesy of Icy Cold Records
8. Girlfriends and Boyfriends – "Without Me"
Girlfriends and Boyfriends from Vancouver, British Columbia, draw heavily on '80s UK indie, post-punk, and dance-pop. Embracing the propelling bass line, chiming rhythm, emotive lead, and uplifting vocal, they deliver a mix of hooky darkwave and proper Manchester jangle.
Taken from the album Our Garden (2015); courtesy of Pop Era
9. Soft Science – "Diverging" (Part Time Punks Session)
Shoegaze from Sacramento, CA. Soft Science is: "A gorgeously fuzz-washed slice of post-gaze… full of spine-tingling flourishes and trance-like beauty, warping and waning into gaseous clusters of reverb" – Get Into This
10. Black Nite Crash – "She"
Shoegaze from Seattle, WA. It's no coincidence the band name was picked from the final and most explosive single by legendary Brit-rock band Ride. Black Nite Crash continues in the same fuzz-drenched tradition of gorgeous melodies and big guitar sounds. The band's atmospheric and dynamic sound has seen them compared to The Church, The Pixies, and The Jesus & Mary Chain.
Taken from the Colony Drive EP (2020)..
11. Guest Directors – "Minor Mendings"
Guest Directors are a four-piece, shoegaze-adjacent band from Seattle, WA. Their atmospheric and soulful music has inspired comparisons to the golden years of indie rock, but is firmly planted in the present day. Tracks from their most recent effort, Dream the Currents (2019), have been played on KEXP, DKFM, and other stations from Brooklyn to the U.K., New Zealand, and Australia. Look for their first full-length release in 2021.
Taken from the Dream the Currents EP.
12. Darkswoon – "Ruin"
Darkswoon is an electronic band from Portland, OR with elemental post-punk roots, and musical moments bordering on dreampop to darkwave. The band evokes old school Goth and post-punk of early 4AD label darlings, but maintains a modern edge and originality.
The song originally appears on the band's debut EP Year One, but received a makeover for the soundtrack for the film My Summer As A Goth',which comes out this November.
13. Spirit Award – "Unlock the Door"
Seattle-based Spirit Award are known for their unique mix of sprawling stereo guitars, stunningly moody soundscapes, and a driving drum and bass foundation. While Spirit Award are aptly capable of generating catchy psych moments, there at times seem to be no calculable formula to their writing style. Composed of Daniel Lyon and a cast of rotating musicians, their goal to create a project with grit and authenticity is clearly evident throughout their music.
"Unlock the Door" is the first single from Spirit Award's upcoming album titled Lunatic House (releasing March 5, 2021 via Share It Music). The album is a collaboration between Daniel and producer Trevor Spencer (Father John Misty, Valley Maker) and drummer/engineer James Barone (Beach House, Tennis, Nathaniel Rateliff).
14. The Gathering – "Gravity of Love"
Moody, mysterious, smooth-flowing post-punk with shimmers of guitars, synths and dancefloor rhythms. Inspired by such bands as The Cure, The Jesus and Mary Chain and Killing Joke, in 1985 Jeff Pawson, Peter Burns, Gary Economy, and Dave Goodman formed The Gathering. Based in Vancouver, Canada they played at some of the city's finer local music venues, with bands such as X, National Velvet, 13 Engines, and Art Bergmann.
The Gathering released the Let It Shine EP in 1988, produced and recorded by Glen Reely. The EP earned favorable reviews and plenty of college radio airplay. The band toured across Canada with the likes of 54-40, Weddings Parties Anything, Nash The Slash, and After All. The Gathering disbanded at the end of 1988.
Inspired by the resurgence of the post-punk, New Wave, and '80s music movements, The Gathering reformed in late 2017. In the spring of 2018, the band enlisted producer and composer Jason Corbett, of ACTORS, to 'ReTransmit' the original Let It Shine EP. The ReTransmission EP was released in June of 2018.
In April of the following year, The Gathering signed a deal with Germany based label Cold Transmission. Cold Transmission released the Jason Corbett-produced Love Songs EP June, 2019 and the Night Light EP October, 2020. The EPs have garnered plenty of airplay and made numerous playlists, especially in Germany and other parts of Europe where the post-punk revival movement is thriving.
Since reforming the band has opened for: The Alarm, Chameleons Vox, Spear Of Destiny, Theatre of Hate and Canadian legends Platinum Blonde and The Grapes Of Wrath.
"Gravity of Love" is the second single from the Night Light EP. Produced by Jason Corbett at Jacknife Sound, in Vancouver this year. Courtesy of Cold Transmission Music.
15. Ultrviolence – "Cutting the Cords"
"Canadian Nate Jespersen has been recording stark darkwave/post-punk music under this moniker since 2009, crafting ominous and gloomy atmospheres riven by deep and despairing vocals brooding over bleak subject matter. So it comes as quite a surprise—a welcome one—to hear him soar to the limitless skies with rousingly uplifting and expansive numbers filled with massive, coruscated guitar propulsion and passionately sweeping harmonies. A cathartic sonic/lyrical document of the past several tumultuous years in his life (including moving from native Calgary to rural British Columbia), the resonant and driving songs beat a vibrant path through an emotional wilderness (with anthemic lyrics such as "Cutting the cords/Need to be free") to a spirited clearing of self-acceptance, personal empowerment, and positivity" – Big Takeover Magazine (this Fall/Winter issue #87)
16. Sun Colony – "Breeders"
Shoegaze reverberating through the dormant hills of Topanga Canyon, California the Sun Colony sound ascends into a wash of luminous noise. Nostalgic dreamscapes melt and create a finely unrefined blend of Los Angeles sparkle and London gloom.
Inspired by the shadows of Echo & The Bunnymen, Wire, and Primal Scream, guitars swirl and bend with captive leads and blanketing rhythms. Angular drums pulse beside driving bass, clearing a sonic pathway for the ethereal vocals, grasping clarity within their own beautiful chaos. It is not a welcoming that draws you in — it is a demanding pull. Recommended for escapists, surrealists, and the sonically possessed.
17. Group Photos – "After-Image"
Post-punk from Rialto, CA. Created in 2015, Group Photos is a project stemmed from the mind of Alex Lara, with the aid of Victor Lara, Gerardo Miranda, and Spencer Cohen. Shifting in and out of the public eye, the prime element of Group Photos always remains to be in one's own space, pushing away surveillance. The first Group Photos record, 33RPM, was released under BoxBedroomRebels in early 2019. Its follow-up is currently in the works.
This song,"After-Image" is directed towards artificial weather, and its effect on the human brain, immune system, and society overall.
18. The Sea at Midnight – "Melancholia"
Post-punk/ darkwave outfit The Sea At Midnight is Los Angeles, CA. songwriter Vince Grant, produced by Chris King (Cold Showers) with drum programming by Brandon Pierce of (Glaare).
"Dramatic and brooding, achingly melodic…drips with dark frigid synth textures, evocative The Cure-like guitar lines and lyrical gloom." – WhiteLight / WhiteHeat
19. Charlatan – "Spectator" (Bonus Track)
Spectator also features on the band's Lip Server album, released on November 7, 2020 on Donut Sound Records.
"We didn't which song to pick between Spectator and Hearts, so we decided to choose both of them. End of the story!" – Velouria Recordz
20. New Age Healers – "With Regrets" (Bonus Track)
Taken from Where the Tragic Happens (2017).
"This song reminds us a bit of Daniel Ash, Love and Rockets, and JAMC. With Regrets has this sound and that great fuzz bass line that forces us to put it on our compilation." – Velouria Recordz
Velouria Recordz would like to thank all the bands that are part of this project and for their work, and also Cold Transmission Music), Pop Era Records, Share It Music, Part Time Punks, Icy Cold, and Blew//Rose Records.
Velouria Recordz
Bandcamp
Facebook
Instagram