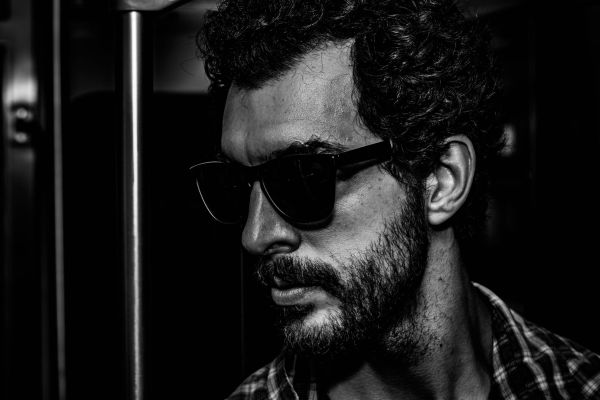 3 January 2020
Dan Tedesco – Photo Credit: Rio Chavez
Alternative folk/rock musician Dan Tedesco was raised in the far west suburbs of Chicago and from an early age he was obsessed with playing music: piano at age 5, violin at age 9, and guitar at age 11 after hearing what Eddie Van Halen could do.
It's been a long and winding road since his childhood, but Tedesco has stuck to the musical path, building up a solid fan base and gaining acclaim for his work. He has several records under his belt, with his latest full-length, American Darkness, having been released early last year.
Tedesco has crafted a conceptual companion piece to that album, Who Knows How Long This Will Last EP, which will officially arrive on January 10th. The Big Takeover is mighty excited to host the premiere of the EP in full today, a week before it releases.
Once again, Tedesco digs deeply into the personal and socio-political on the EP with relatable reflections and narratives that hit with a quiet and unassuming power. The culturally astute title track opener focuses on how an incident can grow into an inflammatory news cycle where, "The headlines twist like a tornado / No answers to the questions asked."
Tedesco's perceptive, yet at times bleak lyrics are buoyed by his clear vocals, questioning to resigned emotions, and the second voice of his trusty acoustic guitar. That guitar rises and dips with bright emphasis on "Me 'n You, Kid," as Tedesco sings yearningly about unconditional love ("Happiness ain't a crime / but I'd steal it for you / if it's hard to find").
Tedesco regretfully reminisces about old friends and acquaintances long gone on the lyrically mournful "Soreness In My Eyes." He draws his words out slowly with a Tom Petty-like rue, moving from the personal to the stingingly political with the spot-on lines , "I've watched puppets preach what they want to hear / and the crowd cheer…"
"Lonely In Left Field" ties in Tedesco's high school baseball playing with the game being an analogy to life. His plaintive vocals, gently picked guitar, and insightful lyrics, as always, hit home. Another game is played on "The House Always Wins," this time with cards and dice, but again representing life and relationships. The guitar lines remain light, but the lyrics are stark and return to the finality of the song's title.
Glimmers of hope shine here and there, like on the EP-ending "Mad Cow (#2)" that compares our topsy-turvey world to a mad cow in the field – but amid the quickly picked acoustic guitar flow, Tedesco points out, "The choice is yours and yours alone / to be happy or sad." – and maybe to do something positive to restore some balance to the world…
Tedesco gives some details about the making of the EP, revealing, "On a cold, rainy Valentine's Day 2018 I traveled back down to Lexington, KY to set up in the studio with producer Duane Lundy. I had sent him a batch of 15 demos or so, and we just started rolling. No click tracks. No overdubs. All live takes with the simplest of instrumentation – acoustic guitar and vocal."
"The 6 songs that comprise this new EP, titled Who Knows How Long This Will Last, were the first, and only, songs we recorded from the demos. I'd play through one, Duane would call out, "Yep – that's it. What else ya got?", and by the time those first 6 were in the can, it just felt right. I have learned to not overthink in those moments."
"The cover image was something I shot very quickly with my phone while listening to playback. Given the feel of these recordings, and the way in which we worked, it felt like the perfect visual representation. Also, Duane recently moved to a new studio under the name The Lexington Recording Company, so this artwork serves as a nod to the old space."
Spotify
Website
Facebook
Instagram
YouTube