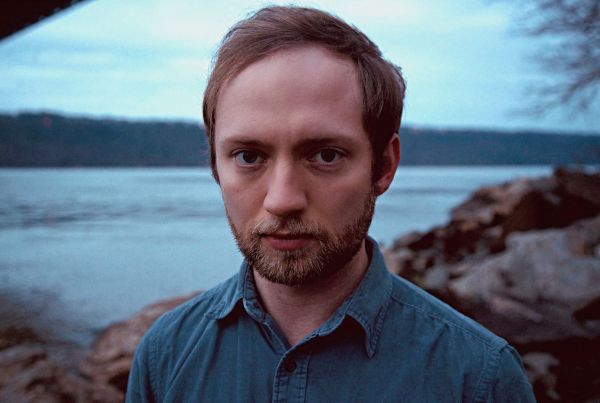 1 October 2019
Jordan Sommerlad – Photo Credit: Lizzy Miller.
After years of honing his craft as an indie songwriter, singer, multi-instrumentalist, and bedroom producer visionary, Jordan Sommerlad is now self-releasing his first official solo album, playfully titled 9-song collection Your Favorite Palindrome, on October 4th.
Your Favorite Palindrome radiates an intimate and eclectic aesthetic that swims in the indie pop and rock genres. Sommerlad's songwriting sensibility places personal moment-in-time lyrics within richly-textured music lushly layered with winsome vocals, analog synthesizers, midi synthesizers, live and programmed drums, immersive production textures, hypnotic musical motifs, and fragile acoustic balladry. "I like the idea that the listener doesn't know what to expect from one song to another," states Sommerlad.
The album's emotional and conceptual qualities are informed by a move from LA to New York, which turned out to be a powerful reset. For Sommerlad, this relocation took him from a feeling of malaise that hung over him like City Of Angels smog, to soaking in vibrancy of Gotham life during artistically inspiring late-night Harlem walks.
The album's curious title is taken from the track "I Did, Did I." Conceptually, the LP ties together themes of nostalgia, and the process of replaying consequences of decisions back and forth, like the rhythm of a palindrome.
The Big Takeover is keenly pleased to be hosting the premiere of Your Favorite Palindrome a few days ahead of its official release. Sommerlad creates engaging vignettes with his songs, gracing them with his light vocal range that is steeped in a gentle melancholy and rumination. He faces the uncertainties and changes in life (in relationships, in the individual, in society at large), and details the challenges and dreams that we all share.
Lead single and album-opener "Shake Me" cycles with delicate, nocturnal reflection and Sommerlad's wistful vocals, but occasionally bursts out with a sharper guitar line and more emphatic drum beat. "I Did, Did I", a true palindromic song title, keeps that city night vibe flowing, percolating with glowing notes, elongated synths, and Sommerlad's pining, aerial vocals.
Electronic pop constructs (with a touch of searing rock guitar) take over on the crisp and restless "Another Tomorrow", while a rhythmic funk groove runs through "Hiding in the Walls". A soft hush falls on "The Garden", with Sommerlad reaching out in an airy vocal tone, mirrored by an equally sky-seeking guitar line.
"Turning Back Again" bounces with '80s-era synth-pop nostalgia, while piano-led "A Day Ago" shines with Sommerlad's emotive vocals. A laid-back trip-hop beat shuffles through the spare "Falling Out" that's also touched with a fluid guitar line and crestfallen vocals. The LP ends on a spectral note with "A Message", which features just Sommerlad's vocals and picked acoustic guitar line.
"As a teen, I used to stay up late at night in my room to work on music with my four-track recorder. I still do the same thing today, recording here in my apartment. Music has always been therapeutic for me — it's a way to separate from the worries of the day," Sommerlad shares.
Pre-Order Your Favorite Palindrome at Bandcamp and iTunes
TOUR DATES
October 4th // New York, NY // West End Lounge
December 1st // Boston, MA // O' Briens
February 7th, 2020 // New York, NY // West End Lounge