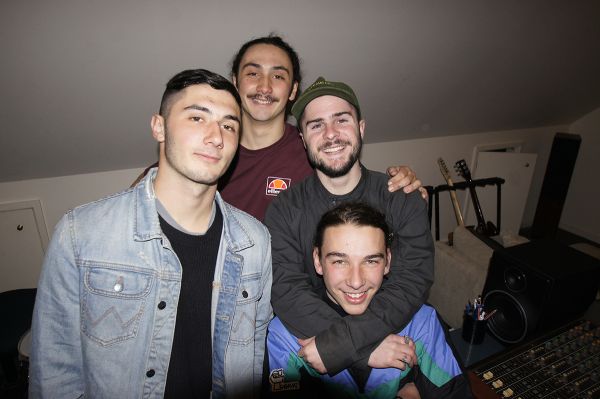 5 October 2018
Mantell – Photo courtesy of The A&R Department
Hailing from Melbourne, Australia's inner suburbs comes Mantell, an indie rock quartet set to take on the city's ever-evolving music scene. The band offers a fresh take on the genre with an alluring mash up of diverging guitars, harmonious base lines and powerful drumming, contributing to their unique and modern edge.
A blend of dulcet and upbeat tunes which pay homage to influences including Big Scary, The War on Drugs, and Radiohead make up the self-described "racket" that is Mantell. The band had humble beginnings as two brothers jamming in their suburban garage, soon joined by a cousin and a high school friend to complete the outfit. Mantell officially formed in 2013, with Quintin and Connor Tuan, Brayden Filippone, and Sam Reader experimenting with different styles and using an array of techniques before they reached their signature sound for their debut EP thirty two, which gets its U.S. premiere here.
The opening track "Lulu" was recorded at their home studio in their garage over the period of a week with a mix of vintage instruments and analog recording equipment. Mantell's take on old-school recording techniques is a nod to the music that the boys hear on their favourite albums. Matt Stapleton (Magic America) mixed the song and helped shape the sound with his unique approach to post-production processing and effects. "Lulu" captures the carefree essence of youth through a nostalgic lens, with the lyrics creating an evocative narrative.
The other EP tracks follow suit, radiating a bittersweet nostalgic vibe that belies the band members' tender years. "Mantel" rolls with the burnished flow of fluid guitar lines and vocals filled with heartfelt regret. Briskly paced "The City" glows with extended keyboard notes, drawn out, wistful to passionately exclaimed vocals, and the buoyant interplay between the bass guitar and lighter guitar chime.
Rapidly hit drum strikes contrast with a floating expansiveness on "In The Sun", which is crowned with a Neil Finn-like vocal intonation. Indie rocker "Read My Mind" picks up the pace and intensity with a swirling psych-rock element, cymbals shimmer, and plaintive vocals.
Left to their own devices, the boys were able to showcase their flair for all things music as they wrote, recorded and produced thirty two single-handedly. The process spanned over a year in their home studio/garage and the final product features five original songs which highlight their originality and versatility as musicians.
Next on their list is a gig at The Retreat Hotel in Brunswick to play their launch gig for thirty two on October 16th. Time to take that vacation trip to Australia!
Facebook
Instagram
Mantell at Triple J Unearthed
Bandcamp
comments powered by