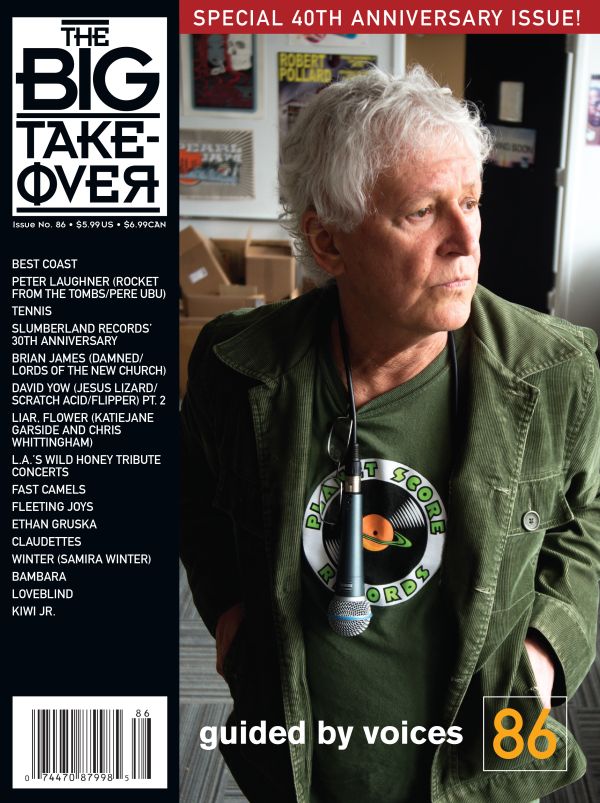 12 July 2020
Have you wanted to read our issues online? Now you can!
We are offering digital subscriptions (as well as digital copies of our five most recent back issues, plus this latest one) in the same exact form as the normal print mag, online at Flipsnack. You can now digitally subscribe, or order any of those individual issues straight from our page at FLIPSNACK
When you buy a digital subscription starting with issue 86, when the upcoming issues are released, they will come to you automatically, lightning-quick, delivered into your personal Flipsnack library so you can read them anywhere on any device! It's easy, fast, convenient, and cheap.
Why are we doing this now? As noted above, an extra challenge of releasing a new issue in a pandemic is the retail shutdown. While a few record stores and bookstores are still attending customers curbside, most are shuttered. Meanwhile, chains such as Barnes & Noble, which carries us, stopped accepting new issues of any magazine—Vanity Fair, New Yorker, People, National Geographic—in March.
Fortunately, between subscriptions, pre-orders, mail orders, and back issues, we have been serving half our readers by mail all along. But until the virus unclasps its death-grip on retail (Will that be in time for our fall issue 87? Who can say?), getting BT in the mail via—straight from our printer for subscribers and preorders or from our office thereafter—is the only way to secure a print copy of this issue and possibly the next. (If you still prefer print, we are of course happy as ever to take orders for it, or subscriptions including it, at our ONLINE STORE
Since we don't want to miss out on those who usually buy in stores, impulse purchasers, those without reliable addresses, or those who just don't fancy mail delivery, we have taken this hopefully helpful step in the digital format.
It's easy to get access to any issue; just click on an issue and you'll see the cover page. Then click on the arrow that points rightward that takes you to the first two pages, just like the print mag, and it will ask you to buy the whole issue for $4.99 USD (like print subscription copies, that's a dollar less than the cover price). or subscribe including that issue 86 USD for four issues for $14.99 USD.
Again, this will allow you to read it on any browser, on your desktop, laptop, phone, tablet, etc.—when hooked up to the internet, like you do when streaming music on Spotify, Bandcamp, or YouTube.
After purchase, you can flip through it two-pages at a time, same as the print mag. Purchasing via Flipsnack also allows you to read any issue instantaneously, after just a few clicks of payment info, instead of waiting for the postal worker to deliver your mail. If these prove popular with you folks, we will add more issues going backwards.
Remember, our content in our print mag is never available on our site and vice versa. So this will be the only digital version—and it's a first for us. Obviously print incurs steep printing and shipping overhead that web mags do not have, so we have needed our print content to be exclusive. But with retail foreseeably shut down, at least we can offer the exact same reading/viewing experience, with the same pleasing Adam Symons design, photos, ads, everything—just on a screen.
Finally, a word to our overseas readers. We regret that the post office has done away with every inexpensive way we once used to mail our issues to you. Gone are the days of small packet and sea mail (surface) rates; only expensive airmail remains. Fortunately foreign subscribers (and foreign preorders) have managed to get our new issues for only $3 more than American addresses, because our printer takes advantage of special bulk overseas shippers.
But anyone trying to get a back issue, or a current issue after it has left the printer, incurs air mail rates of over $10 plus the issue cost, making it unaffordable—or at least extra-expensive—for far too many. For you oversees folks in particular, these digital copies via Flipsnack at only $4.99 a pop now can provide a super-fast, much cheaper way to read our issues.
In any case, we wanted you all to know there is now a second option to get Big Takeover magazine!
Order digital format of our latest issue 86, with legendary Robert Pollard of Guided By Voices on the cover, at FLIPSNACK