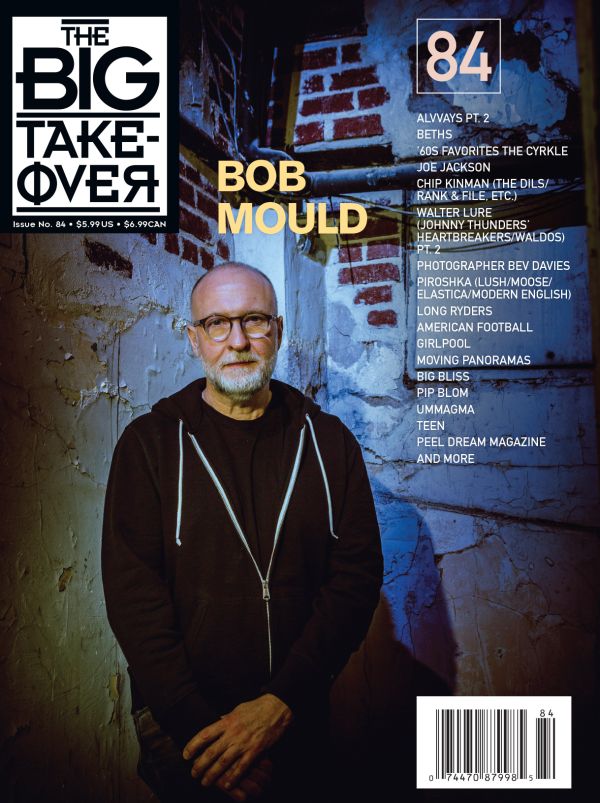 7 July 2019
Good news! Big Takeover #84 Spring 2019 issue is out on the stands! The issue stars Bob Mould on the cover, and features fabulous history interviews with him and Chip Kinman of the reunited punk legends The Dils and proto-alt. country pioneers Rank & File, original Vancouver punk (and '60s rock) photographer Bev Davies, Walter Lure of the legendary Johnny Thunders' Heartbreakers and The Waldos, and hit '60s chart stars The Cyrkle plus Toronto indie stars Alvvays, new New Zealand favorites Beths, and the rejuvenated new wave-era star Joe Jackson. Plus there are shorter chats with Piroshka, Moving Panoramas, Ummagma, Girlpool, TEEN, Pip Blom, Peel Dream Magazine, American Football, Long Ryders, Big Bliss, and more! A full description of its contents is just below.
Remember, we only come out twice a year, every Spring and Fall, so you don't want to miss one of our jam-packed 160-page issues!
And since the issue #84 has been mailed to subscribers and stores, now is an excellent to go to our secure online store to preorder order it if you would like to receive it in the mail (You can also buy any or all of our 83 back issues there that have been released over the past 39 years, too!), or subscribe if you've been meaning to, or renew your subscription if it has run out.
And just a reminder that there's still time for the perfect birthday (or holiday, or whatever type of) gift: Big Takeover magazine subscriptions and back issues!
Give the gift of music appreciation and good reading to those you love! (And maybe to yourself while you're at it.)
Speaking of which, for more super gifts, here's a reminder about our t-shirts, CDs, and our other fun stuff like Big Takeover beer cozies and signed posters that might be just the thing!
That's right, also if you're already thinking of the end of year holidays, etc.!! Big Takeover issues, subscriptions, back issues, t-shirts in three colors, black, white, and burgundy red in thirteen sizes (including our new children's sizes, 2T, 3T, 4T, and 6MO, 12MO, and 18MO baby onesies!!!!! The coolest gift ever for the kids!), and our accessories (BT beer cozies for only $5 and 12 X 18 color BT Anniversary Festival Posters for $4, which I will sign if you want me to!), as well as our related CDs (including the limited edition Springhouse CD album, From Now to OK), also make the perfect birthday, Christmas (or Hanukkah or other holiday) gifts! Especially in this time when we are all trying to economize.
This means our t-shirts still come in three colors (black, white, and burgundy red) and are only $14 for men, $13 for women, and $10 for children's shirts and baby onesies, even including postage.
Also, all but two of our back issues are still available (if your friends like a specific band we've featured) and there's always the mega-deluxe gift, the complete set of all of our 84 issues to date, including Xerox prints of the two that are out of print! Check theback issues page and you will see that offer.
And we are also offering used, good-quality CD copies of the three out-of-print SPRINGHOUSE CDs from 1991-1993 as well as sealed, limited edition art-package copies of Springhouse's 2008 third LP From Now to OK (See why it got an 86/100 in Paste!), as well as CDs by EVEN WORSE, LAST BURNING EMBERS, DOUG GILLARD, NON-LINEAR THINKERS and EDP! (There is also an Even Worse vinyl LP of 1981-1982 recordings; also see subscribe and feel free to indicate which issue you'd like to start with (or have your friends start with); issue #83 (Alvvays cover), the current issue #84 (Bob Mould cover), or the Fall issue #85 (BTS cover – Ha! Just kidding. Just wanted to make sure you were still reading). It's only $20 for four issues (save 23% off the newsstand price including average sales tax), or $32 for overseas, or $26 for Canada. Or, for those in the U.S., you can send us a check made out to "Big Takeover" for $20 to the following address:
The Big Takeover
356 4th St. 2nd fl.
Brooklyn, NY 11215

Or if you want to order just issue #84, you can send us a check (or make a Paypal payment to jrabid@bigtakeover.com) for $6 to that address or order it.
Here, again, is what's in issue #84!!!!:
Interviews: Bob Mould (cover) * Alvvays * Chip Kinman (Dils/Rank & File) * Beths * Joe Jackson * '60s stars The Cyrkle * Walter Lure of Johnny Thunders' Heartbreakers/Waldos pt. 2 * Vancouver punk photographer Bev Davies * Piroshka * Moving Panoramas * Ummagma * Girlpool * TEEN * Pip Blom * Peel Dream Magazine * American Football * reunited Long Ryders * Big Bliss * and more
Editorials: Rabid: "Winter is Coming; Orange Cersei Doesn't Care" * Sommer: "Rock 'n' Roll Is Like the Train to Hogwarts: If You Believe In It, It Exists" * Kelson: "Has Popular Music Passed Us By?"
Live Reviews: The Chills * Echo & the Bunnymen * Fake Laugh * Mike & Micky of the Monkees * Music for Enophiles, Swervedriver, Teenage Fanclub * Kalamshoegazer 12 Festival: Ringo Deathstarr, Springhouse, Soft Science, Airiel, Tears Run Rings, Tambourina, Seashine, and Brief Candles
CD/Vinyl/Cassette/Digital Reviews: Albert Ayler & Don Cherry * Bad Religion * Bangles, Three O'clock, Dream Syndicate, Rain Parade * Beatles * Big Brother & the Holding Co. * Andrew Bird * Black Nite Crash * Black Watch * Brian Jonestown Massacre * Broken Social Scene * Buzzcocks * Cardigans * Channel 3 * Alex Chilton * Chocolate Watchband * Shana Cleveland * John Coltrane * Cranberries * Decemberists * Deerhunter * Dickies * Discharge * D.O.A. * Drums * Steve Earle & the Dukes * Faux Co. * Fawns of Love * Feeders (Sam Vicari) * Flesh Eaters * Flight of the Conchords * Ben Folds * Fontaines D.C. * Robert Forster * Fotoform * Gretchen's Wheel * Groundhogs * Gudrun Gut * Guest Directors * Guided By Voices * Glen Hansard * Idlewild * Iron & Wine * I Was a King * Jet Black * Joan Jett * Bunk Johnson & Leadbelly * Joy Cleaner * Dr. Timothy Leary * Lemonheads * Gordon Lightfoot * Brent Loveday & the Dirty Dollars * Loose Wing * Stephen Malkmus * Mammoth Penguins * Curtis Mayfield * Mississippi Fred Mcdowell * Meat Puppets * Mekons * Van Morrison * Nada Surf * New Age Healers * Posies * Proper Ornaments * Rolling Blackouts Coastal Fever * Sebadoh * Silver Bars * Sleaford Mods * Sleeper * Slowness * Dave Smalley & The Bandoleros * Specials * Mavis Staples * Tacocat * Tangerine Dream * Toy * True Primitives * Sharon Van Etten * Weyes Blood * Ron Wood & Ronnie Lane * Thom Yorke * Frank Zappa * Various: Big Gold Dreams; A Story Of Scottish Independent Music 1977-1989 * And So Much More!
Lastly, thanks to our Patreon sponsors, who make our magazine and weekly radio Big Takeover Show at Real Punk Radio (all archived at The Big Takeover online) viable, without whom we'd have to stop one or both! If you'd like to join them and help support and sponsor us, it is easily done at that Patreon site, or you can always send a check to Big Takeover to our address as a kind donation. We're very grateful!
Hope you all buy the magazine now that it's out! And/or hope you subscribe, as that is still by far the best way to support the print magazines you love if you want them to keep going. It means a lot to them!
And hope you can share the gift of reading and passion for music with your family, friends, and anyone else who is interested! If we can help you, let us know!
Cheers!
Jack R
P.S. IMPORTANT: If you are a subscriber and you need to update your address, please tell us. Send updates to me at jrabid@bigtakeover.com