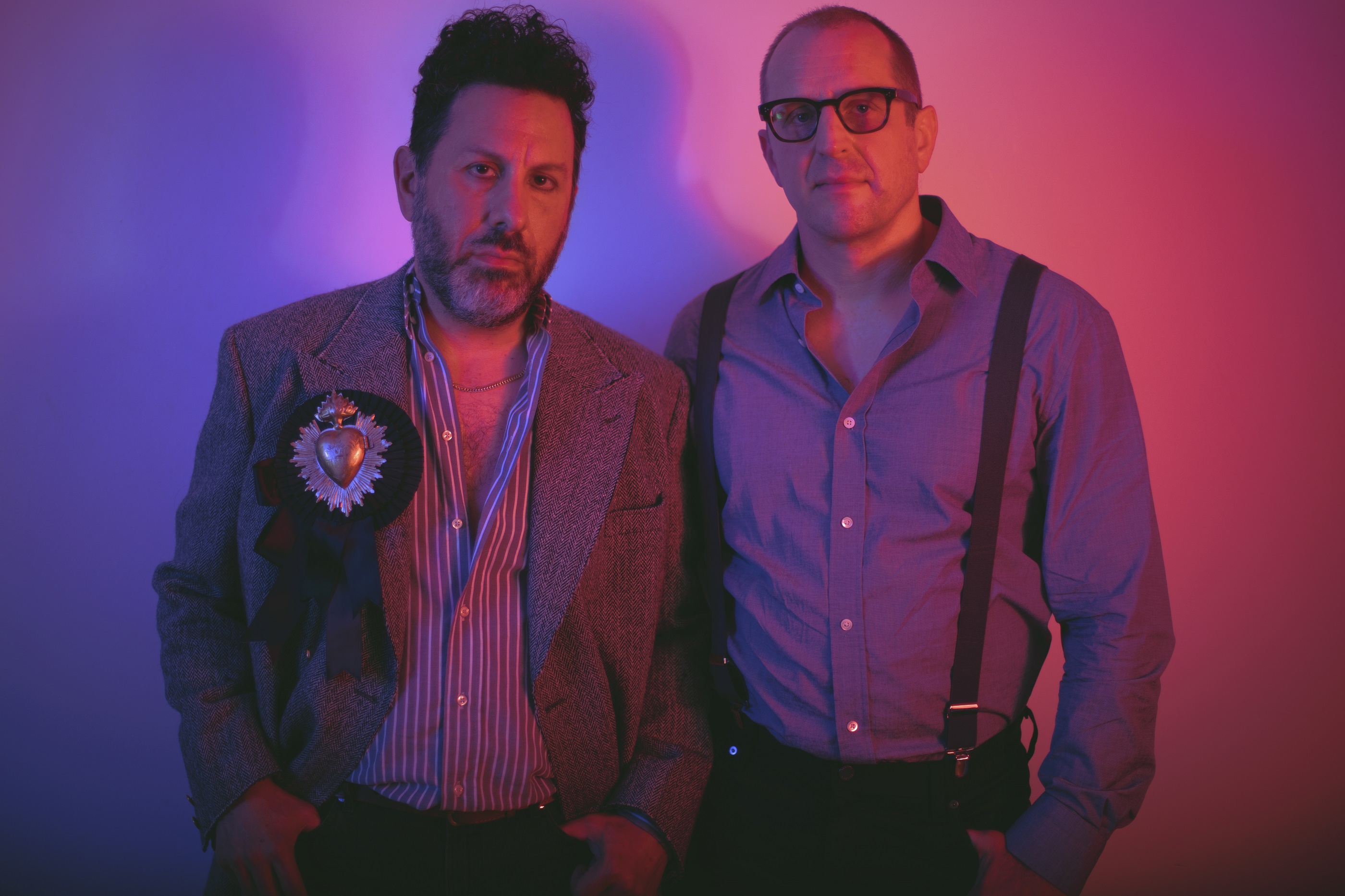 8 September 2022
New York cult indiepop artists My Favorite return with Tender Is the Nightshift: Part 1, the first in a series of three evening-hued EPs of imperious new wave and plastic soul—glassine surfaces as two-way mirrors on loneliness, trauma and growing old in the shadow of a dream. With their first extended play release in nearly 20 years, the group scavenge the digital debris of the 20th century to fashion a pre-apocalyptic soundtrack for a millennium's malaise, a "hard rain in a soft cell." As sequencers and saxophones swirl, singer/songwriter Michael Grace Jr uses the tragic totems of James Dean, Princess Diana and Major Tom to explore love and loss— remaking/remodeling the dim corridors of memory into bright passages forward.
My Favorite is Michael Grace Jr: Vocals, vocoders, melodica / Kurt Brondo: Synthesizers, piano, drum machines / Gil Abad: Bass Guitar. Joined by Jaime Allison Babic: Lead & background vocals / Joseph Babic: Guitars
Barely out of their teens in 1994 when their debut single "Go Kid Go/Absolute Beginners Again" was spun by John Peel, My Favorite was formed in the archetypal suburbia of Long Island— a floating sliver of dirt where every bad idea of post-war America was instituted. Among the strip malls and subdivisions, five kids formed a half-band/half-art project during their freshman year at state college in Stony Brook. Raised on new wave via the legendary WLIR, while encircled by the local hardcore scene, the band tried to merge '80s high-concept pop with the DIY energy of punk and riot grrrl. Grace also had an interest in deconstruction, appropriation, and what was sometimes called "hauntology." He did not want to imitate his heroes; he wanted to exorcise them.
While their songs varied stylistically, at their core was a world of young ideas and old nightmares conjured by the words and melodies of Grace Jr. The group released two revered genre-bending indiepop records in 1999 and 2003. As a Pitchfork guest editor, The Pains of Being Pure at Heart's Kip Berman named the latter collection, "The Happiest Days of Our Lives," best record of the 2000s. Equally adored and obscured (except strangely in Sweden) My Favorite have been championed by members of Belle & Sebastian, The Magnetic Fields, The Drums, and Choir Boy. Even Morrissey has included them in his pre-concert music. In total, at least two bands, three songs, a blog and a radio show have been named after their songs. Fans stenciled their lyrics beneath overpasses and on the sides of 7-Elevens. They were called "the beautiful losers," and when they split up in 2005— that beauty was simply lost.
Now rising slowly out of the ashes of The Secret History, Grace's band with Lisa Ronson (daughter of Mick) from 2008-2014, this incarnation of My Favorite also features synth specialist Kurt Brondo, and bassist Gil Abad along with guest collaborators old and new. The EP was mixed by David Tolomie (Beach House/Protomartyr) and features The Roots' guitarist 'Captain' Kirk Douglas on the sprawling Bowie-esque disco of "Dean's 7th Dream." Here My Favorite break all the rules for a single— crafting an 8-minute pop opera from funk to funky, before dissolving it in ghostly ambience. "Blues For Planet X" explores the dark reverberations of inner space, of fantastic voyages that fail to launch. The ballad "Princess Diana Awaiting Ambulance'' is the anti- "Candle In The Wind," its gated gauze about neither Ms. Spencer nor her death, but rather all the illusions that ultimately consume our hearts. The EP ends with "Second Empire (Second Arrangement)," melding 'Madchester' dance with what Grace calls his Xeroxy Muzak— a lush, glitchy ambience like an Orphean glance back at paradises lost. Pleasures unreproducible.
Big Takeover is excited to host the premiere of Tender Is the Nightshift: Part 1, which you can "pre-order here"https://hhbtm.bandcamp.com/album/tender-is-the-nightshift-part-one:
Singer/songwriter Michael Grace Jr breaks down the EP track by track:
Dean's 7th Dream
I suppose that emerging after years of radio silence with an eight-minute-long death disco single is keeping with My Favorite's long tradition of doing what's least expected or advisable.
This song means a lot to me, but wasn't easy to write. The story I wanted (or needed) to tell was as complicated and personal as any I'd ever attempted. And it was important to me that it be less veiled in myth and metaphor than most of my others. Coming of age on Long Island in a wasteland of crumbling apartment complexes and dead-end subdivisions, violence and sex intermingled— and for years, growing up felt like surviving a horror movie you had accidentally walked onto the set of. Each secret became heavier and harder to keep, and the person you became was shaped by each dark corner you were pressed into.
Songwriters like Lou Reed and Ian Curtis presented their worlds without much delicacy or decoration. There was a brutalism to their grief. I admired the honesty and directness of songs like 'Coney Island Baby' and 'Street Hassle,' and I returned to them (and Lou) time and time again. Meanwhile, Joy Division tracks like "Shadowplay" hit very differently alone in my apartment than they had dancing at Mondo fifteen years prior. But I knew that for me to accomplish a similar thing, I would need to find my way of wedding agony to ecstasy.
I've always loved the heartracing funk of tracks like Curtis Mayfield's 'Move On Up' (also nearly nine minutes on the album version) and Bobby Womack's 'Across 110th Street,' the latter of which was as grim and confessional as it was euphoric. 'Dean's 7th Dream' is similarly our attempt to hold darkness and light suspended in the rich amber of new wave and '80s dance. Captain Kirk from The Roots provides guitar solos big enough for 'Let's Dance' or 'Purple Rain,' while Joe Babic's Chic-esque guitar groove is both sublime and relentless. Stephanie Cupo and Peter Hess provide a wall of saxophones for the synths and sequencers to scale up.
I wanted the symphonic coda to feel the way dissociation feels—like being pulled out into the far fathoms upon a sparkling wave. Not so much dream pop as fugue pop. That's why I ask "When it's time to wake up, how will we know?" Because there are places where time, and even love, cannot reach you.
Princess Diana Awaiting Ambulance
Twenty years ago I scrawled this song title in my notebook, and would glance at it every few years to see if I knew yet what it was meant to be. I had written a song called 'James Dean (Awaiting Ambulance)' for our 2003 LP "The Happiest Days Of Our Lives," and I suppose this was meant to be a companion piece. But the truth is that I had to live longer— lose more— in order to actually write it. In the way that Dean is frozen in place for us as this symbol of youth and otherness, Diana's symbolism is quite different. I think it's more about paradises lost, fairy tales foreclosed upon— about not being young anymore, yet never getting the chance to grow up and be a whole person. I find it interesting that both of them met their deaths inside speeding cars, as if the very nihilistic momentum of the 20th century swallowed them up.
In the end the song really isn't about Ms. Spencer at all. It's about this feeling of being suspended between life and death— not in a fiery tangle of steel— but of self. It's also about letting go. Watching people "dancing through doorways to music I'll never know." There are different kinds of thresholds, of afterlives, and I related to this idea of having to carry on in what feels like a diminished world. A permanent limbo. There are certain people (or our illusions of them) that we let become the stars of our own life stories— and when those stars go out, we're left as little more than an audience to our own grief.
Musically, Kurt and I wanted to do something as indulgent and rococo as the Windsors themselves. I love Trevor Horn's work with ABC and Frankie Goes to Hollywood. I'm a huge fan of Prefab Sprout, Tears For Fears, Kate Bush— all those impossibly ornate and luxurious records that nonetheless feel in a way— empty and cold. Like some exquisite palace antechamber with nowhere to rest. Like the warmth one supposedly feels before freezing to death. I'm not interested in the '80s as an aesthetic. I'm interested in it as a pathology.
Blues For Planet X
I've always wanted to do a 'lost astronaut' track like Bowie's 'Space Oddity,' one of the first songs that made me want to start writing my own as a teenager. I dabbled with it in older cuts like 'Between Cafes' and 'Absolute Zero'. The quandary for me was— how do you do it in a different way? There have been quite a few in pop and rock over the years. I always thought Peter Schilling's 'Major Tom' was pleasant but pointless, even as I'd bellow along to the chorus at goth nights. At least 'Rocket Man' was a somewhat engaging middle aged/middle class soap opera.
What I realized is that for my generation— these fantastic voyages we were promised never took flight. There were no jet packs. No time machines. We are grounded, land-locked. Where did we go instead?
I still remember the assistant principal wheeling a giant television into our grade school classroom in 1986— just in time for us to watch the Space Shuttle Challenger blow up. That debris would float across my thoughts for a long time to come. I wrote this song as an inner-space odyssey, about drifting towards the black holes and rifts that trauma creates. "You are not the comet, you are the crater." The signifier 'X' to me denotes a tangent reality, an alternate timeline you can glimpse but never quite reach. Because these other worlds, these other editions of you aren't somewhere out there, but rather— back.
Kurt created this remarkable soundscape of clanging metal, clicking switches, and uncoiling springs. It is not color-by-number synthpop. It's something quite different, quite disorienting. Jaime Babic's vocal is distant and dour, but also really vulnerable. The track is ultimately a love song about losing your crewmate in all this darkness and dismay. Setting out in search of someone, but finding only a more vast emptiness. A space race away from each other.
Second Empire (Second Arrangement)
This was the first song Kurt, Gil, and I wrote together after the end of The Secret History in 2014, and this fully realized version is a long time coming. Working on it made me see that returning to the world of My Favorite was important to me— even if some of my old bandmates had moved on to other parts of their lives. There were these sounds and stories to return to from a new vantage point, a wearier one. The "Impossible City" of earlier songs like 'Let's Stay Alive' was now a much more broken and alien place, a wilderness of signs like the Los Angeles of Blade Runner. Part of getting older is coming to terms with what changes, and what doesn't. That's what I consider being on the 'Nightshift'. Pressing on with your life, with your art, in the after. Like Deckard trying to retire all his ghosts, only to realize that he was one of them, in love with them. All we are doing now— started here. This song was the template, the manifesto.
The title 'Second Empire' is me being cheeky about a new era of a group which certainly never ruled anything. "Too old to die young, too young to die slow. To Avalon in rags I go" is meant to acknowledge that we're in this twilight, approaching indiepop in a more lush, sophisticated way (à la Roxy Music on their finale). But the thing is, I'm not living in a castle, riding horses like Bryan Ferry. I'm just trying to survive in the ruins of suburbia, in the crypts of currency. This song is an uneasy tango of binaries: past and future, penthouse and pavement, America and Europe. The music itself is a sound I'd heard in my head for years. A pastiche spectacle of gravity. All these things I love just crushed together on the event horizon of some dark star: the ambient funk of Marvin Gaye, the bleary trance of dub reggae, the shuffle of Soul II Soul, the dreamy jangle of The Cocteau Twins. All these pleasures— now faded and remote. Nearly holographic.
Micah Gaugh's sax on this is suitably yearning, and the girls sound like a delegation from Xanadu. But it's Gil's bassline which truly anchors it all. The best one can do is try to play a kind of soul music— and this is ours.