14 October 2020
Remember going to shows?
Curious about the headliner or up-and-coming breakout artist, you cautiously ponied up your hard-earned $10 to step into a sweaty nightclub. Waiting in line to order a drink, you found yourself drawn to the sounds coming from the stage. It was some opening band you'd never heard of – but they were good.
Drink in hand, you weaseled your way through the crowd; sparse, but seeming to multiply with every guitar chord and drum fill. You had rolled the dice and won – this was your new favorite band. As the feedback trailed out over scattered applause, you remembered that the band you came to see hadn't even played yet. The night was only going to get better…
Recreating that experience in the age of COVID and streaming events isn't easy, but an upcoming three-band bill at Gold Diggers in Hollywood will attempt to change that. Jason Simon of Dead Meadow heads up a roster that includes the spaced-out shoegaze of Split Moon and the solo debut of Alex E.T. (from Cleveland bands Likenesses and The Buried Wires).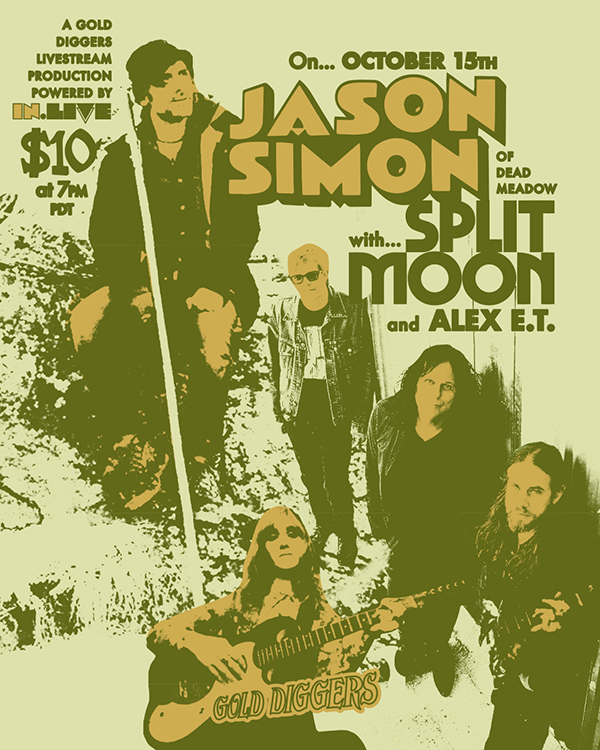 All three bands will perform full sets with an audio mix by Dave Trumfio, noted record producer and occasional bass player for The Mekons.
The venue promises not only top-notch audio, but an immersive multi-camera viewing experience. Handling the live feed is In.Live, a relatively new platform dedicated to high-quality streaming for music events.
Simon's set will focus on material from his fantastic solo album A Venerable Wreck. He's assembled a band of heavy-hitters from the psych-rock community to bring the record's swampy vibes to life: Nate Ryan (formerly of The Black Angels) on bass, Glenn Brigman (Triptides) on organ, and Dan Allaire (formerly of Brian Jonestown Massacre) on drums.
Alex E.T.'s set features another Jonestown alum, Jeff Davies, who will guest on guitar for two songs.
Tickets for the October 15 livestream can be purchased now from In.Live.