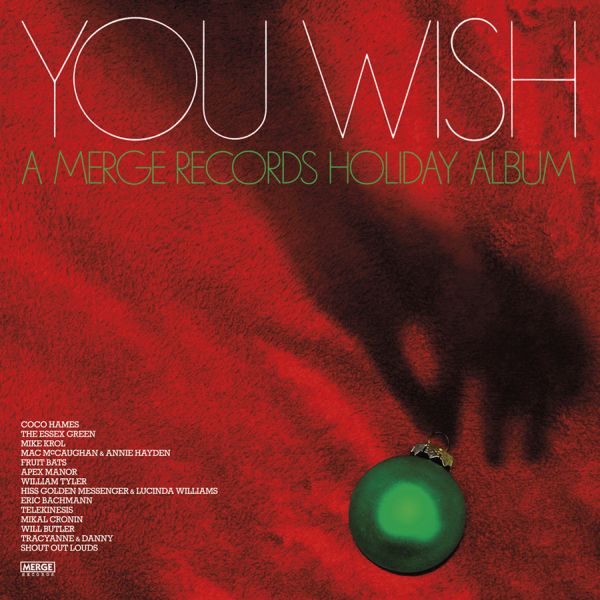 25 December 2019
You Wish: A Merge Records Holiday Album
Renowned record label Merge, which is celebrating its 30th birthday this year, has put out its first holiday compilation album titled You Wish: A Merge Records Holiday Album.
Official news: "[The comp features] …both original music and covers of traditional songs by 15 Merge artists, all newly recorded for this compilation. Not surprisingly, the sonic spectrum on You Wish is diverse. William Tyler delivers a gentle instrumental cover of Big Star's "Jesus Christ," but not before Mike Krol launches into "Won't Be Alone Tonight," a self-described "fast Christmas rocker about love and happiness." The Telekinesis -penned "Christmas Time Is Here (Uh Oh)" almost appeared on a Cheap Trick holiday album, but Michael Lerner made the song his own for our record."
"The lyrical subject matter swings just as wide: Mac McCaughan and Annie Hayden yearn for snow on "Down We Go (Sledding Song)," while The Essex Green crave warmer climes on the winking "Green Christmas." Lucinda Williams ' voice remains as singular as ever, joining Hiss Golden Messenger 's M.C. Taylor for a heartbreaking rendition of the John Prine classic "Christmas in Prison." Mikal Cronin 's song is inspired by his childhood experience of starring in a present-stealing, Santa-drugging Christmas musical (those exist?)."
"Sure, You Wish may seem contradictory at times, but it's also a reflection of the season and the mix of emotions that come with it. You Wish joins A Giant Dog 's interpretation of Arcade Fire 's Neon Bible, Superchunk's Acoustic Foolish, and A Merge Group Plays "Heroes.""
Christmas gets a punk rock kick as only Bad Religion can do it with their new album Christmas Yule Log, out now via Epitaph. Bad Religion's latest essential album, Age of Unreason, is out now.
NYC-based noise rock duo Body Stuff (Curran Reynolds and Ryan Jones) drop "On the Run," a dark and driving single that references Christmas and includes guest vocals from Polly Watson and Al Huckabee of New York power-pop band 1-800-BAND. Reynolds comments, ""On the Run" is a Christmas song, of sorts. I am not a Christian, but I like the tradition of rock bands recording Christmas songs. For me it goes back at least to A Very Special Christmas with U2 and Madonna and the Keith Haring artwork."
"But what really sparked "On the Run" was Jeffrey Lee Pierce's lyric in "The Lie" about scoring drugs on Christmas Day. It's that wonderful and terrible sense of being utterly out of step with the world. In "On the Run" I am singing about isolation versus connection; individualism versus the collective. The hero of the song is a self-proclaimed outsider who has discovered that perhaps there is no outside or inside at all. The world's a grain of sand and he's everywhere, he's everything."
Body Stuff's third EP in a series, titled Body Stuff 3, bows January 10th via The Chain.
Upcoming shows:
Dec 27th – Brooklyn, NY at Gold Sounds (w/ Plaque Marks)
New Jersey-based indie rock/surf-pop band Dentist have had a busy year, touring with the outfit Brick and Mortar from September 25th to October 25th, dropping their standalone single "Someone Like You" with accompanying video, playing Baby's Alright in Brooklyn, and working on writing their next record that they hope to release in 2020. They also released a cover of the Hawaiian holiday-themed "Mele Kalikimaka":
South Jersey represent! Arbor Christmas: Volume 20 compilation album is out now and is part of an annual tradition of featuring the best talent from the southern part of New Jersey. Stream and/or pay-what-you-want download the comp that includes the bands Aspiga, By Surprise, Graduation Speech, It's A King Thing, The Only Ghost In Town, Young Statues, and many more:
Steadfast Records has released an artfully packaged (with lyrics/Christmas card in hand-stamped, wax-sealed envelope), limited edition 7" or cassette of renowned emo/rock band Brandtson's Christmas in Ohio. Order it HERE
Netherlands-based Snowflakes Christmas Singles Club is back this year with a new Christmas single from LA-located indie rock band Livingmore. Two years ago, The Big Takeover had premiered Seafang's contribution HERE
Official news: ""Show Me Light and Love", the A-side of [Livingmore's] single released as part of the 7th edition of the Snowflakes Christmas Singles Club, was written by lead guitarist Spencer Livingstone and singer Alex Moore. According to Alex, the lyrics were inspired by "my grandmother and all the ladies out there taking care of Christmas," who are keeping that part of the Christmas tradition alive. The song is a catchy rocker, carried by Alex's crystal clear vocals and great guitar work by Spencer, and, of course, sleigh bells."
"For the flipside, the group recorded an acoustic version of one of the greatest American seasonal songs of all time, "Winter Wonderland." Livingmore, with Alex and Spencer sharing the vocals, adds another great version to the many versions that exist of this song that was written 85 years ago by Felix Bernard and Richard B. Smith."
Electronic music luminary Trentemøller has unveiled his version of "Silent Night" featuring Lisbet Fritze on vocals. His new album Obverse dropped this past September via In My Room.
Austin, TX-based Americana band Nobody's Girl bowed a cover of the Jackson 5 and Stevie Wonder's socially relevant "Someday at Christmas" with accompanying video (the flipside to "Merry Christmas, Baby" record, out via Lucky Hound Music).
Indie rock band Meg & Dia (founded by sisters Meg and Dia Frampton) released December, Darling a winter and holiday-themed album early in November via Pure Noise Records. Meg comments, "This year Dia and I wanted to make an album with our own take on some Christmas classics as well as a few originals. I hope that as people are spending time with their friends and family this holiday season, our music playing along in the background will add just a hint of holiday magic."
Brooklyn-based indie pop/rock band Jeanines bowed their self-titled debut album this past June via Slumberland Records. Now they've unveiled the video for brisk retro-popper "Winter In The Dark," a melancholic relationship-themed seasonal cut off the LP.
Los Angeles-based singer-songwriter/multi-instrumentalist Sasami drops a 3-song single titled lil drmr bb with industrial and synth-heavy takes on a few classic Christmas-time tracks.
New York City rock 'n' rollers Jeremy & The Harlequins release a fun, '50s blues-rock-infused video for "A Chinese Restaurant On Christmas" that runs on blue-Christmas relationship woes. It's one number on their 2-song single Christmas Special, out now via Yep Roc.
Canadian psych-pop band The Orange Kyte drop a laid-back and melodic Christmas track with trippy lyrics ("I don't wanna get too stoned this Christmas"). Their new album Carousel spun out and away in October via Little Cloud Records (US/Canada) and Cardinal Fuzz (UK/Europe).
Pioneering Canadian New Wave band Rational Youth is back with a Christmas-themed track to warm your cockles. On December 6th they released a deluxe expanded and remastered edition of their seminal 1982 debut album Cold War Night Life on both CD and double gatefold vinyl. This special edition was issued via Universal Music Canada.
Seattle-based electronic/synth-pop project Watch Clark has released a light-hearted,throwback- '80s pop track for the holidays titled "My Black Heart (Loves Christmas With You)." Their new third album Couch is out now. They describe their Christmas song as, "…[an] upbeat Depeche Mode-inspired holiday tune that is bound to make even the biggest Scrooges want to hit the dancefloor."
Lyrically timely and acute, "If Christmas Didn't Exist" is out via Know Hope Records from Philadelphia-based rock project Mosey, the solo work of Dan Pawlovich (Panic! At The Disco, Valencia).
Pawlovich shares, "I'm lucky this holiday season to have a lot of positivity in my life. And yet, the world around us feels tumultuous, and it's not always easy to stay positive. I remember times when the holidays turned the volume way-up on losses that I'd experienced, and they were the hardest times ever."
""If Christmas Didn't Exist" is a shout-out to anyone who may feel left out or low this time of year. And to our planet that needs our care more than ever. And to those who can separate the shop til you drop mentality with the true spirit of giving… Happy Holidays—really I mean it."