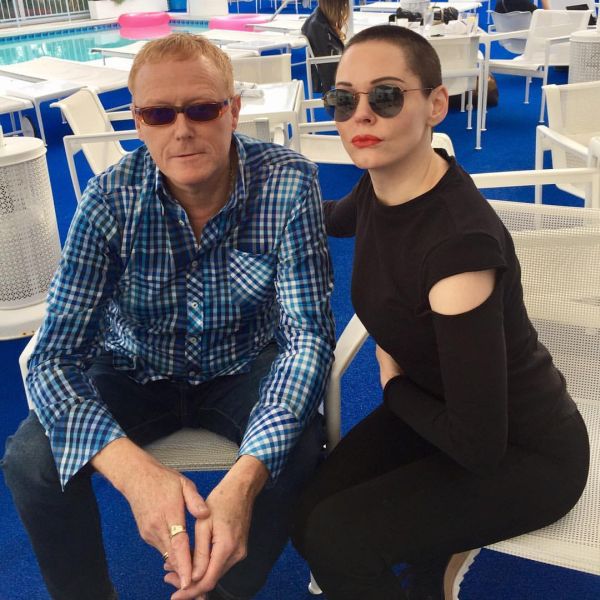 4 June 2019
David J and Rose McGowan – Photo Credit: S.T.R. Anger
It always makes music writers' jobs easier when the artist being written about needs no introduction. In this case, lets times that by two as the single presented here comes from a couple of people surely known to millions – especially if you lived through the late '70s-early '80s (for one) of them and the '90s (for both of them).
Who are we referring to, you ask? David J Haskins, founding member of both Bauhaus and Love & Rockets is the first. David J has spent the last eight months touring the world with Peter Murphy on the massively successful. Ruby Rising 40 Years of Bauhaus Tour, covering multiple countries across four continents.
The second is actress, activist, and writer Rose McGowan. A thought-leader and agent of change, she originally gained recognition as an actress with lead roles in films such as Gregg Araki's wild The Doom Generation', Scream, Jawbreaker, and Planet Terror, as well as the hit TV series Charmed. As a writer, director, music artist, icon, entrepreneur, and feminist whistle-blower, she has focused a spotlight on injustice and inequality in the entertainment industry and beyond. As an activist, she led a movement to break the silence on important issues and has become a leading voice in the fight to disrupt the status quo.
These two artists have teamed up on the track "The Auteur (Redux / The Starlet's Cut)", a digital-only single that teases David J's forthcoming double album Missive To An Angel From The Halls Of Infamy And Allure, which is set for release on Glass Modern Records later this year.
The track also features several other notable musicians, including Paul Wallfisch (Swans), Larry Mullins AKA Toby Dammit (Nick Cave and The Bad Seeds), Sean Eden (Luna), and Emily Jane White (on backing vocals). The accompanying video was created by Scott Saw of Fuze Studios.
"The original version of "The Auteur" was released as part of an EP in 2002, an old song that tells a much older story but one which in light of the whole #METOO movement now has an addendum," says David J.
"The most vocal proponent of that righteous call for respect and culpability, Rose McGowan, makes a fitting and emotional appearance on this brand new version's reprise. Rose told me that she related to the lyrics on a very personal level and, because of this, she is also considering recording her own version of the song."
David J also recently offered two limited edition vinyl releases for Record Store Day: a remastered and expanded version of "V for Vendetta" in Britain (via Glass Modern) and, in North America, the "Thoughts and Prayers" 7" single (via Schoolkids Records), performing Emily Jane White's "Hole in the Middle" as B-side. In autumn of 2018, he also reissued his seminal album Crocodile Tears and The Velvet Cosh and released Oracle of the Horizontal with Duende, both on vinyl via Glass Modern.
"The Auteur (Redux / The Starlet's Cut)" will be released on June 14th across all digital platforms. A two-track version of the single, including the instrumental, is available exclusively through Glass Modern Records via Bandcamp.
CREDITS
David J – Vocals
Rose McGowan – Lead female vocal
Emily Jane White – Backing vocals
Paul Wallfisch – Piano, bass guitar, Wurlitzer, backing vocals
Sean Eden – Electric guitar
Larry Mullins – Drums
Heather Paauwe – Violin, viola
Eleanor Norton – Cello
Strings arranged by Paul Wallfisch
Engineered and mixed by Paul Wallfisch
Additional engineering by Tony Green
Produced by David J and Paul Wallfisch
Instrumental Version mixed by Paul Wallfisch
Catalogue GLAMSD002
DAVID J
Website
Facebook
Twitter
Instagram
Bandcamp
YouTube
Patreon
Spotify
iTunes