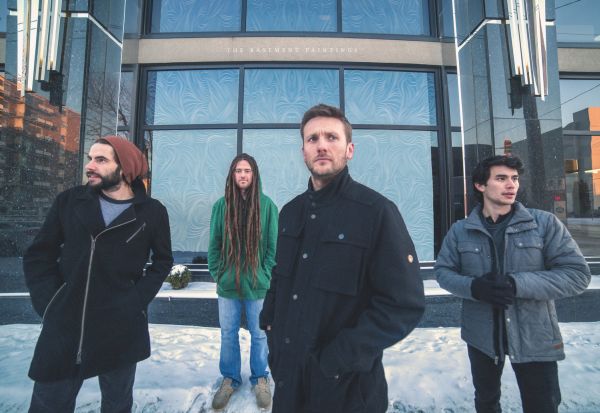 19 January 2020
The Basement Paintings – Photo courtesy of The Basement Paintings
Conceived in the near hypothermic prairies of Saskatchewan, The Basement Paintings' overall sound can be categorized into the ambient and post-rock genres. Drums and bass pound the low end of the frequency range, while the winding reverberations of the string section widen the spectrum to epic levels of grandiosity.
Forming in the winter of 2011, The Basement Paintings (Justin Thompson (guitar), Paul Hillacre (guitar), Evan Knouse (bass), and Calen Miller (drums)) quickly got to work recording a self-titled debut album which was released in 2013 along with a video for the single "Desert Surfer."
The follow-up EP, Time Lapse City, was released in 2014. Featuring a collaboration with Aaron Harris (ISIS, Palms), the EP marked a major step in the evolution of the band, and the refinement of their sound.
The band's next release, Mystic, was an attempt to abandon their progressive and metal roots, and enter the vast, desolate wilderness of coma-inducing drones. Their second effort earned them a nomination on "Saskatchewan's Top Albums of 2016" ballot.
This past November, The Basement Paintings' new album Antipodes, which was produced by Hillacre, was released, continuing the band's exploration into expansive heavy music and philosophy.
This LP explores themes of diametrically opposed ideologies, access points to the collective consciousness, and glimpses of divine interconnections. Antipodes refines and expands on the sound of the act's previous releases with rich guitar tones, visceral drum patterns, and trance-like journeys through metal, psychedelic, and progressive landscapes.
The band give some details about the concept of Antipodes, revealing, "We thought a lot about dualities and society getting stuck in one mode of thinking, leading to problems (hence the WWII statue on the album art to represent people taking ideology to an extreme and where that leads). The name 'antipodes' means exact opposites, and also was used by Aldous Huxley to describe the different regions of the mind that can be reached through various methods including religious experience, meditation, drugs, etc… We hope the album encourages or aids people in exploring different areas of their psyche and the collective psyche."
RIYL: Tool, Isis, Russian Circles, Pink Floyd