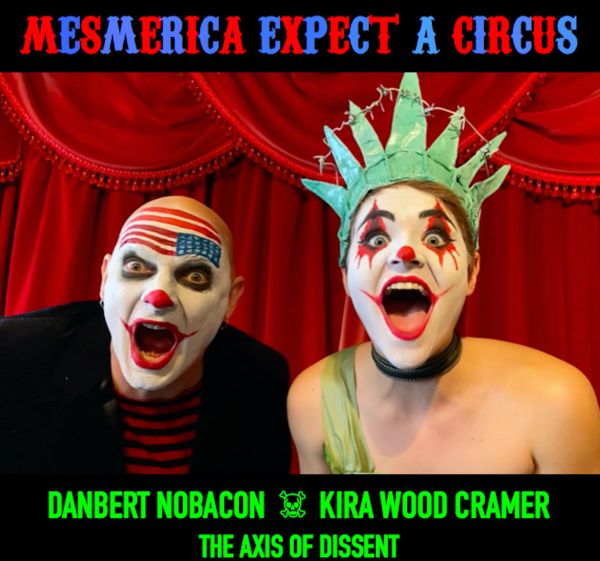 22 June 2020
Danbert Nobacon, Kira Wood Cramer, & The Axis of Dissent – Photo courtesy of Danbert Nobacon, Kira Wood Cramer, & The Axis of Dissent
The renowned Danbert Nobacon got an associate degree in the science of children's play in England in the 1990s while moonlighting in the punk rock band Chumbawamba. He's also been teaching theater at his local high school.
Nobacon's album Stardust to Darwinstuff, explores the relationship between art and science. The LP was released in 2017.
Nobacon has now just released a new LP, the double album Mesmerica – Expect A Circus, which came out on June 19th. He's joined by Kira Wood Cramer and The Axis of Dissent for the record.
The group recently unveiled a relevant video/song that tackles climate change. Nobacon explains the meaning behind "Climate Emergency 1&2":
"Strange times … we imagined taking to the streets on Earth Day to yet further state our case that Predator Capitalism is killing the habitable planet but instead had to express our critical thinking from solitary confinement."
"The song was recorded late 2019 and early 2020, but as you will see, this film was made during the COVID-19 pandemic during 'shelter in place,' … meaning I had to get help from my little friends, and was pretty much restricted to re-inventing whatever was lying around to hand."
"Pushed beyond my usual creative resources to recalling a childhood, when TV only had two channels, which was no less spectacular for being enlivened by Ray Harryhausen's 'children of the Hydra's teeth" and Gerry Anderson's Thunderbirds 'Supermarionation.' However, in the present time, it being 'stay at home'—something I never imagined in my wildest dreams—I ended up having to improvise the multiple roles of a whole industry of Barbie wranglers. Who knew?"
Purchase/Stream Mesmerica – Expect A Circus at Bandcamp