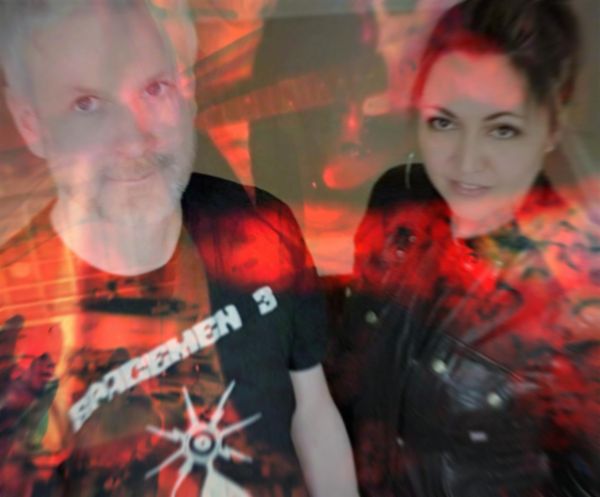 29 May 2019
Submotile – Photo Credit: Michael Farren
Ireland seems to be blooming with great music and the world seems to be catching on to just how vibrant the music scene is in Dublin is, for instance, with the emergence of bands such as Fontaines D.C.
Another Dublin-based band worth your time is Submotile, who have just released their debut album Ghosts Fade on Skylines via the Midsummer Madness label, that promise a limited edition physical format of the album later this summer. This 9-track offering blurs the lines between shoegaze, pop, noise-rock, ambient, and post-rock, with Submotile delivering a unique brand of layered, atmospheric, and immersive indie rock.
Submotile are Michael Farren and Daniela Angione, an Italian-Irish couple who call the Irish capital of Dublin their home. Now a full-on hybrid in their sounds, and defying genre pigeonholing, Submotile were initially conceived as an ambient, experimental project.
The duo evolved its sound considerably once Daniela began to add vocals to Michael's guitar experiments, yielding their first proper collaborative track "Signs of My Melody". The well-received debut EP We're Losing The Light followed, gaining the band significant interest in the shoegaze community. This encouraged them to pursue their dream of recording a proper album. Ghosts Fade on Skylines is the culmination of nine months of recording – from August 2018 to March 2019.
"We wanted an album that ebbed and flowed, with nine diverse songs that complimented each other without being too different from each other. The idea behind the music is to express the dualism of warmth over hostility, passion over frustration, all these dynamics projected onto a sense of hope and renaissance. I'm not sure if we succeeded, but hopefully it works," says Daniela Angione.
Recorded and produced by Submotile in their home studio, this album was mastered by Brian Lucey from Magic Garden Mastering, well known for his work with Ringo Deathstarr, Sigur Ros, Liam Gallager, Marilyn Manson, Neko Case, and The Black Keys, among others.
"Having quit music in 2009 due to the frustration of never having been able to translate the sounds in my head to tape, 'Ghosts Fade on Skylines' was recorded during a wonderful period of rebirth and rejuvenation, a period where I was discovering all the great new music that was out there, whilst simultaneously finding out just how far music production technology had evolved," explains Michael Farren.
"This evolution allowed us to come that bit closer to the sound in our heads, enabling us to labor over songs, adding hundreds of tracks and experimenting with samples, guitar pedals and tones – many a happy hour was whiled away tracking this music. If someone out there enjoys listening to it a fraction as much as we enjoyed making it, then to me it'll be a success."
Submotile's music is influenced by numerous artists, including My Bloody Valentine, Slowdive, Warpaint, Smashing Pumpkins, Massive Attack, Swans, Spiritualized, Sonic Youth, Nirvana, and Stars of the Lid.
Michael Farren adds: "It's not an understatement to say that we obsessively labored over this album, with most songs having well in excess of 120 tracks (with "Winter Storm Sequence" having 167). The vocal mixing alone on some songs took over six days. We wanted something that lent itself well to headphone listening, creating an immersive experience that reveals new layers on repeat listens, yet hopefully without sounding like an overblown, excessive mess."
Ghosts Fade on Skylines is available now for streaming via Spotify and from stores such as iTunes, as well as the duo's own Bandcamp
Also check out a couple of videos that the band has released in support of this record:
SUBMOTILE
Website
Facebook
Twitter
YouTube
Instagram
Spotify
iTunes