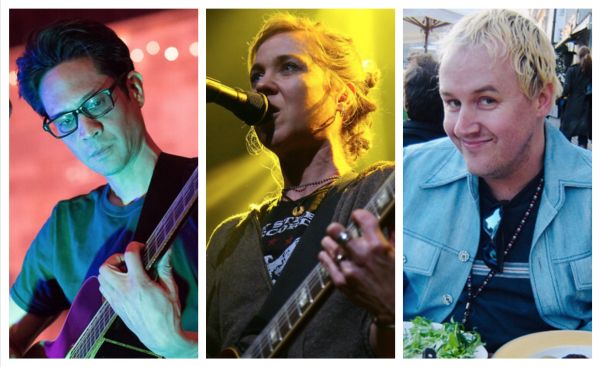 15 May 2019
Fred Abong, Kristin Hersh, and Rob Ahlers – Photo collage Credit: Steve White, Steve Asenjo, and Kristin Hersh
When we look at the world of indie music and the many artists who have fueled the motors that keep this industry afloat and interesting, there are a prize number of artists who can be considered massively significant and fresh from decade to decade. Among these, there are also few who have managed to seamlessly transition from one project to the next or, in even more rare circumstances, who have succeeded to simultaneously maintain several different music projects and continue to release brilliant output in association with each of them.
Iconic alt-rock guitarist Kristin Hersh certainly stands a head above most others. Her musical compositions and vision, as well as the trials and tribulations she's had to face to accomplish what she has, are astounding. While she really needs no introduction, we shall offer one anyway.
Hersh is an American musician, singer-songwriter, and author who is celebrated not only for her musical and literary achievements, but for blazing a path for women in the indie rock genre and beyond. Her actions have also been influential in terms of artists coming forth to speak about such issues as mental health, as well as being a proponent for fair business practices and crowdfunding in the musical realm. To this day, her music across all projects is listener-funded via her so-called Strange Angels
Hersh is the founder and integral member of the long-running, world-renowned band Throwing Muses and is an acclaimed solo artist. She also formed the long-standing rock band 50FOOTWAVE. She is a veteran of both 4AD Records and Sire Records, who eventually had to promise her first solo album (featuring Michael Stipe of R.E.M.) in exchange for Throwing Muses' freedom of past contractual obligations. So very clever and brave.
Hersh has just announced June dates for her 'Live and Loud' tour, playing in support of her new highly acclaimed album Possible Dust Clouds, which released in late autumn digitally, on vinyl, and CD via Fire Records. For this tour, she will be playing as one of three members of her hard-hitting electric trio, along with two friends and members of her respective bands – Fred Abong (Throwing Muses) and Rob Ahlers (50FOOTWAVE). With a playlist that includes songs from the new album, but also from across Hersh's rich career, these shows promise to be loud, polished and intense.
Late on August 31, Throwing Muses will be performing at the Pasadena Daydream Festival, curated by Robert Smith of The Cure. There, they will also be joined by long-term friends the Pixies, as well as Deftones, Mogwai, The Joy Formidable, Twilight Sad, Chelsea Wolfe, Kaelan Mikla, and Emma Ruth Rundle. Tickets will go on sale on Friday May 17 at 12pm noon Pacific time.
Kristin Hersh's astounding career has seen her heralded as queen of the alternative release. Her tenth studio album Possible Dust Clouds is a highly personalized, sociopathic gem delivered as a futuristic rewriting of how music works. It's a melodious breeze with a tail wind of venomous din.
A turbulent cracker with riot grrl swagger, this album is Hersh's first new material since 2016, when she released her critically-acclaimed double album/book combo Wyatt at the Coyote Palace. In contrast to that LP, which saw Hersh record over several years, playing all the instruments on these songs, Possible Dust Clouds involves numerous friends.
Enveloping the juxtaposition of the concept 'dark sunshine', she created this brooding LP, expanding her off-kilter sonic vision. Produced, mixed, and mastered by Steve Rizzo, Possible Dust Clouds brings contributions by Fred Abong on bass, Chris Brady (Pond) on vocals and bass, and drums by Throwing Muses' David Narcizo, Rob Ahlers, and Kristin's son, Wyatt True. The result is a squally and heady mix of discordant beauty.
"When I heard the record back after leaving the atmosphere of the studio, it was like stepping back from a painting. It just sounded like this chaotic party. You want the chaos, you want the violence, the sweetness lends itself to a fun explosion. And that's what Possible Dust Clouds sounds like. Yeah, it's an act of God," says Kristin Hersh.
Feedback and phasing gyrate from simply strummed normality. Imagine Dinosaur Jr and My Bloody Valentine cranking up a Dylan couplet.Possible Dust Clouds is a glorious return for one of alternative rock's true innovators.
Touring allows listeners the chance to experience what the BBC calls Hersh's "dark and dizzy world". For this tour,
 Fred Abong also opens the show with an acoustic solo set in support of his own recently-released Pulsing EP., which is available at Bandcamp His music has been alternately described as "ragged Replacements" and "Elliott Smith with balls."
When asked about what music project she enjoys the most, Hersh says, "My new favorite incarnation is the super-group I'm playing in now, with Fred Abong from the Muses and Rob Ahlers from 50FOOTWAVE. We're touring Possible Dust Clouds because they both played on it, but I had no idea it would be this incredible. We're all terrified that this tour will end someday. Which it will."
Possible Dust Clouds is available now online everywhere and on vinyl via Fire Records. It can be ordered at Fire Records HERE or via Bandcamp
This same label also re-released Hersh's seminal album Crooked on snazzy orange vinyl on Record Store Day 2019. Hersh kicks off her new tour on June 19 in Northampton, MA at The Iron Horse. Ticket info and sales links for all shows can be found at Hersh's Official Site.
'LIVE AND LOUD' TOUR DATES
June 19 Northampton, MA – The Iron Horse
June 20 Somerville, MA – Once Ballroom
June 21 Hamden, CT – S pace Ballroom
June 22 New York, NY – Mercury Lounge
June 23 Washington, DC – Union Stage
June 24 Philadelphia, PA – Boot & Saddle
June 26 Carrboro, NC – Cat's Cradle
June 27 Atlanta, GA – Terminal West
June 28 Athens, GA – 40 Watt Club
Aug 31 Pasadena, CA – Pasadena Daydream Festival (as Throwing Muses)
Enjoy Hersh's latest record, Possible Dust Clouds:
And dive into the audio-visual pleasures of the world of Kristin Hersh:
KRISTIN HERSH
Website https://www.kristinhersh.com
Facebook https://www.facebook.com/strangeangels
Twitter https://twitter.com/kristinhersh
Bandcamp https://kristinhersh.bandcamp.com
Soundcloud https://soundcloud.com/kristinhersh-official
YouTube https://www.youtube.com/channel/UCTdtvPp4IiPDDZqX-4No5Uw/videos
Instagram https://www.instagram.com/p/BxVPOCdhH-i