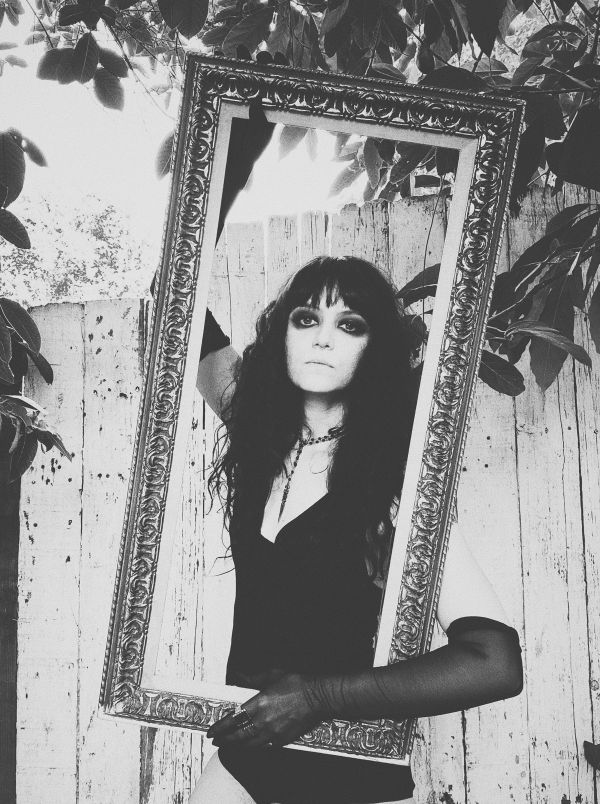 15 June 2021
AMMO – Photo Credit: Neelofer Lodhy
Los Angeles-based multi-instrumentalist AMMO has released her 2-track single 'Rose + Crown', which is being released via California-located Mourning Sun Records. This ought to bring a smile to fans of David Lynch soundtracks or, for that matter, the Chromatics, Julee Cruise, Ladytron, Phantogram or Emma Ruth Rundle. We could go on and on about the artists we think she's in similar territory with and that can only be considered a good thing.
'Rose + Crown' was born of the isolation and swift emerging darkness wrought upon the world by the current pandemic, echoing themes of catharsis and freedom from self-imposed shackles, whether physical or psychological. Written by AMMO, it was co-produced and recorded with Alex Posell, her former Black Flamingo bandmate, who also contributes drums and percussion, and mixed and mastered by Robert Duncan IV.
The B-side 'Total Recall' was originally released as part of Do You Feel That Way Too? A Tribute to The Sound, the first charitable compilation on the Dune Altar label, aimed at increasing awareness to the mental health conditions plaguing millions today. Inspired by Adrian Borland (frontman of criminally underrated, yet tremendously influential 1980s UK band The Sound), who suffered from schizoaffective disorder and severe depression.
AMMO's distillate aesthetic can be described as otherworldly ethereal dreampop/Goth music driven by the pulse of primordial percussive rhythms that provide a backdrop for haunting vocals and lush, atmospheric guitar lines. Siouxsie and the Banshees, Rudimentary Peni, Dead Can Dance, Cranes, Cocteau Twins and Enya act as the influential foundation, supporting the lens through which AMMO channels her art.
AMMO has enveloped herself in a number of music, photography and film projects. Her band Brass Box released their full-length LP The Cathedral in 2019. Past music projects include Black Flamingo, Darklands, and Tête. Her music has been said to "shackle the living or free the dead…" by creating mystical magnetic soundscapes – "the kind of music that should soundtrack a sand-dune-to-shoreline road movie by David Lynch."
A rock and roll photographer, musician and songwriter, AMMO spent her youth ditching school to delve through record store bins and scour the LA music and art scene in hopes of running into like-minds. Pushing boundaries and challenging the status quo is a constant in her life. She has shot and produced a feature film, co-founded PLAG Presents, a platform for women musicians and the LGBTQ community voices to be heard.
Her storied history in shooting fashion editorials and directing short films and music videos have given her the tools to achieve a deeper connection with her listeners. These artistic mediums empower her exploration of illusive and melancholic topics which offer listeners an emotional and visceral experience by creating a dialogue between the imagined and physical.
As of June 4, the 'Rose + Crown' single has been available across online stores and streaming platforms, including Spotify. It can ordered via Bandcamp and saved HERE.
CREDITS
'Total Recall' written by Adrian Borland
'Rose + Crown' written and performed by AMMO
Drums and percussion by Alex Posell
Produced by AMMO and Alex Posell
'Rose + Crown' mixing and mastering by Robert Duncan IV
'Total Recall' mixing and mastering by Dylan Neal
Video directed by AMMO
Camera by Christopher Slater & AMMO
Released by Mourning Sun Records
AMMO has also offered a sneak preview of her upcoming video, exclusively on her social media channels:
AMMO
Website
Bandcamp
Facebook
Twitter
SoundCloud
Instagram
YouTube
Spotify