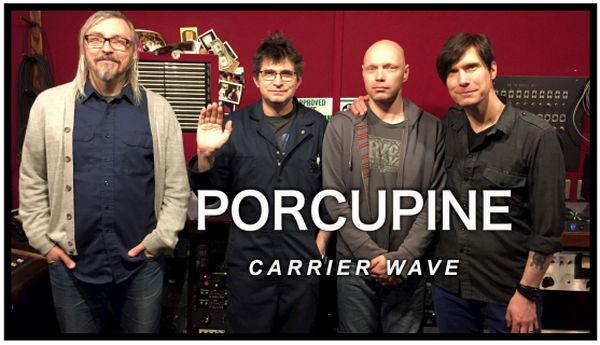 19 November 2019
Porcupine – Photo courtesy of Porcupine
A story of music, friendship, and perseverance, this documentary short follows the band Porcupine as they record their 2015 EP, Carrier Wave (Riot House Records), in Chicago with renowned recording engineer Steve Albini.
In addition to focusing on the recording process, the film addresses the circumstances that surrounded the recording session, including the addition of a new band member, another member leaving the group after the EP was recorded, and the relationship struggles of band leader Casey Virock that served as a theme on all the EP's songs.
FEATURING
Casey Virock – Guitar and Vocals
Ian Prince – Drums
Dave Reinders – Bass Guitar
Steve Albini – Recording Engineer
FILM CREDITS
Directed by Jason Knox
Filmed and Edited by Jason Knox
Additional Footage by Dave Reinders
I See Sound EP Footage by Casey Nelson and Adam Wright
Perfect Picture Footage by Matt Monsoor and Joshua Franke
Audio Interview with Casey Virock by Simon Calder (Back To The City MPLS)
Audio Mixed by Jason Knox
Carrier Wave Tracks Mixed by Bryan Hanna
Carrier Wave Tracks Mastered by Greg Reierson
Electrical Audio Sessions – March 26 and 27, 2015
Band Member Interviews – Summer 2016
Thanks to Steve Albini and the staff at Electrical Audio for their openness to cameras in the studio
Carrier Wave is re-released this year as a Deluxe Edition on vinyl Release via Dead Broke Rekerds and on CD and digital via DC-Jam Records
Porcupine's latest album, What You've Heard Isn't Real, came out last year.
On December 27th, Porcupine will be supporting Soul Asylum and Local H at First Avenue and 7th Street Entry.
Website
Facebook
Twitter
Instagram
YouTube
Bandcamp