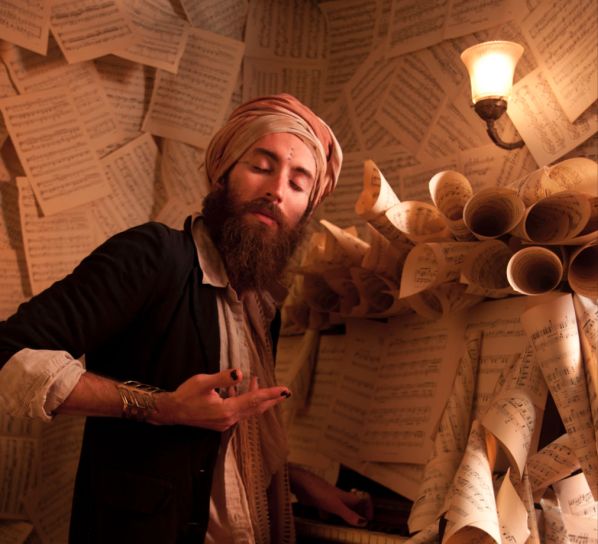 7 January 2020
Luis Mojica – Photo Credit: Kelly Merchant
Recently upstate New York-based artist Luis Mojica made a big splash with his latest album How A Stranger Is Made, mixed by three-time Grammy award-winning producer Justin Guip (Levon Helm) and produced by Mercury Prize-winning producers David Baron (Bat For Lashes, Peter Murphy, Lenny Kravitz, The Lumineers) and Simone Felice (The Lumineers, Bat For Lashes, Dan Mangan),.
As of this weekend, Mojica will be taking his intimate confessional singer-songwriter style on the road, so East Coast residents may be fortunate enough to enjoy a dynamic rendition of his repertoire of piano-driven songs. This is quite the pronounced tapestry, warmly expressing his healing journey through such things as sexuality, trauma, ecstatic joy, and even shamanism.
How A Stranger Is Made features 11 piano-based songs that incorporate the wurlitzer, celesta, harpsichord, organ, saxophone, percussion and a rich texture of backing vocals that display Luis' wide 3+ octave vocal range. This album is recommended for fans of Dresden Dolls, Nick Cave, Devendra Banhart, Tori Amos, Amanda Palmer, Kate Bush, and CocoRosie.
This record follows Luis' journey into the deep parts of his mind and heart, as he faces and transforms unresolved pain into bliss and freedom. Sexuality, male identity, betrayal, love, and spirituality, particularly shamanism, are consistent themes on the record. The songs are very personal, as if taken from the artist's personal journals.
Mojica released his first studio album Wholesome in August 2016 after two years of touring with the avant-garde cello band Rasputina. He toured this album, which features his unique style of live looped beat boxing and rich vocal harmonies, both as support for Rasputina and as headliner. The album's limited pressing sold out quite quickly and now is only available digitally.
A pianist and vocalist now based in Woodstock, New York, Mojica began developing his unique musical style in the crowded apartments and crumbling theaters of NYC's East Village. In 2012, he moved upstate to the mountains of the Hudson Valley, where he's become renowned for both his holistic healing work, as well as his musical compositions.
Mojica's songs blend his 3+ octave vocal range to create choir-like textures, as well as utilizing unusual character voices and harmonies that explore androgyny, spirituality, and unorthodox male identity. Mojica's music and sound esthetic is inspired by Leonard Cohen, Tori Amos, Patti Smith, Joanna Newsom, and Kate Bush.
How a Stranger is Made is now available everywhere online, including directly from the artist via Bandcamp. It can also be ordered on CD HERE
UPCOMING TOUR DATES
Jan. 08 Brooklyn, NY – Gold Sounds
Jan. 09 Hamden, CT – The Cellar on Treadwell
Jan. 24 Piscataway, NJ – Radisson Hotel Piscataway-Somerset
Jan. 25 Somerville, MA – The Jungle Room
Jan. 31 Pittsburgh, PA – 222 Ormsby
Feb. 01 Frederick, MD – Cafe NOLA
Feb. 07 Burlington, VT – Radio Bean
Feb. 13 Buffalo, NY – Buffalo's Mohawk Place
Feb. 21 Toms River, NJ – The Clubhouse of Toms River
For a teaser of the firefly buzz Mojica has going on when on stage, check this out:
Also check out Mojica's latest self-directed video for 'City Friends':
Now enjoy the full album:
LUIS MOJICA
Website
Facebook
Bandcamp
Instagram
YouTube
iTunes
Spotify