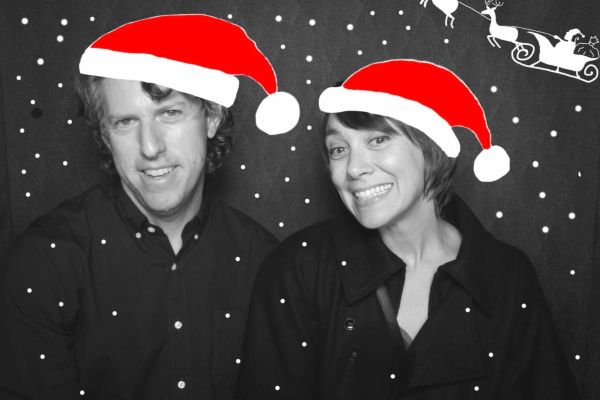 25 December 2020
Greg Kurstin and Inara George of The Bird and The Bee – Photo courtesy of The Bird and The Bee
The Bird and The Bee have released Put Up The Lights, a collection of the duo's favorite holiday songs alongside new and original compositions. The LP came out in October via No Expectation / Release Me Records.
The album is available on streaming platforms HERE
Since forming in 2005, The Bird And The Bee (AKA Inara George and Greg Kurstin) have brought a breezy elegance to their music, putting their own idiosyncratic twist on time-bending indie-pop starting with their beloved Again and Again and Again and Again EP followed by 3 original studio albums.
The duo have also mastered the art of the cover song. This mastery can be heard throughout their amazing takes on timeless tracks on 2010's Interpreting the Masters Volume 1: A Tribute to Daryl Hall and John Oates and 2019's bombastic Interpreting the Masters Volume 2: A Tribute to Van Halen, both of which garnered critical acclaim.
With Put Up The Lights, The Bird And The Bee aim to spread holiday cheer by putting their own spin on classics like "Deck The Halls" and "Sleigh Ride" alongside originals like "Merry Merry" and "You and I At Christmas Time".
"I'm so happy it's finally here," states Kurstin. "We included some of our favorite holiday songs and wrote a couple of originals too. One of my favorite songs we wrote is "You and I at Christmas Time" which was written through email. I sent Inara the piano part and I was blown away by what she sang over it."
While the delightful duo have historically worked together in the studio, the pandemic would not allow for that. Instead, Kurstin would send a track recorded in his home studio in between borrowed moments away from his kids. In turn, Inara moved her recording operation into a closet and recorded all of the vocals on Garageband in between borrowed moments away from her kids.
"Working on a holiday record during summer is always strange, no matter what the circumstance," comments George. "But working on a holiday album during the summer, and a global pandemic, worldwide civil rights protesting, historical wildfires and the lead up to the most important election of our lives is really, really strange. Although, I have to admit, it felt like such a sweet little momentary escape singing "Chestnuts Roasting on an open fire…" all alone in my closet. It was a little respite from reality."
The recording of Put Up The Lights became an unexpected source of calm and joy for the songwriters and gave light to the power of holiday songs.
"Holiday songs give us such an escape from a time of year that is supposed to be so jolly and happy, but a lot of times can be so stressful and even lonely," adds George. "And even more universally, how music in general, always offers that to the listener… an escape, a moment of joy, a feeling of belonging. There's a song out there for every occasion."