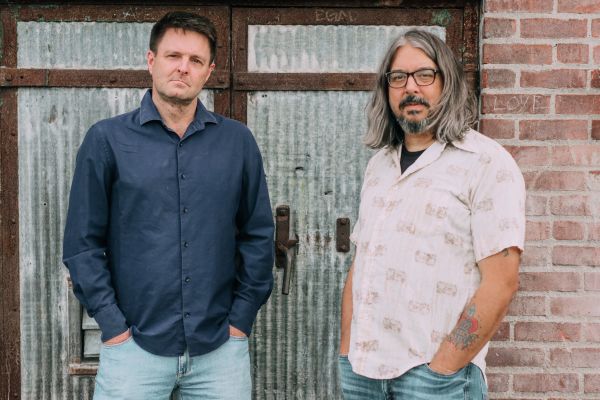 23 October 2019
The Persian Leaps – Photo Credit: Rouse Productions
Indie rock/power pop band The Persian Leaps' founder, frontman, and guitarist Drew Forsberg has written music under this moniker for years. The name came to Forsberg in a daydream during a college Greek Archaeology class. That phrase was the first spark that would lead to the band's formation in 2012.
Since then, the Persian Leaps have delivered power pop earworms with Midwestern charm every fall, which encompasses 5 EPs and 2018's 18-song 'best of' album Pop That Goes Crunch..
The current configuration of the project includes Jon Hunt, a musician and graphic designer. The duo recorded 11 new songs that continue the Persian Leaps guitar-driven sound, while adding keyboards for the first time. The resulting album, Electrical Living, was released via Land Ski Records on October 4th.
Drew Forsberg has graciously taken some time out of his schedule to go deeper into the meaning behind each of the songs off of Electrical Living.
"The Art Form"
""The Art Form" is more a "songlet" than a song. It's around 50 seconds of autobiographical frustration and self-doubt over whether what I've been doing as The Persian Leaps is making an impact and is worth continuing. The jury's still out, but I haven't stopped yet."
"Catnip for Cupid"
"I've been a comic book fan since I was a kid. The phrase "catnip for cupid" actually came from the TV show, Arrow. Team Arrow was fighting a villain-of-the-week named Cupid. They needed some irresistible bait to catch her—some "catnip for Cupid." I loved the phrase and immediately wrote this song, the premise of which is that we're all toys that Cupid can't resist playing with—often too roughly. I don't necessarily think that's true, but I like the way it came together."
"Expert Witness"
""Expert Witness" sounds like it could be a relationship song but that's not what I had in mind when I wrote it. When I was younger and less mature, I had a very toxic rivalry with a coworker, egged on by our manipulative and unstable manager. Eventually, a professional mediator was brought in to help us work out our issues. She's the "expert witness" in this song. Her counseling wasn't helpful at all—we both came away even more convinced that the other guy was the problem. My coworker and I eventually buried the hatchet in a very modest way and realized what we REALLY needed to do was find new jobs away from each other and—especially— away from our manager."
"Sweet Nothings"
""Sweet Nothings" is an older song that we practiced as a full band in later years. I really wanted to play it but we just couldn't make it work live, largely because I couldn't play the guitar part and sing at the same time. However, in the studio, it came together nicely. You might disagree but I think it's a very 1980s-inspired song that reminds me of "Love Will Tear Us Apart" by Joy Division, "The Age of Consent" by New Order, or "In Between Days" by The Cure"
"About Your Record"
"When I wrote "About Your Record," I didn't have anyone specific in mind. In retrospect, I think listeners can pull a story out of it. I picture a father talking to his teen- or college-aged child, reassuring them that he knows about their youthful transgressions but that it will all be OK. The mistakes might seem awful or unforgiveable now, but they won't matter in the end and will barely be remembered. Even better, I like the idea of an older person sitting down at a campfire with their younger self and saying the words from the song, telling them that they can just let go and forgive themselves. That's the music video I'd make if I could."
"How We Win"
""How We Win" is a song about perpetual underdogs and losers. How do they win? Well… they don't. Ever. My favorite part is the 3rd verse (same as the 1st) where everything drops out except for drums, fuzz bass, and harmony vocals. And a cowbell. I absolutely knew that section needed a cowbell, but in this post-"More Cowbell" era, you really have to think carefully about using that instrument."
"The Problem Is"
"This song is advice addressed to a friend or relative (or maybe even the narrator himself) who's constantly unhappy with their surroundings. Eventually, you just need to tell them "Listen… if you can find something to complain about everywhere you go, maybe the problem is actually you, not the location/circumstances.""
"Take Me To The Mountain"
"To be honest, this song overstates the extent to which I'm the outdoor type (like that Lemonheads' song, "I lied about being the outdoor type"), but I liked the sentiment. In reality, I'm perfectly happy going to the mall or a movie, although I do exercise outdoors regularly (biking, cross-country skiing, or walking) rather than go to a gym. In 2018, my New Year's resolution was to walk 500 miles (yes, the amount was inspired by the Proclaimers' song); I ended up breaking 700 miles. One of the great side benefits was exploring areas of Saint Paul that couldn't be reached otherwise. In fact, those walks were the inspiration for the music video I made for "Time Slips" last fall."
"Chalk Line Behemoth"
""Chalk Line Behemoth" is about a young girl who sees the chalk line outline of a murder victim left behind on a sidewalk. The outline haunts her dreams and takes on a life of its own. The sound of this song is a bit different for us. I was really striving for a nervy, angular quality in the verses that owes a debt to post-punk bands like Wire or Gang of Four."
"When Can I See You?"
"Like "Sweet Nothings," "When Can I See You?" is an older song that we rehearsed as a band for a month or so but just couldn't make it work. This one reminds me of "Permission" (from 2014's Drive Drive Delay) in that it has a slower tempo and more open instrumental space than our typical songs. It's about being captivated by someone walking the same direction as you but on the opposite side of the street. As long as your paths run parallel, there's the potential for you to meet and fall in love, but eventually your paths diverge and you never see them again."
"Dominoes"
""Dominoes" is actually a very old song that I wrote in 2011 or 2012. It reflects the spirit of the time—the financial crisis, the Occupy Wall Street movement, and so on. It also evokes the old Paul Wellstone quote, "We all do better when we all do better." We played this song live quite a bit when the band was first getting started in 2012-2013 but eventually moved on. I happened to revisit it last year and remembered how much I liked it, so we revived it for the new album."