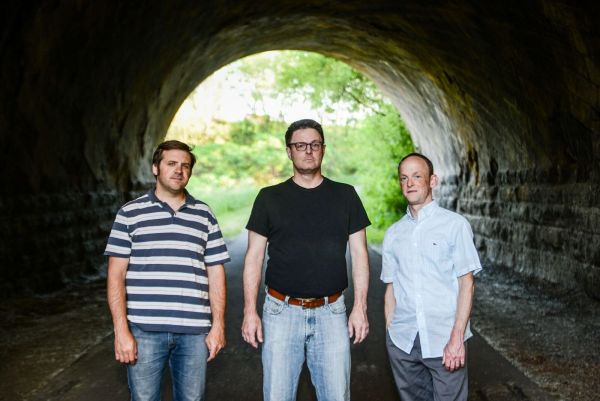 2 November 2018
The Persian Leaps – Photo Credit: Drew Johnson
Minnesotan power-pop/indie rock band The Persian Leaps released their album Pop That Goes Crunch on October 12th. In a unique forging of their own path, the record bows as the band's debut full-length, but also as an 18-song "best of" anthology release.
A selection of 17 choice tracks were taken from across The Persian Leaps' five EPs, and revisited with full remix and remastering work, alongside re-recorded sections. Pop That Goes Crunch is a reflection and celebration of the band's music to date. The only brand-new track on the record comes with the bittersweet and nostalgic single "Time Slips".
The majority of production work was done by Neil Weir of Blue Bell Knoll studio, who the band used for recording their previous releases. Vocalist Drew Forsberg shared on the decision and process of revisiting past material. Across the album, Forsberg and Weir worked together to hone each track to its absolute best, for a collection of power-pop perfection.
Although it may be an anthology of sorts and non-traditional approach to a debut full-length, Pop That Goes Crunch provides an excellent introduction to The Persian Leaps' sound for new listeners. It also marks a transition for the band, who have announced they will now be operating as a studio-only project.
Pop That Goes Crunch was released via Forsberg's label Land Ski Records, and is available everywhere, including Spotify, Apple Music and Bandcamp. Physical CDs can be ordered at Bandcamp as well.
Drew Forsberg graciously took the time to deliver an exclusive, detailed, thoughtful, and insightful Track-By-Track view into the deep meaning and creative process behind Pop That Goes Crunch.
1) "See Me Unaware" [Remixed/Remastered 2018]
""See Me Unaware" was the first song on our fourth EP, Your City, Underwater. It's always been followed on our albums and in concert with the next song, "The Weather." I like to think of them as the best 1-2 punch we've delivered to date, so the album opens with them. Also, "See Me Unaware" is the archetypal Persian Leaps song: mid-tempo crunchy riffs and chiming guitars that trace their lineage to "The Concept" by Teenage Fanclub. This song only received minimal remixing and remastering."
2) "The Weather" [Remixed/Remastered 2018]
"Usually, I don't write overtly topical or political songs. I didn't set out to write a song about climate change deniers but I came up with the main riff and the line "You talk about the weather" and worked my way backward to discover a song about that very topic. Coincidentally, I also had the phrase "Your City, Underwater" floating around in my list of potential EP titles. It wasn't a concept album, but between the "The Weather," the EP title, and the Waterworld-inspired cover art, you could be forgiven for thinking so."
3) "Fire Starter" [Remixed/Remastered 2018]
""Fire Starter" kicked off our second EP, Drive Drive Delay. As soon as I wrote, I felt that it was the perfect song for opening an album or a live show. It's about committing to something risky with no options to back out:"
Let's seal all the exits
To prove that we mean it
To show that we're brave enough
To finally face the danger
"Subconsciously, I think it's probably about me finally working up the courage to start a band and put my Persian Leaps songs out there. For the anthology, I re-recorded my vocals and guitar."
4) "Dottie, Queen of the West" [Remixed/Remastered 2018]
"My first career was as an archaeologist, mostly doing cultural resource compliance investigations for natural gas pipeline construction projects (Indiana Jones, it wasn't!). We worked with a crew of land surveyors led by a gorgeous 50-something blonde woman from Oklahoma who wore a jean jacket and cowboy hat. She looked like Tammy Wynette or some other hard-living, fading country music star. Before I learned her name, my private nickname for her was "Dottie, Queen of the West." The song (originally from High and Vibrate) isn't directly about her, although maybe it could be. It's just about a strong, independent woman who presents a tough exterior while hiding the pain and fear she feels inside. True story: the high note in this song's bridge is the reason I started taking vocal lessons years ago."
5) "Picture My Reaction" [Remixed/Remastered 2018]
""Picture My Reaction" was from our fifth EP, Bicycle Face. It was recent enough so that we didn't do anything beyond slight remixing and remastering. I rarely write love songs, but this is one, although it's more about the almost chemical rush when you first meet someone special rather than goopy romanticism. I always thought horns would sound good on this song's choruses, but that would have been a bridge too far for the Persian Leaps."
6) "Pretty Boy" [Remixed/Remastered 2018]
""Pretty Boy" was the single from our second EP, Drive Drive Delay. I said it at the time and I'll say it again now—the lyrics are kinda dumb. It's about a guy who's been relegated to the "friend zone." We shot a music video for this song where we set up our gear in a prairie at dusk and filmed until the sun went down. The video turned out fantastic but the mosquitoes got worse and worse as it got darker. By the end, I pretty much wanted to cry. We literally sacrificed our own blood to make that video. Ironically, we sweated and struggled to lug our gear up a hill to the spot where we filmed, but at the end of the night, a car went by on the road and we could see from its headlights that the road twisted and came right by where we'd been filming. Stupid tallgrass prairie. If only we'd realized!"
7) "Under the Lilacs" [Remixed/Remastered 2018]
"This cheery little song—originally from our third EP, High and Vibrate— is about making the best-laid plans for accepting death bravely and with dignity—only to have second thoughts after it's too late. We made a music video for the song, which ended up being fairly stressful. It all hinged around filming during the very narrow window when lilacs bloom in Minnesota. We had some unavoidable scheduling delays recording the song, which left us just the very next day to grab a rough mix of the song and film the first half of the video in a lilac grove in Saint Paul. The lilacs were already a little past their prime, although I'm probably the only person who noticed."
8) "Silent Treatment" [Remixed/Remastered 2018]
""Silent Treatment" was from our debut EP, Praise Elephants (which is an anagram for the Persian Leaps). We recorded that EP in the dining room of Mike and Neil McCloskey's parents' house in rural Minnesota. Neil Weir mixed the results for us. For the anthology, I redid my guitar and vocal parts and got better tone and performances all around. The verses are supposed to be a call and response dialog between a typical self-involved, melodramatic teenager and his/her parents. The kid's complaining that no one notices him/her and the parents are saying, "Dear God—you're leaving the house wearing THAT?!?""
9) "Entropy" [Crunch Version]
""Entropy" has been around forever. I wrote it in the mid-'90s, and I played it on an acoustic guitar in my bedroom for a decade or so before ever playing it with a band. We released it as our first standalone single in 2012 so we could have something to shop around. It had actually been recorded in the basement studio of a math teacher friend by a short-lived precursor band that Mike McCloskey and I were both in. Our friend B.J. Bonin played both lead guitar and bass on that version. We played it live up until the end, and I always hoped to re-record it with Adam Brunner and Mike, but we ran out of time. So instead, Neil Weir used the original bass and drum tracks over which I re-recorded various guitars and vocals. I'm very happy with how it turned out and glad we went through the exercise."
10) "Hard Feelings" [Remixed/Remastered 2018]
"My 30's were a pretty tough decade for me. I went through a couple of serious episodes of anxiety and depression. "Hard Feelings" is a reflection on those times and moving past them. The song was on our first EP, Praise Elephants. For the anthology, I re-recorded my main guitar and vocals. I also took the opportunity to restore the song's original glorious profanity. The chorus has always had the line "My fucked up system just won't function anymore," but for the EP recording, I self-censored it to "messed up" because I didn't want to limit airplay opportunities. Turns out I needn't have worried about that! When I redid my vocals, I decided to sing the real line and wear an Explicit rating on the album with pride."
11) "About the Lions" [Remixed/Remastered 2018]
"Like most of our songs, this one started out with a riff and a phrase: "You never worry about the lions." I then had to work backward and figure out what it could possibly mean. I think it's about that friend who goes through life gracefully and effortlessly, undaunted by challenges and unafraid of consequences. Let's be honest —that friend can be annoying. Maybe they're inspiring, but mostly, they're irritating because they set an impossibly high standard that you and I can never reach."
12) "Anthem" [Remixed/Remastered 2018]
""Anthem" could easily be the Persian Leaps theme song:"
You never noticed
Never appreciated
The hidden talents of
The small-town boys you
underrated
"Bitterness aside, it was always a fun song to play. Several times when Brad Hendrickson was in the group (on guitar and later, bass), he'd talk a venue into letting in his pre-teen son, David, to watch the show. David would join us onstage for the big "No way, Uh uh!" group choruses on this song. Later, he joined us in the studio when we recorded "Anthem" and lent his shouting talents."
"More recently, my own son has made fun of the song because he thinks "underrated" isn't proper to use as a verb, but I looked it up. That makes me think of the Sloan song, "Underwhelmed.""
13) "Terribly Happy" [Remixed/Remastered 2018]
""Terribly Happy" was from the Your City, Underwater EP. I've always been an introvert. This song is about feeling ready to leave a party the moment you arrive, but it's exaggerated and taken to an extreme that's not true for me. It's more like social anxiety disorder, but there's also a Morrissey-inspired ludicrousness:"
We can be as wretched as we please
We can plumb the depths of our despair
"For the anthology, I redid the vocals and got a better performance. This song really required a precise attention to rhythm and phrasing on the vocals. It took me far too many EPs to recognize the importance of those qualities."
14) "Not That Brave" [Radio K Version]
""Not That Brave" was initially released on our first EP, Praise Elephants (2012). Shortly after the EP was released, we performed the song live on the University of Minnesota's Radio K. The radio station shared a video of the performance. It always killed me that the live performance was far better than the studio version included on our first EP. For Pop That Goes Crunch, Radio K graciously allowed us to use the original tracks from the live performance. I redid the vocals and most guitars, but we kept the original bones (drums, bass, and lead guitar) intact. I feel like the resulting "newish" version better captures the potential of the song."
""Not That Brave" is a song about 'bystander effect'—the phenomenon where you're less likely to help a victim when other people are present. In 2012, I was riding on a Metro train in Paris and saw what appeared to be a group of teenage boys bullying an awkward-looking, possibly gay man. My French was hopeless, so I couldn't be sure, but from the body language, it looked like the boys were loudly saying cruel things about the man standing near them while he kept his gaze down, blushed, and did his best to ignore them. Of course, I wasn't brave enough to speak up and stop them, and I felt guilty about it afterward. So, the song is based on that moment where you know you should help someone, but you just aren't brave enough to actually do it."
15) "Truth = Consequences" [Remixed/Remastered 2018]
""Truth = Consequences" was on Drive Drive Delay. I love the song, but we had a hard time capturing it in the studio. Along with "Not That Brave," it was a song that I had always wanted a second try at recording. We weren't able to completely re-record it, but I redid my vocals and guitars and got something that flows better, to my ears. This song was a favorite of a friend of mine who passed away over the summer. Rest in peace, Nabil."
16) "Even Less" [Remixed/Remastered 2018]
""Even Less" was originally on Bicycle Face. It showcases a Persian Leaps specialty—a very upbeat, catchy song with almost comically depressing lyrics. It's a song from the point of view of a man who's ruined a budding relationship, after which, he concludes in the chorus that "If I was nothing when I was with you, I'm even less than that right now." My 14-year-old son, Nathan, helped us sing the "ba-ba" background vocal parts. We've actually made a music video for this song, which takes the premise of the chorus to an absurd, surreal extreme. The climax of the video involves some tastefully edited nudity on my part where I take off a bathrobe to model for a drawing class. The funny thing was, we filmed it right in the brightly lit window of my friend's vintage shop, and no one passing by on the street seemed to notice. I dropped that robe over multiple takes while oblivious people walked by just outside looking at their phones!"
17) "Time Slips"
""Time Slips" is a song I wrote about my grandparents, who lived hundreds of miles and a few states away from me. I spent summers with them as a younger kid, and they were incredibly important to me. But after I became a busy (and self-involved) adult, I rarely saw them before their deaths. I still feel guilt and regret over how I drifted out of their lives."
"Despite that sad lyrical content, the song sounds very upbeat and anthemic. We always had so much fun playing it together as a band. We had been practicing it and playing it live for 6 months or so when we decided to disband, and it just seemed too good to let go. So, we decided to go into Neil Weir's studio (Blue Bell Knoll) during Summer 2017 and record "Time Slips" to include on the anthology. It was the last song we recorded together, and it's the only completely new song on Pop That Goes Crunch."
18) "Sleepless" [Remixed/Remastered 2018]
""Sleepless" (originally from Praise Elephants) is definitely the most personal song I've ever written. My dad died from stomach cancer at the relatively young age of 57. It was very quick, and I didn't deal with it directly and healthily at the time. A few years later, I went through a period where I'd have intensely vivid dreams about my father, after which I'd wake up sobbing uncontrollably. This song is about that experience. I always thought that "Sleepless" was the perfect closing song, so we closed out our live sets with it more often than not, and I've now closed two records with it."
Website
Facebook
Twitter
Instagram
YouTube
Bandcamp
Spotify
comments powered by