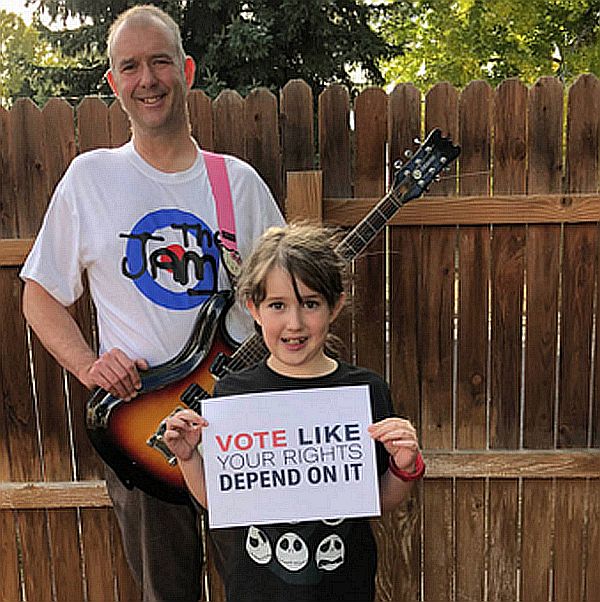 6 November 2018
Stewart Anderson of Boyracer and child – Photo courtesy of Emotional Response
Veteran 100% independent musician Stewart Anderson made his name in the beloved, long-running band Boyracer and has collaborated and founded many music projects over the years. He and his life partner Jen Turrell currently run Emotional Response, a record label dedicated to compelling DIY music.
Anderson, Turrell, and his friends and colleagues have put out the crucial call to unite and VOTE this Tuesday, November 6th in the U.S. midterm elections to turn away from the destructive actions and policies and derogatory words that are spewing from the hateful and divisive Trump and his administration, the G.O.P, and their followers.
Boyracer has just released a spirited and uplifting new video to motivate us to VOTE for positive change. We, the general public, we, as each individual, have a voice in this momentous midterm election.
Our lives, our basic human rights, women's rights, civil/minority rights, LGBTQ rights, seniors' rights, healthcare, education, science and facts, environmental and consumer protections, social civility, and much more are all on the line – and have been since the morally and ethically adverse Trump first occupied the White House.
It's about time to let your voice be heard – and let your VOTE be counted. It's time for a better future; one that will benefit us and our children in the future. VOTE as if your rights depend on it. VOTE as if your life depends on it. Because they do, and as of now, they are hanging in the balance. VOTE!!
Anderson posted the following statement at YouTube:
"In the grand scheme of things recording a Style Council song and making a video may not amount to a whole hill of beans, but in our daily lives, doing something, anything creative, with others, finding solidarity in times of trouble, well, it does help a little."
"Hopefully, this will remind a few downtrodden souls that we can actually try changing it."
"We can do what we can, where we are, with what we have, and right now that means getting out to VOTE in the US. Don't let this midterm election pass you by! Unity is Powerful!"
"Special thanks to Justin Burch for doing such a super quick editing turn around on the video. And deep heartfelt thanks to all of our amazing friends and contributors".
Emotional Response Bandcamp
Website
Facebook
Twitter
Instagram
YouTube