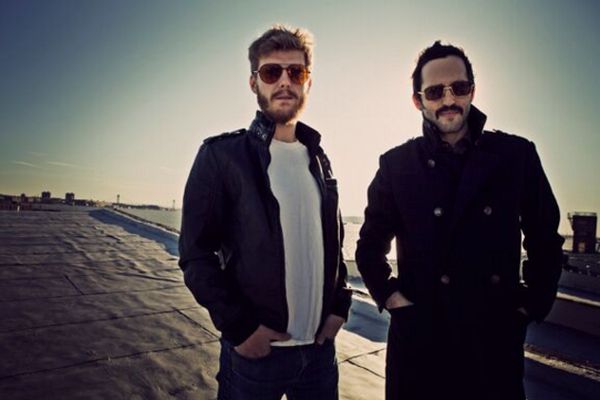 18 December 2018
Hawk and Dove – Photo courtesy of Hawk and Dove
Based out of Brooklyn, New York and making music for seven years, indie rock collective Hawk and Dove have been writing and touring and making community wherever they can.
Hawk and Dove just finished their latest album, the highly personal, yet universal Our Childhood Heroes, that describes one man's miracle cure adventure – to address his failing young [ brain, due to early-onset Parkinson's while also looking at our generational search for luxury and ease at the expense of other people's further-away-lives.
The 13-track Our Childhood Heroes will arrive on January 18th on vinyl, CD, digital and streaming formats. Hawk and Dove are Elijah Miller (vocals, guitar), John Kleber (lead guitar), Joan Chew (bass, more), and many friends on other instruments.
The Big Takeover is pleased to host the premiere of the emotionally intimate, stark third track on the album, "A Medication List", which pushes forward with a strict drum beat, ticking percussion, swoops of organ, and sporadic, raw jags of guitar grind.
Singer-songwriter Miller sing-talks in a matter-of-fact tone at first, running down a long and heavy medication list, before bursting out with anxious exclamations against the grooving rhythm of the song.
Miller explains the harrowing meaning behind "A Medication List", revealing, "Half of the forthcoming album Our Childhood Heroes is about my father's search for miracle cures in the face of the neurological disease early-onset Parkinson's, which eventually killed him. It was an, at times, desperate yet incredibly optimistic and freeing adventure."
He continues, "This song, "A Medication List", is just that – a list of the medications I could remember him taking – in the end it is merely a fraction. Anyone who's been a caregiver, or spent time with someone who is slowly dying knows that in this culture there is a vast inventory of pills and medicines that the patient takes in an attempt to address what is killing them. This all happens with varying degrees of success and/or failure – as none of it will actually cure them. There is always a vault of pills nearby."
"We drew inspiration from the Krautrock pioneers CAN, among others. We wanted to illustrate the driving, moving, pulsing repetition that felt like an appropriate accompaniment to the constant soldiering-on-process of trying to find anything that might address the regular knocking of a terminal illness.", Miller concludes.
Website
Facebook
Twitter
Instagram
YouTube