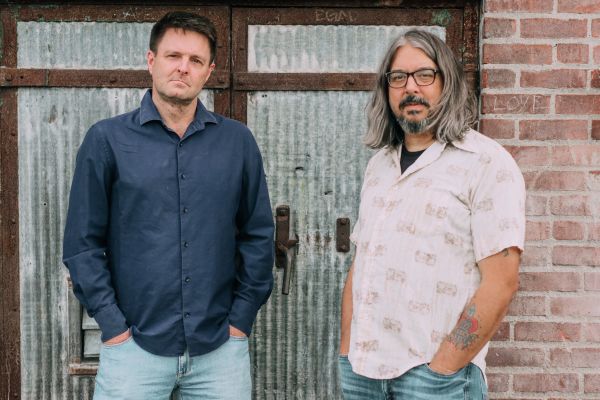 3 September 2019
The Persian Leaps – Photo Credit: Rouse Productions
Indie rock/power pop project The Persian Leaps was founded by Drew Forsberg, who wrote music independently under that name for years, until finally assembling a full band in 2012 to perform and record his creations. 2018 brought the 18-song 'best of' album Pop That Goes Crunch and the news that the The Persian Leaps were retiring from the stage and returning to their studio-recording roots.
The current iteration of The Persian Leaps finds Forsberg working with Jon Hunt, a musician and graphic designer. They've recorded 11 new songs that continue the Persian Leaps guitar-driven sound, while adding keyboards for the first time. The resulting album, Electrical Living, will be released by Land Ski Records on October 4th.
The Big Takeover is deeply pleased to host the premiere of "About Your Record", the vibrant and engaging lead single from Electrical Living. Inspired by greats like The Smiths, Guided by Voices, and Teenage Fanclub, Forsberg has reliably delivered power pop earworms with Midwestern charm over the years, and "About Your Record" is no different.
A strict marching drum beat informs the song's measured tempo, while the wildfire burn of one guitar line contrasts with the melody of soothingly cool guitar strum. Forsberg sings directly with a post-punk vocal delivery on the verses, but then sweeps upwards into a wistful register on the glorious, harmony-filled chorus sections.
Forsberg digs into the meaning behind the lyrics, revealing, "When I wrote "About Your Record," I didn't have anyone specific in mind. In retrospect, I think listeners can pull a story out of it. I picture a father talking to his teen- or college-aged child, reassuring them that he knows about their youthful transgressions but that it will all be OK. The mistakes might seem awful or unforgivable now, but they won't matter in the end and will barely be remembered. Even better, I like the idea of an older person sitting down at a campfire with their younger self and saying the words from the song, telling them that they can just let go and forgive themselves. That's the music video I'd make if I could."