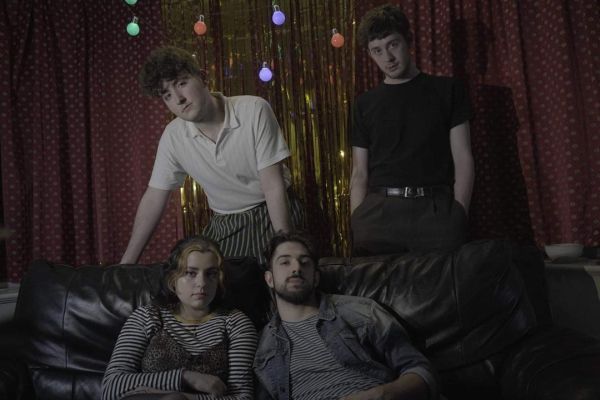 16 March 2020
crush – Photo courtesy of crush
Newer band crush hail from Manchester, England and craft a refreshing heart-on-its-sleeve shoegaze/dreampop sound that's peppered with nods to '80s alt-pop and jazz-inflected indie rock. Drawing comparisons to Diiv, The Cure, and Alvvays, crush look set to carve out their own ambient noise niche in the UK's underground music scene.
Formed in 2018 after meeting at university, young band have released three singles so far, amassing 145,000 streams on Spotify. Their music has seen regular support from BBC Introducing Manchester, Amazing Radio, and blogs including Dork and NBHAP.
Gigging regularly around the North of England has seen crush wow audiences with their captivating sound at events including The Sesh in Hull and Manchester's Stay Fresh Fest, as well as support slots with Peaness, Far Caspian, and Low Hummer.
Crush will officially release their latest single "All My Plants Are Dead" on May 1st, but The Big Takeover is pleased to host its premiere right here ahead of its drop-date.
It's the sister track to their August 2019 release of the grunge-pop number "Glue."
"All My Plants Are Dead" is a bittersweet, yet edgy offering, where the sweet and wistful vocal sighs of Amber Warren blend with the sharp jangle of Arthur Boyd's carefree cartwheeling guitars, and supple percussion.
The enveloping verses are woven with floating vocals infused with a message of empathy and understanding.
The last shining and punchy chorus section is punctuated by an interlude inspired by William S.Burroughs' Naked Lunch. That's followed by a cathartic noisy outro that reimagines the mellifluous musical introduction to the song, bringing it full circle.
Bright, airy and beguiling, "All My Plants Are Dead" signifies a highly promising new chapter for crush that listeners are sure to fall head-over-heels for.
The band digs into the details of the song's timely themes, explaining, "The song focuses on the idea of the cold human race and an increasingly insular society. It's about struggling to look after yourself as much as it is struggling to look after your houseplants. Really just a message of looking after and understanding each other a bit better, and a critique of how modern living at times can make this an unattractive and hard to achieve concept."
Catch crush at their Manchester headliner at Gullivers on April 22nd. Details at Facebook
Ticket link HERE