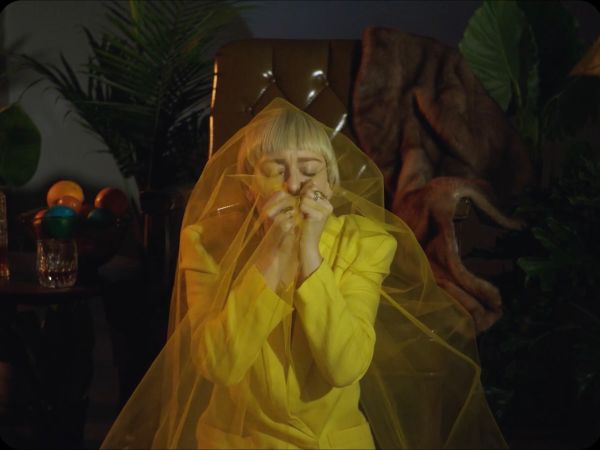 6 October 2021
They/Live – Photo Credit: John Conner
Named after the 1988 John Carpenter sci-fi/action film, Whitney Mower's new project They/Live pays homage to artists of that era (like Kate Bush and Cocteau Twins ) while weaving in sounds, themes, and a powerful female perspective very much rooted in the present (think Grimes, Juana Molina, The Knife).
Using ethereal synth lines, intricate drum patterns, and haunting vocal layers, Mower builds complex dystopian scenes. In They/Live's universe, a vulnerable female character finds power and offers hope despite the ominous landscape of the future, and despite the pain of an oppressive past…
Big Takeover is pleased to host the premiere of the captivating "Another Body," the lead single from They/Live's upcoming EP, Violet Coda.
The EP will be released on November 5th vía Born Losers Records.
"Another Body" was created during the 2020 lockdown. It's about missing the city and grieving lost lovers. The song starts off dreamily delicate and ethereally spectral and introspective, but midway through an energizing beat and sleek sonics kick in.
This vibrant sign of life amid the emotional mourning is an uplifting call to head out to the dance floor and lose yourself in the spirited music.
"Last year I was looking for spiritual strength, as I think many of us were," says Mower, "which I would sometimes find by writing music. I was also looking for physical release; I desperately missed dancing and being in crowds. So I guess this hybrid track—half choral, half operatic rave—comes from those desires during that lonely, uncertain time."