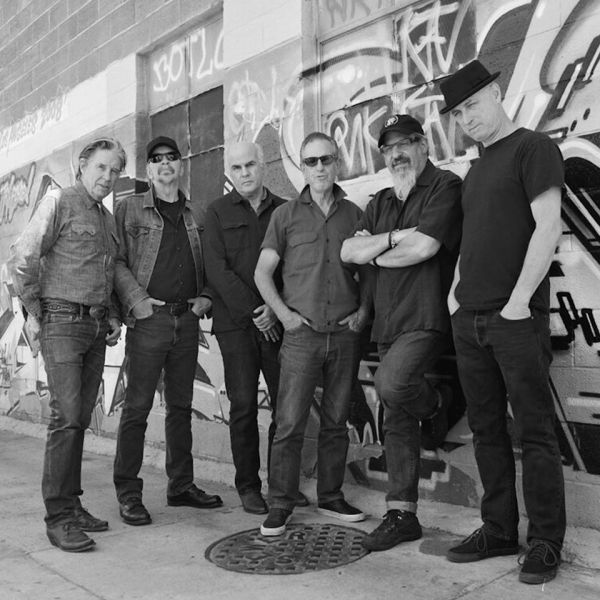 4 January 2019
The Flesh Eaters – Photo Credit: Frank Lee Drennen
The renowned and veteran musicians who comprise Los Angeles-based punk rock band The Flesh Eaters have reunited and are set to unleash their new album, I Used To Be Pretty, on January 18th via Yep Roc.
The backbone of the band, founding vocalist and songwriter Chris Desjardins — better known as Chris D. — is joined by the legendary "all-star" edition of the band, originally heard on the 1981 set A Minute To Pray, A Second To Die: Dave Alvin (guitar) and Bill Bateman (drums) of The Blasters; John Doe (bass) and D.J. Bonebrake (marimba and percussion) of X; and Steve Berlin (saxophones) of The Plugz (and later The Blasters and Los Lobos).
On five of the album's 11 tracks, this super-powered unit is joined by Julie Christensen, Desjardins' vocal partner in both The Flesh Eaters' successor band Divine Horsemen and latter-day editions of the original group. The singers were married during the '80s.
I Used To Be Pretty will be issued in single-CD and double-LP configurations, and will be followed by a series of U.S. tour dates — the very first shows, save for a lone U.K. appearance — to take this heretofore elusive group outside the West Coast.
The band released a video for "Cinderella" a cover of the garage-rock forefathers The Sonics, on October 9th, and more recently, a new video for "My Life To Live,"
The Big Takeover is thrilled to host the premiere of "Black Temptation", a sonically potent and lyrically socio-politically relevant cut off of I Use To Be Pretty. The track treads with a heavy pace (although lightened by marimba notes) on the opening verse as a world-weary and regretful Desjardins bemoans the fact that, The history we're writing / There's no tomorrow." He delivers the words as a warning, like a foreboding prophet of doom.
"Black Temptation" suddenly switches gears on the amped up gospel-punk chorus sections. Desjardins is joined by Christensen on defiantly exclaimed vocals as the spirited instrumentation rises up. Warm saxophone emanations heat up the song even more and lead to a soaring sax line breaking out at the midpoint.
From then on, there's an increase in intensity on all fronts, as the guitars and drums move to the fore and Desjardins and Christensen vibrantly shout out the bleak lyrics.
Desjardins says he sees I Used To Be Pretty as a new chapter in the evolution of one of L.A. punk's most powerful bands: "A few weeks after we completed the album, I was saying to the guys that what was so special is that we were no longer just the sum of our parts — we were more than the sum of our parts. We were like a single, symbiotic organism, and we each unconsciously, intuitively knew what the rest of the band was going to play split seconds before we played it. Sometimes I'll listen to one of the songs now, and it really raises the hair on the back of my neck."
Website
Facebook
Twitter
Instagram
iTunes
Spotify
Amazon