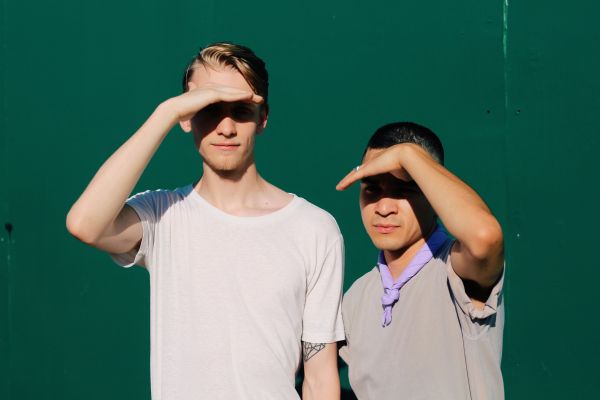 5 July 2019
Sleepspent – Photo courtesy of Sleepspent
El Paso, Texas-based indie rock band Sleepspent, led by Austin North, are radiating dynamic and tuneful waves again with the release of a pair of singles, the reflective and rich "Black and White" which ends with North's keening falsetto and spacey guitar lines, and the restless, but still ruminative "Cracking".
North describes the songs, and specifically "Black and White", as the band's most defining to date. Sleepspent's usual signature sound — a driving, atmospheric wall-of-sound, indie-rock style featuring soaring vocals (think an eclectic combination of inspiration from artists like Jeff Buckley, Slowdive, Radiohead, etc.) built on the foundation of its core musicians including North (guitar, vocals), Josh Mendoza (drums), and Grant Gonzalez (bass) – is solidified on the intense Kraut-rock groove"Cracking", and is repurposed in bold new fashion through the jazzy swing of "Black and White".
Sleepspent last released their Chris Common – (Chelsea Wolfe, Le Butcherettes, Minus The Bear) produced singles "Home" and "Upside Down" on May 11th, the latter of which premiered through Stereo Embers Magazine, and those songs can be heard on all streaming services.
Within "Black and White", lyrics of being "cauterized and set aside," arise over a bed of brooding and occasionally dissonant guitar chords and synth tones, accented by dark takes on bebop guitar solos that are found throughout. North's background studying jazz guitar should come through loud and clear, with him and the rest of the band trying to step up the complexity and emotional tenor of their writing throughout the song.
North says, "The theme of this collection of songs revolves around a feeling of being trapped and left behind—feeling defeated from seeing the success my peers, and trying to find ways to better myself and get myself out of where I was emotionally trapped."
In "Cracking", North acknowledges these feelings directly—describing a fear of vulnerability, exploring where those feelings came from, and hoping for a way to get away from them. Bold vocal melodies and North's signature falsetto make the song reach one of the most climactic moments in the band's discography.
"We're inspired by a large variety of different music" North says, elaborating on Sleepspent's sound. "That can be heard in the alternate tunings used throughout our music as well as the hopefully interesting, melodic chord progressions."
Song Lyrics:
"Black and White":
My distant future doesn't calm me down at night
It spites me with a light
It sights me with a lie
And if it comes to me, you know I'll take it happily
But when's that time? I'm burning mine
Cauterized and set aside with nothing here to see
Set aside and so alive
Am I dreaming?
Oh is it black and white?
Can you hear me?
I'm from another side
And if it came to me, I'd take it happily
But only if it lasts
Cauterized and set aside with nothing here to see
I'm smoking like I'm so alive
And father I must say goodbye and I know you know
Feeling set aside and so alive
"Cracking":
Sat in the wake of lost control
I motion to stay while I lose my mind
Whenever the time's right I suppose
A coming of age when I change my mind
But this place I'm in, yea its walls are thin and it's getting late
I can almost hear the ground and the growling…
I can't be satisfied
I can't be here all night
You tell me your fears, I tell you what you want to hear
Maybe I'll say it in a year
Pulling me in while I can go
He doesn't like it and it hurts to know
Make my way in and lock the door
Thin consolation beating through the floor
I don't think anybody goes round here…
The ground and the growling
I can't be satisfied
I can't be here all night
If you want to know I'll tell you the things you want to hear
I hope it's sooner than a year
I don't think anybody goes round here…
TOUR DATES:
7/6/19 – Black Orchid – El Paso, TX (Release Party)
7/9/19 – Love Buzz – El Paso, TX
7/12/19 – Craft & Social – El Paso, TX
8/11/19 – Monarch – El Paso, TX
8/12/19 – House Of Bards – Tucson, AZ
8/13/19 – House Show – Phoenix, AZ
8/14/19 – Silverlake Lounge – Los Angeles, CA
8/15/19 – Coachella Bar – Coachella, CA
8/16/19 – Himmelbergs – San Diego, CA
8/17/19 – Joshua Tree Saloon – Joshua Tree, CA
8/19/19 – Strummers – Fresno, CA
8/20/19 – Honey Hive – San Francisco, CA
8/22/19 – The Crocodile (Back Bar) – Seattle, WA
8/23/19 – LuckyYou Lounge – Spokane, WA
8/24/19 – VFW – Missoula, MT
8/26/19 – The Underground – Salt Lake City, UT
8/27/19 – The Rad Shack – Provo, UT
8/28/19 – Seventh Circle – Denver, CO
8/29/19 – Inside Out – Albuquerque, NM
8/31/19 – Love Buzz – El Paso, TX
9/7/19 – Bang Bang Bar – San Antonio, TX
Website
Facebook
Twitter
Instagram
YouTube
Bandcamp
Spotify
iTunes