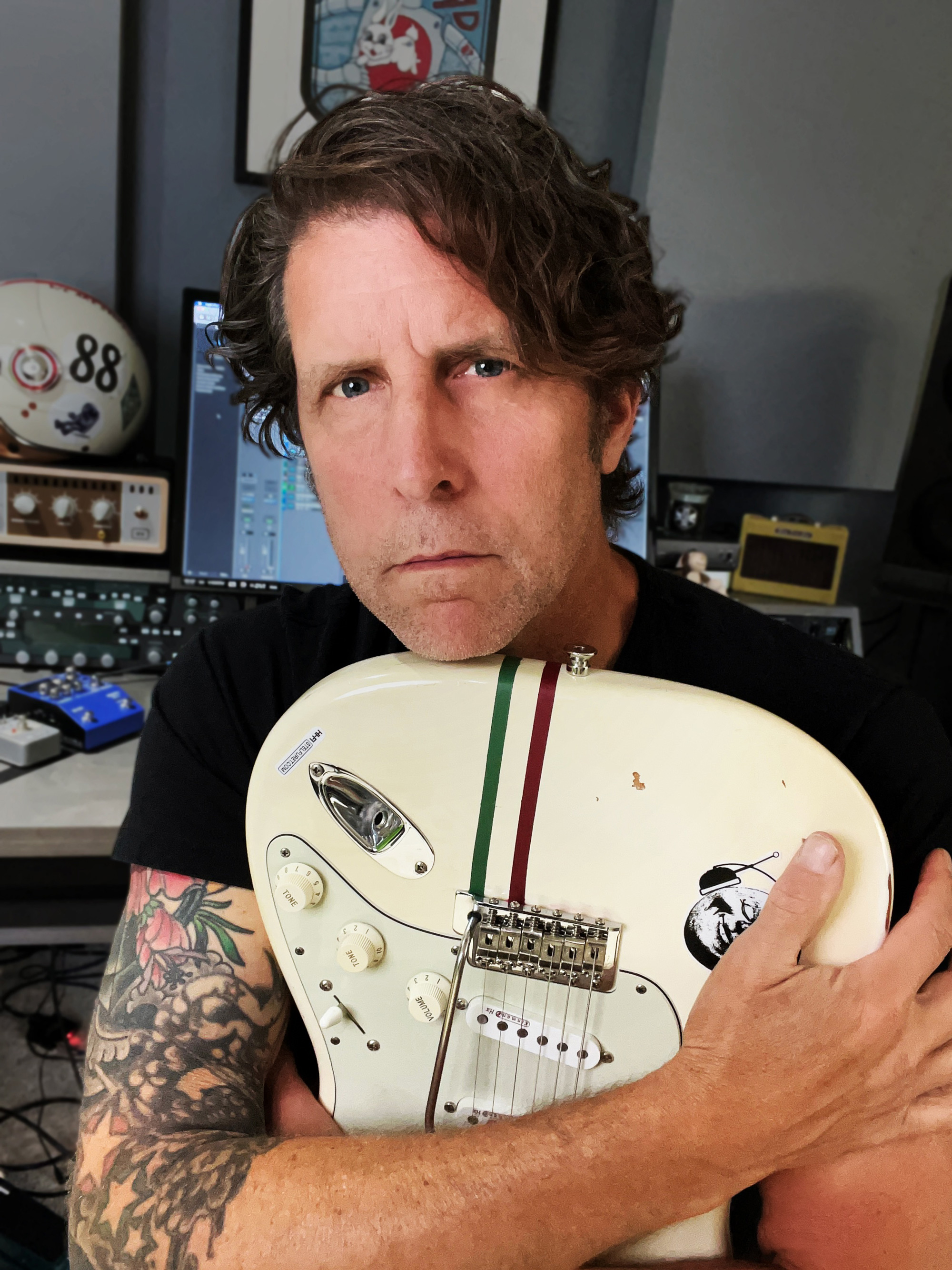 17 August 2022
Photo Credit: Stella Ruthe
Tuneful but glamorously shambolic rock n' roll band CrashMonkeys came from a primal urge for a pre-pandemic normal, and a desire to reintroduce a lo-fi style of rock that defined primary singer and songwriter, and co-guitarist Stel Furet's early years. "These are songs for drinking lots of coffee and driving fast to," the Santa Cruz, California-based artist deadpans.
The trio's debut EP, Love & Kicks, out November 18th, evokes the scuzzy, angsty and arty sounds of Pavement, Daniel Johnston and Beat Happening, and Sonic Youth, but injected with a bit of 1970s James Gang boogie-rock.
Stel wrote all the songs on Love & Kicks and played all the instruments except drums on the recordings. Going forward, the band will also feature guitarist Chuck Keller, an accomplished guitarist/bass player who attended Berklee College of Music and studied arranging and improvisation with iconic jazz composer/arranger Ray Brown. Stel and Chuck alternate bass and guitar duties, and the pair have complementary styles with Stel being a bluesy player and Chuck having a melodic shred background. The two have yet to decide on a drummer. Previously, Stel released his first solo album, Human Nature Machine, which currently has amassed over 20k monthly listeners on Spotify.
The single, Control, features one of Stel's most lustful and powerful vocals. It's prime 1990s alt-rock with a sleazy, classic rock streak running through it. The song is surrealistically intriguing and brims with amusing references to coffee. One standout line is: Just dip your nails in my coffee/And stir the milk in my soul/You can find your restitution for my love/On the backside of my door. "It's another coffee song," Stel admits. "I woke up from a dream one morning where I was on stage singing a duet with a goth girl that didn't have a face. I ran to the bathroom and sang this song into my phone while everyone else was still asleep. The lyrics here are pretty much the words I came up with that morning."
Exclusive Quote from Stel Furet:
I wake up a lot during the night with melodies and words in my head. I'll typically sing them into my phone while half asleep and when I listen back they're often comical or make absolutely no sense. This one was different. I woke in the morning and had the basic melody and the words "you're the nails in my coffin, I'm the boards for your soul, so give me control" running through my head. I thought it was catchy and carried it around with me for a few days trying to come up with more. Eventually I was looking through my phone for ideas and found that I'd actually sung most of the lyrics and melody that became the final song. It was kind of disturbing as I had no memory of doing so but I really liked what I heard and set out to record it straight away.
While I was tracking the song I really focused on building the energy and the contrast between the verse and chorus and, due to the pandemic, the drums were done remotely, while I did everything else at home. That was unusual and made it a bit more difficult to capture that energy you get when the band is all together. I was going with the idea that the song is about the push and pull of a one-sided relationship and longing for something or someone you can't ever have. I wanted the music to reflect that and to play off of the coffee visual. For example the piano represents drops of coffee falling into a cup. When you're new to caffeine or haven't had it for a while there's this euphoric buzz you get. It goes away eventually and even though you chase it by drinking more, you eventually get no buzz at all or maybe get the jitters. It doesn't seem to do much for you unless you don't have it, and that's when you realize how bad you need it. Relationships can be like that. So I think the story here is relatable and I believe when you hear the chorus it sticks with you. I always strive to create a vivid experience for the listener and I believe Control accomplishes that.