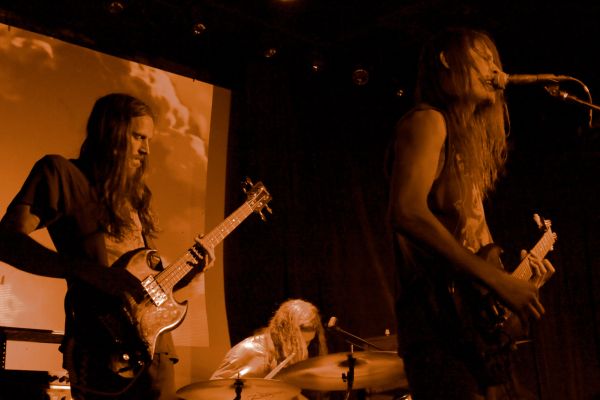 24 September 2019
Grandpa Jack – live – Photo courtesy of Grandpa Jack
Brooklyn-based heavy psych-rockers Grandpa Jack are set to release their artfully crafted acoustic EP Staggered Steps on October 11th. The EP's acoustic format makes for an interesting departure from the band's typical sound.
Staggered Steps is a three-track collection of dark, folky songs that, although texturally different from being plugged-in, still carries the sonic weightiness, lyrical thoughtfulness, and foreboding atmosphere that Grandpa Jack is known for.
Members Matt C. White (guitar, vocals, mandolin,percussion), Johnny Strom (guitar, vocals), and Jared Schapker (bass, vocals) performed the songs on the EP, which also feature violin by Adriana Molello. It was recorded and mixed by White and mastered by Matt Labozza.
The Big Takeover is stoked to host the premiere of the lead single, the acoustic version of their song "Creatures." The original comes from Grandpa Jack's self-titled debut album, which dropped last year via Lost Moon Records.
"Creatures" is a captivating take on the electrified version, lumbering along at a creeping pace with ponderous acoustic guitar strum and pronounced drum and cymbals strikes. The rumination is occasionally broken by emotive and soaring vocals, dreamy harmonies, and spaced-out passages.
This composition is more lush and less heavy than the original, and veers into psych-rock territory near the end, radiating intensely with wavering to fiery vocals, extended guitar lines, and rhythmic percussion.
Website
Facebook
Twitter
Instagram
Bandcamp
Spotify