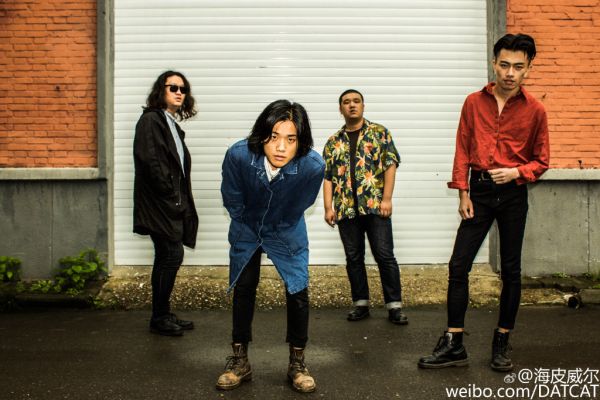 2 October 2019
Happy Wheel – Photo courtesy of Happy Wheel
Happy Wheel is a psychedelic rock band from the Yangtze River Bank in Wu Han, China. Formed in 2015, the band got its name from a video game.
The outfit has a unique indie sound that features dark synths with unruly guitar, punchy percussion, and groovy bass that make them a stand-out among bands in Wu Han. In 2017, they released their album 2078 to positive reviews from the media.
Their latest sonic offering, "Crown Prince", which The Big Takeover premieres here, begins with a sample from the legendary Hong Kong movie Shaolin Soccer. In it, the main character sings a song about making dumplings. The end of the sample marks the start of the next section that sound like the act is trying to audition the beginning of the Power Rangers' theme song. Yes, it's a pretty wild way to kick off the track!
A smooth in-pocket drum groove and synth bass line materialize before another sample from the same movie cycles into the mix. The song continues and ends with an undeniably peppy bounce moving all the way through it.
Equally present is a fervently dramatic sensibility with the inclusion of a searing rock line that appears at the midway mark and continues to the end of the track The band states, "We feel like we're having to use all the skills and spells we've learned in an 80 hour Action JRPG from 2005."
Happy Wheel is represented internationally by Neo Soul Entertainment, an entertainment management company with a focus on Asian talent, Happy Wheel combine retro synth-rock/funk stylings with modern music production and movie samples for a fun musical ride.
Neo Soul Entertainment
Happy Wheel SoundCloud