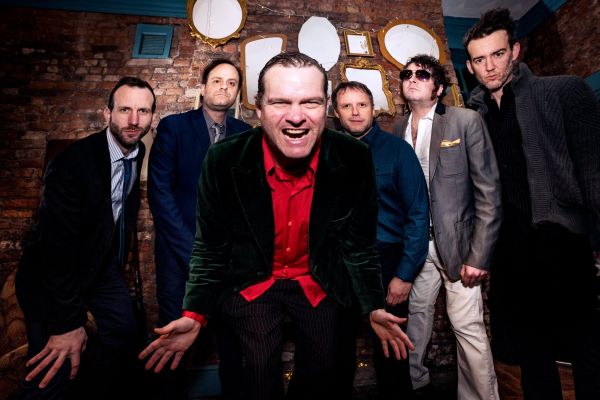 10 September 2018
Electric Six – Photo Credit: Mark Wright
Detroit-based, long-running, wild garage rock 'n' roll/electronic/punk-and-more bunch Electric Six (known to the masses for their hits "Gay Bar", "Danger (High Voltage)", and "Synthesizer"), put the pre-Halloween ghoulish fun and delightful fright on full blast with their 14th (!) electrifying studio album, Bride of the Devil, which comes to life on October 5th via Metropolis Records.
On Bride of the Devil (where the Devil takes on the metaphorical form of the politically powerful in Russia), Electric Six examines the concepts of evil and corruption, humanity's various falls from grace, and, of course, the nine circles of purgatory. The LP is rock-poppy and feel-good, as well as heavy, both sonically and lyrically.
The Big Takeover is screaming with excitement about hosting the premiere of a killer cut off the LP, the pointed and infectious "Daddy's Boy" that sizzles with burning guitar lines, a striking drum beat, and searing lyrics that are attack the unfair bias towards family ties in business and politics (which is extremely relevant regarding the current nefarious occupation of the White House by a president who is employing his son, daughter, and son-in-law in high positions of government!).
Blazing though the sonics is Electric Six's inimitable frontman, Dick Valentine, defiantly exclaiming the scathing indictment, "The whole entire world is a toy / in the mind of daddy's boy / It merely takes a pen to destroy / and authorize the signature of daddy's boy."
Valentine describes the song in more detail, explaining, ""Daddy's Boy" is a song about garden variety nepotism and douchebaggery. The music was written by Tait Nucleus and I was immediately drawn to how catchy it was. We have catchy songs, but this was kind of next level shit. We feel like our new record Bride of the Devil is probably all about the art of the catchy song. Probably more so than any of our previous records, we really were avoiding trying to write a "Bohemian Rhapsody" or "Paranoid Android" and really just go for writing an album of "Song 2" or "Smells Like Teen Spirit"."
Come see Electric Six on the Russia, If You're Listening tour this fall and into 2019. Tour Dates below.
RUSSIA, IF YOU'RE LISTENING – TOUR DATES
Sep 28 Lansing, MI The Loft
Sep 30 Montreal, Canada Casa Del Popolo
Oct 1 Somerville, MA Thunder Road
Oct 2 Brooklyn, NY Littlefield
Oct 3 Washington, DC Black Cat
Oct 4 Philadelphia, PA Milk Boy
Oct 5 Baltimore, MD Metro Gallery
Oct 6 Carrboro, NC Cat's Cradle
Oct 7 Atlanta, GA The Masquerade
Oct 9 Orlando, FL Soundbar
Oct 10 Lake Park, FL The Kelsey Theater
Oct 11 Tallahassee, FL The Wilbury
Oct 12 Nashville, TN The End
Oct 13 Louisville, KY Zanzabar
Oct 14 Pittsburgh, PA Club Cafe
Oct 17 Columbus, OH The Basement
Oct 18 Chicago, IL Reggie's
Oct 19 Toledo, OH Ottawa Tavern
Oct 20 Detroit, MI Magic Stick
Website
Facebook
Twitter
Instagram
YouTube
comments powered by